The UK's most dog-friendly staycation destinations
Anyone else feeling like they could use a holiday? After the stress and uncertainty of Covid-19, some time spent away from your working from home desk could be just the thing.
But with international travel still off the table for the foreseeable future, 44% of people we surveyed[1] were planning to spend their holidays in the UK. Bad news for sunny weather, great news for dogs.
We look at the best dog-friendly staycation cities, helping you plan your UK break with your best friend in mind.
London and Edinburgh are among the most dog-friendly cities in the UK
The capitals of both England and Scotland came out on top for dog friendliness, with Manchester completing the tail-wagging top three. We scored the cities on eight dog-friendly factors, including the range of accommodation, pubs and restaurants on offer that allow our four-legged friends inside.
Leicester, Sunderland and Aberdeen all scored at the bottom of our league table. With limited places to stay and fewer places for dogs to exercise, all three cities have much work to do before they can be considered a perfect staycation location.
The most dog-friendly cities in the UK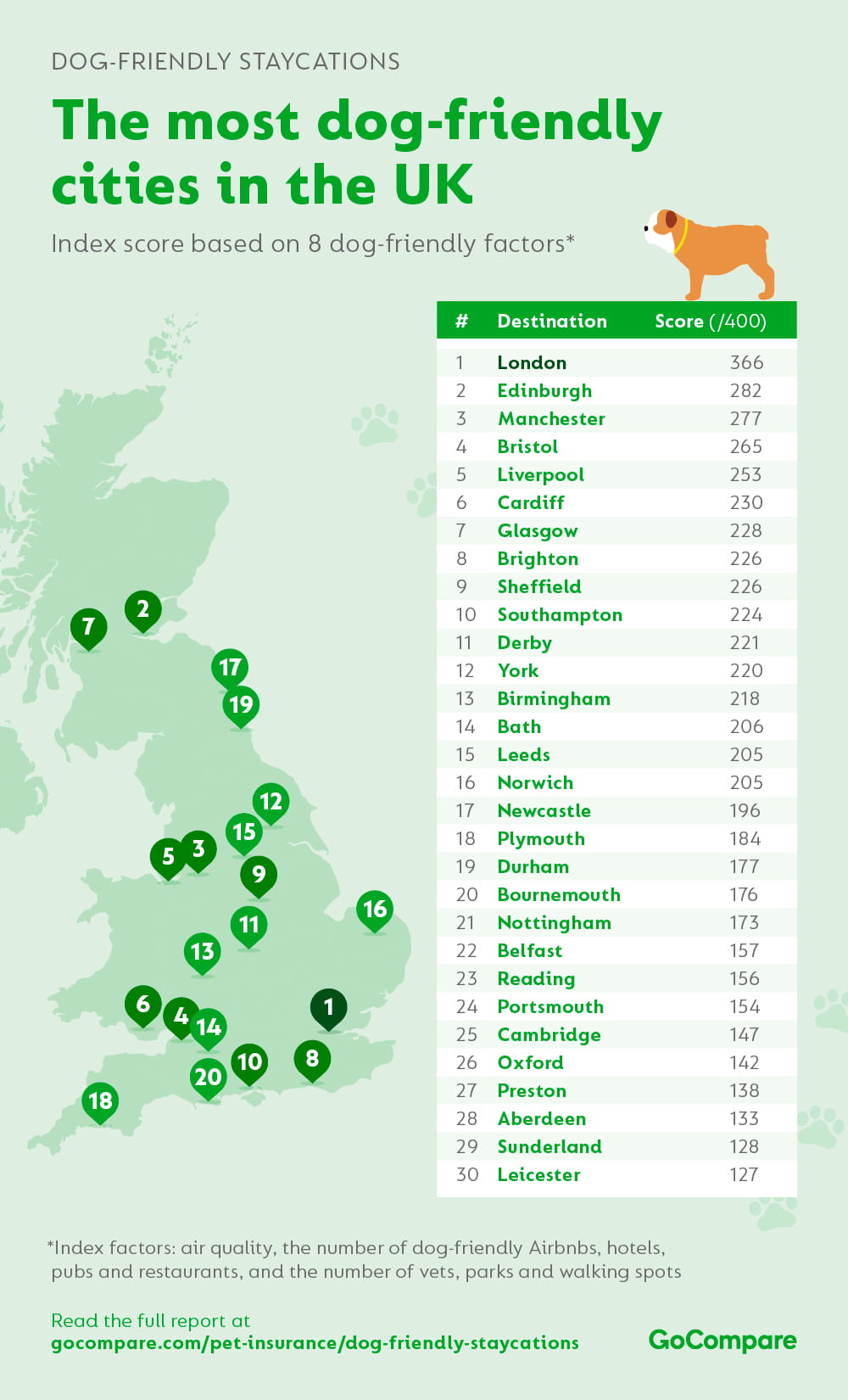 London, Edinburgh and Derby all offer great dog accommodation
One of the biggest problems dog lovers face on holidays is finding somewhere their dog can stay. Well, if it's a city break you're after, you're in luck. London, Edinburgh and Derby lead the way for dog-friendly accommodation, with 300 Airbnbs each.
If you'd rather spend some time by the seaside, Brighton and Bournemouth could be the places for you. Brighton offers 289 dog-friendly Airbnbs, while Bournemouth isn't far behind with 250.
The advantage of dog-friendly Airbnbs is that it's basically a home away from home. Your pooch can feel comfortable straight away, with plenty of new things for them to sniff, feel and lounge around on. You can even find accommodation with outside space, letting your dog get all the exercise they need.
London offers 153 dog-friendly hotels
Dog-friendly hotels can be even harder to find, but again London comes out on top. There are 153 hotels here happy to cater for your dog, letting you get right in the centre of the action with lead in hand. There are lots of great waking spaces in London too, with places like Hampstead Heath, Regents Park and Hyde Park all offering miles of greenery for your dog to burn off steam.
Sunderland is next on our list, with 71 dog-friendly hotels available in one of Northern England's largest cities. Finally we've got neighbouring Durham, offering 69 dog-friendly hotels in walking distance of all its fantastic history.
Pups in pubs
Can it truly be a proper British staycation without a trip to the pub? As they begin their long-awaited reopening, London once again leads the way with their dog-friendly drinking spots.
There are 615 pubs in the capital where your pooch will be just as welcome as you, letting them enjoy a well-deserved drink of water as you sip on your favourite tipple.
Nottingham comes in second with 221 dog-friendly pubs, while Edinburgh comes in third with 212.
We're sure wherever you go, your dog will get lots of extra pats.
The best places to take your dog to eat out
Holiday food can be one of the highlights of your trip, with the UK being home to some of the best restaurants around. Thankfully, it's not just you who gets to enjoy a tasty mouthful, with plenty of dog-friendly food on offer too.
Manchester takes the title here, with an incredible 2,033 dog-friendly restaurants available for you both to enjoy. London is a long way back in second place, with 192 canine caterers on offer, while Cambridge completes the top three with 132.
London is best for your dog's wellbeing
Getting away from daily stresses can be great for your health – both physical and mental – and this is no different for your dog. Again, it's London that comes in first here, offering 130 vets, 30 walking spots and 82 parks to keep your best friend in their best condition.
Chester comes in second for vets, with 89 available, while Edinburgh offers 25 walks for your dog to stretch their legs.
A fit, healthy dog can help you save money on your pet insurance, letting you save up for next year's adventure.
Dog-friendly beaches: where are they and when should you go?
Is there ever a happier dog than one running freely towards the ocean? There are some beautiful beaches throughout the UK where they can do just that, with sandy paws and wagging tails guaranteed.
Pembrokeshire in Wales offers the most, with 81 beaches scoring an average rating of 3.8 stars. Devon is next with 68 dog-friendly beaches (3.5 stars), followed by Cornwall with 51 (3.5 stars).
Most beaches don't allow dogs during peak summer months, but between the 1st October and the 30th April, you and your dog will be free to explore, splash about and reax together. Playing fetch can be hours of fun with a whole stretch of coast to enjoy.
Before you go to the beach with your pet we always recommend that you check your beaches' guidance on whether dogs are allowed at the time you're wanting to visit.
The top five seaside towns for dog-friendly beaches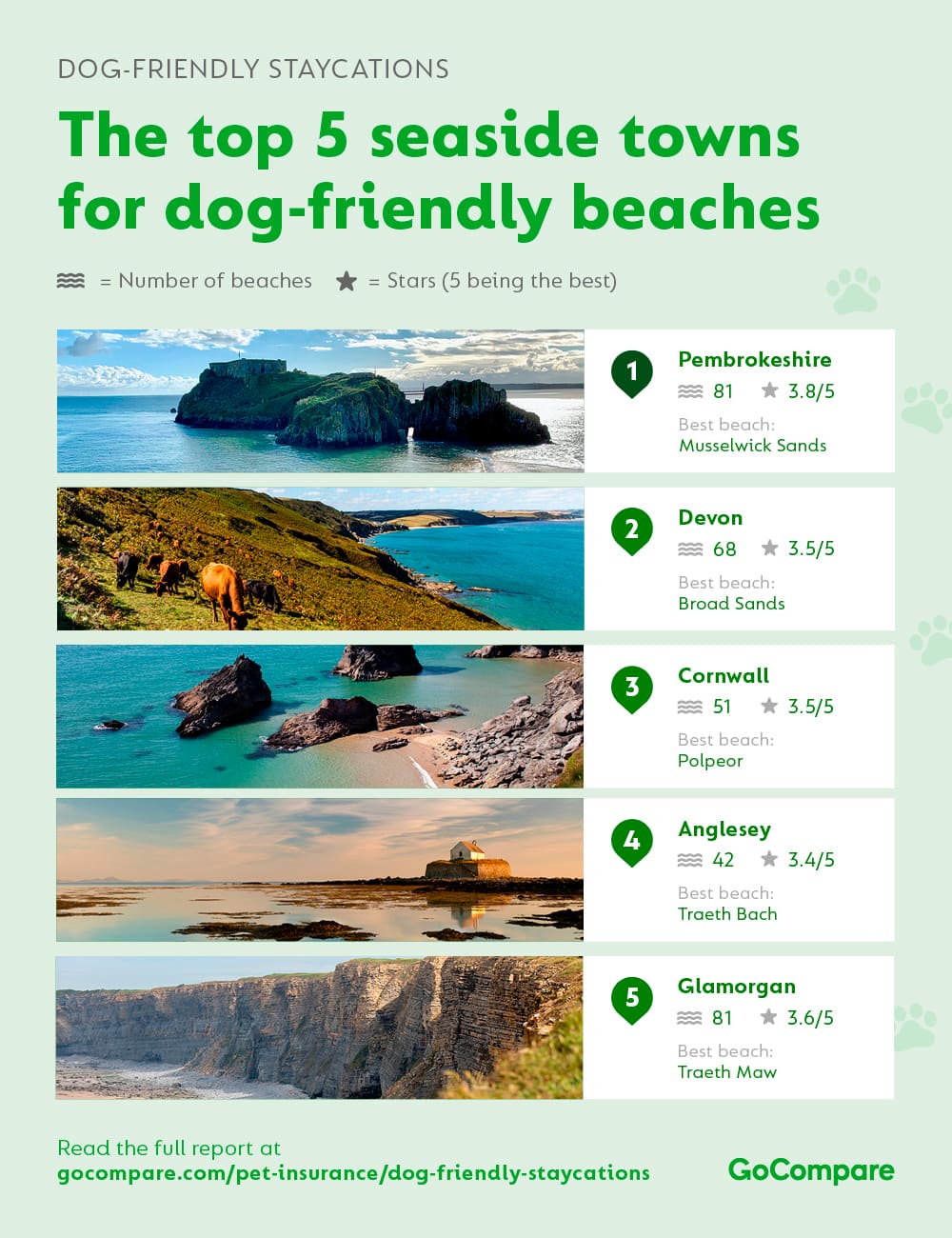 Mapped: The most dog-friendly beaches in the UK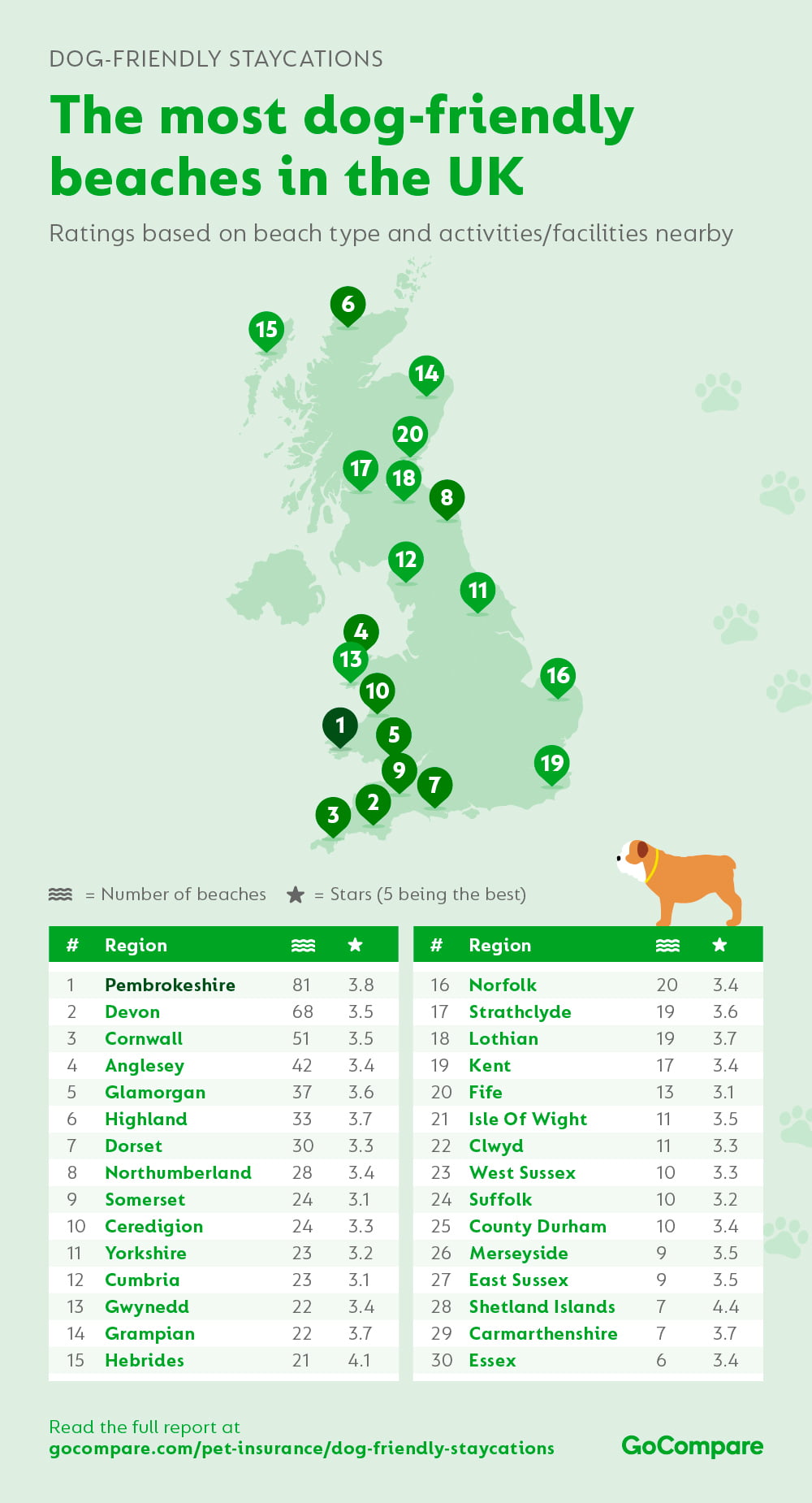 How to travel in the car with your dog
While some dogs will take great excitement from going out for a drive, others will find the experience much more stressful.
If your dog isn't used to traveling, it's good to introduce the idea with a short drive first. Get them comfortable with being in your car and its movements, and consider taking a favourite toy or blanket with them so they know it's a safe space.
There are also rules to be followed when driving with your dog.
The law states that they must be reasonably restrained so that they don't distract you while driving, or injure you (or themselves) if you have to stop suddenly.
There are a few ways you can do this:
Crates
A secure crate will keep your dog safe while driving, and should offer them a familiar space to relax in.
Travel harnesses
These clip onto your seats, allowing your dog to sit in the back of your car, or in the boot.
Pet carriers
These are like lightweight crates, and can be easier to pack if you're going on holiday.
A dog guard
Dog guards go between the back seats of your car and the boot, preventing your dog from jumping through the car while you're driving. They'll still need to be secured using a harness or crate, but this adds an extra layer of protection.
What to pack when taking your dog on holiday
Make sure you leave room in your luggage for all your dog's essentials. They'll need enough food to last them, as well as plenty of treats for when they've been good. They're on holiday, after all.
You should also take their usual food bowl with them to make them feel at home, as well as any toys they love playing with to give them extra comfort.
Also make sure there's somewhere warm for them to sleep. If they sleep in a basket or dog bed when at home, consider taking that with you to give them a restful night.
Will pet insurance cover your dog on holiday?
Pet insurance covers your dog anywhere in the UK, meaning you can go and explore all the UK has to offer with complete peace of mind. Compare our best pet insurance quotes today to see what you could save, before you plan your ultimate dog-friendly staycation.
Methodology
[1]GoCompare analysed current listing data on Trip Advisor and Airbnb for eight dog-friendly factors, including the range of accommodation, pubs and restaurants that allow dogs inside for 50 cities. Each was then assigned an index score based on the factors to rank them from most to least friendly staycation destinations for dogs.
Analysts reviewed 751 beaches from The Beach Guide to find the dog friendliest beaches, they were then ranked based on The Beach Guides' beach rating scores.