Horsebox insurance
Using their carefully selected panel of insurers and network of riding clubs, Equesure have a number of avenues to help you find a great deal on your insurance, which means spending less time trawling the web and more time at the yard. Equesure live and breathe horses, with over 60 years combined equine experience across the team, so give them a call and speak to a friendly member of the team to see how Equesure can help you find great cover for you and your horse. Equesure are able to arrange insurance cover for horses, riders, horseboxes and horse trailers - a one stop shop for your equine insurance needs!"
Hold your horses - find out more about horsebox insurance!
Read about horsebox insurance and learn more about covering a horse trailer or horsebox with the right policy.
Key points
The term horsebox is most properly used to refer to a motorised vehicle suitable for carrying a horse, but is also used to refer to non-motorised horse trailers
Valid motor insurance is a legal requirement for motorised horse box owners, unless the vehicle's been registered off road with a SORN
Insurance and licence requirements will depend on various factors, notably the weight of the horse box, whether you're operating it for hire or reward, or for other business use
If you have a horse trailer, even if your regular vehicle insurance covers you for towing it may only be on a liability basis - you could need additional cover for the trailer
Horsebox and horse trailer insurance is unlikely to offer cover for the animal itself - for that you'll need a dedicated horse insurance policy
There's some confusion over what's meant by a horsebox, but the term should really be applied to something that may be called a 'horse van' or 'horse float' in other countries - essentially, a motorised vehicle suitable for carrying a horse.
In the UK, a horsebox is also sometimes used to refer to a non-motorised vehicle used for transporting a horse - a horse trailer.
However you choose to move your animal, the method of transportation is likely to be an expensive piece of kit, and you should think about appropriate insurance to protect your pocket as well, of course, as staying road-legal.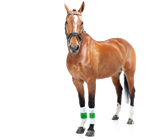 Remember that neither horsebox nor horse trailer insurance is designed to protect the animal itself; for that, you need to arrange appropriate horse insurance.
Motorised horsebox insurance
If you're looking to take a motorised horsebox on the road then it's a legal requirement that it has appropriate insurance, something that can offer protection to you, other drivers and any third parties.
The horsebox will even need to be covered if you don't intend to drive it, unless you've registered it as being off the road with a Statutory Off Road Notice (SORN).
In this respect, covering a horsebox doesn't differ to insuring any other motorised vehicle for the road, and you'll have the same basic three choices on whether to arrange cover on a third party only (TPO), third party, fire and theft (TPFT), or comprehensive basis.
TPO is the minimum level insurance required by law for drivers in the UK, covering damage to third-party property, liability for injury to others (including passengers) and liability while towing a caravan or trailer.
TPFT covers all these elements plus fire damage, theft and any damage such crime does to a vehicle.
A comprehensive policy offers all the cover listed under TPFT, and you should also expect protection for things likes windscreens, personal effects, loss or damage to vehicles, medical expenses and accidental damage.
Did you know...?
The annual vehicle testing of a horsebox required by the DVSA is known as 'plating'. The DVSA also notes the fact that many horseboxes only receive occasional use means that safety checks should be performed before driving, and advises that the vehicles may be subject to roadside checks
Other types of motorised horsebox insurance
Beyond these basic choices, the range of insurance options for horseboxes can be as varied and eclectic as the vehicles themselves.
One of the most crucial definitions relates to weight; anything under 3.5 tonnes may be covered by van policies, but beyond that it's likely that you'll need to look for HGV insurance.
Other things insurers will typically ask is how many stalls the horsebox has, if it has living accommodation and whether it's been converted from a truck or van.
Driving licence requirements for horseboxes and horse trailers
The first step to ensuring that your horsebox insurance is valid is by making sure that all drivers on the policy hold the appropriate professional driving qualification.
This will again depend on the weight of the vehicle (and/or the towing vehicle), as HGV drivers need the Driver Certificate of Professional Competence (CPC).†
Depending on the vehicle and circumstances, it's also possible that the horsebox driver(s) will be required to hold an appropriate operator's licence.†
This is likely to be the case if you transport the horse - or other goods in the horsebox - for hire or reward, or for any other business purpose.
If the transportation of the horse - yours or someone else's - is deemed to be for anything other than a hobby, then it's likely that you'll require an operator's licence, something that will then also require compliance with European Union tachograph rules.
The type of licence will depend on the circumstances. The government has cited the example  of a vet who may be a part-time breeder, using a horsebox to transport horses as part of the breeding business; such a driver may only require a restricted operator licence.
Horse trailer insurance
Third party liability cover for a trailer you're towing should be a standard part of even the most basic motor insurance policy, but don't assume that the value of the trailer itself is covered.
On 22 August, 2014, Gocompare.com analysed 243 car insurance policies listed on the matrix of independent financial researcher Defaqto.
Did you know...?
Towbars are regarded as 'modifications' by insurers and need to be declared
It was found that the vast majority (78%) didn't cover attached trailers as standard – just 17% automatically provided this cover, while 5% could offer it as an optional extra.
What's more, levels of cover for trailers varied significantly – just 3% would pay out £5,000 or more to replace an attached trailer, while 10% would pay between £1,000 and £2,999.
Horse trailers can be particularly expensive pieces of kit, meaning you may want to think closely about taking out a dedicated insurance policy to cover yours.
As well as liability, look out for cover for theft, accidental loss and damage, plus things like recovery, repair and delivery of the trailer and its contents
Typical exclusions on horse trailer insurance
Horses can be heavy animals, so remember that a trailer and its load should never exceed the weight of the towing vehicle. A maximum of about 85% of that weight can serve as a rough guideline, but follow official manufacturer guidelines, or your insurance may be invalidated.
Because trailers are vulnerable to theft, security can be a key consideration for insurers. You may typically be required to keep a wheel clamp on the trailer when unattended, and you may also be asked to register your trailer on a database.
Common features to consider on horsebox and horse trailer insurance
All insurance policies will vary, and a range of features may be included as standard or as optional add-ons for which you pay an additional fee.
Try not to pay for cover you don't need or that you have from another source, but also watch out for policies that don't offer the level of protection you require.
Think about the number of drivers you put on a policy. In some cases - depending on the driver and their driving record - adding a named driver to a policy can reduce the cost of cover, but in other cases it will increase it.
You may find an 'any driver' policy, but you'll almost certainly have to pay extra for this. Even on such a policy, drivers under the age of 25 are either excluded, or you're likely to be asked to pay an extra premium to have them included.
Breakdown cover may be bundled in with your insurance, but it's also possible to buy this separately. You might want to look for cover for any alternative transportation or stabling that your horse may need in the event of a breakdown.
Some horsebox and trailer owners will want to take their vehicles overseas, so check whether driving in Europe is covered, and for how long.
If there's a business purpose associated with your horse transport, think about areas such as cover for hire or reward, carriage of goods, haulage cover, employers' liability insurance (a legal requirement if you're employing drivers), public liability insurance and goods in transit cover.
By Sean Davies