As we can see, the French bulldog and Labrador retriever are clear favourites across the UK. No matter whether one or the other was chosen as the number one, different breeds could barely get a look in. Taking a closer look at the data, we broke down the country by counties to see which pup came out on top in each area.
Favourite dog breed by county[1]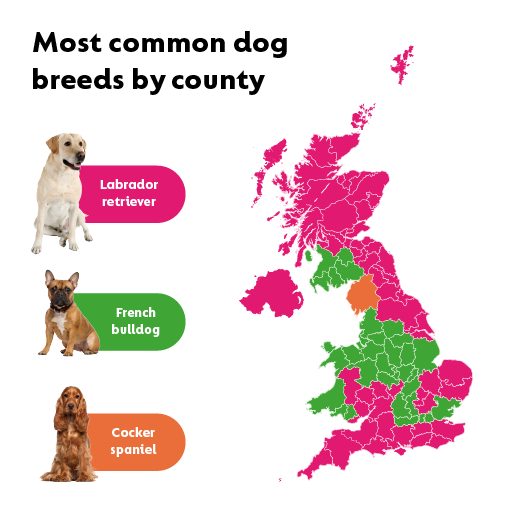 We were shocked to discover that there was only one county in the UK whose most common breed differed from a Labrador retriever or French bulldog. Cumbria led the way with dog diversity, favouring the cocker spaniel over the two top breeds. The Labrador retriever seemed more popular in most of the South, as well as large areas of the North. The midlands, however, seemed overwhelmingly to favour the French bulldog. It could suggest that metropolitan areas are more likely to favour smaller breeds than the urban areas, which makes sense as the larger the dog, the more space an owner will need!
How much does it cost to insure the UK's top dogs?
The average premium price for a French bulldog was £23.71, over £8 more than the average policy price of £15.56.
On the other hand, the monthly insurance premium for a Labrador costs an average of £12.52, which is on the lower end of the spectrum for pet insurance, meaning these dogs are great on the pocket when times are tight. This shows that the French bulldog must be a family favourite if the nation is willing to loosen the purse strings for their insurance policies. The cocker spaniel was even cheaper for the monthly premium at an average of only £11.01 per month.[1]
Labrador loving: why does the UK favour this breed?
It should be no surprise that the Labrador retriever (also known as the walking hug) is such a common breed. Originally, these cute dogs were bred to help fishers at work. Still used to this day as a working dog, this breed is typically chosen to guide the disabled.
The temperament of Labradors is known to be kind, loyal and affectionate - all the qualities you might expect in the nation's favourite breed. If you're thinking about adding a Labrador to your family, bear in mind that these large dogs require a good amount of exercise (at least two hours per day) and their short coat will need weekly grooming.
The affectionate and sensitive nature of the Labrador is likely what draws so many in. This charming pup is keen to learn and has a great attitude towards training. While they tend to have lots of energy, this breed is a delight to have around children, making them a perfect pooch to add to the family. Despite being a bundle of energy, the Lab is easy-going and very friendly.
Labradors are widely considered to be healthy dogs, but as with any pet, there are always risks. If you're looking for a purebred and have chosen to buy from a breeder, make sure to choose a responsible seller who has screened for any potential hereditary health risks. As with all big, deep-chested dogs, bloat is a potentially deadly complication for this breed. All pet owners should make sure they are aware of any symptoms to look out for that could affect their dog.
French bulldog
The French bulldog is another breed full of love and affection. These dogs are known for being quiet and bark less than many of their yappy pals. This may be a reason for their widespread commonality, particularly in metropolitan areas such as London where the French bulldog was the most popular pooch.
These quirky pups make a great addition to the family as they have a very amenable temperament and are great around children. The personality of the French bulldog is such that they can even be trained to get along with cats, which is brilliant for those families torn between feline and canine! This breed loves affection and can be prone to loneliness, so is ideally suited to owners who can have their dog with them at all times.
French bulldogs are a little more lively than Labradors, so training will be necessary to keep them under control. Because of their inquisitive nature, they are likely to wander off, which is another reason training is so important, but they also need a safe outside environment where they can explore.
Health issues can crop up with French bulldogs, mainly as a result of cosmetic breeding. They have shorter snouts than their ancestors which can cause respiratory problems, and they can sometimes overheat in hot weather as they are unable to pant efficiently to cool themselves down.
Why are some dog breeds more popular than others?
Different breeds have different personalities, so the reason why the Labrador retriever and the French bulldog are the UK's most popular dogs is likely due to the qualities associated with these breeds. Both are known to be low in aggression and have high trainability.
Particular breeds may be favourable for any number of reasons, but a dog with the right love, care and training will always be happy to be given a home. If you're thinking of adding a four-legged friend to your family, why not consider adopting a dog? Adopting a pet can save you money, and allow you to get to know the animal and its personality before bringing them home.
About this data
[1]The data from this report was taken from our internal partner, Stickee. All information about premiums has been collected from this partner and relates to their customers' policies. Data was collected between 1st April 2022 - 30th June 2022.