The UK's dognapping hotspots
Pet owners beware, dognapping is sadly on the rise. We look at the areas where you should be most alert.
The UK's dognapping hotspots
They might be our best friend, but they're also one of our most valuable assets. Dog theft is on the rise, and it's showing no signs of slowing down.
There's big money in this awful trade, meaning we need to be extra vigilant when we leave our dogs at home, and even when we're out with them on walks.
While it's important to get pet insurance to protect your dogs from illnesses and accidents, it's unfortunately just as important to protect them against theft. We look at where these crimes are most common and what you can do to keep your dog safe.
What is dognapping and what should you look out for?
Dognapping is a crime in which someone will steal your dog and sell it on for profit. Dog breeds can command a large amount of money, making them an attractive target for thieves looking to cash in.
Criminals will often know who to target. They might have seen you out walking your dog, spotted it through your window and noticed it outside in your garden. They may even have seen a picture of it on your social media accounts, and know where to come to find it.
These people are smart. While there are those who'll just snatch the lead from your hand, there are many more who'll plan a more targeted approach to limit their risk of being caught.
Dogs in West Yorkshire are most likely to be stolen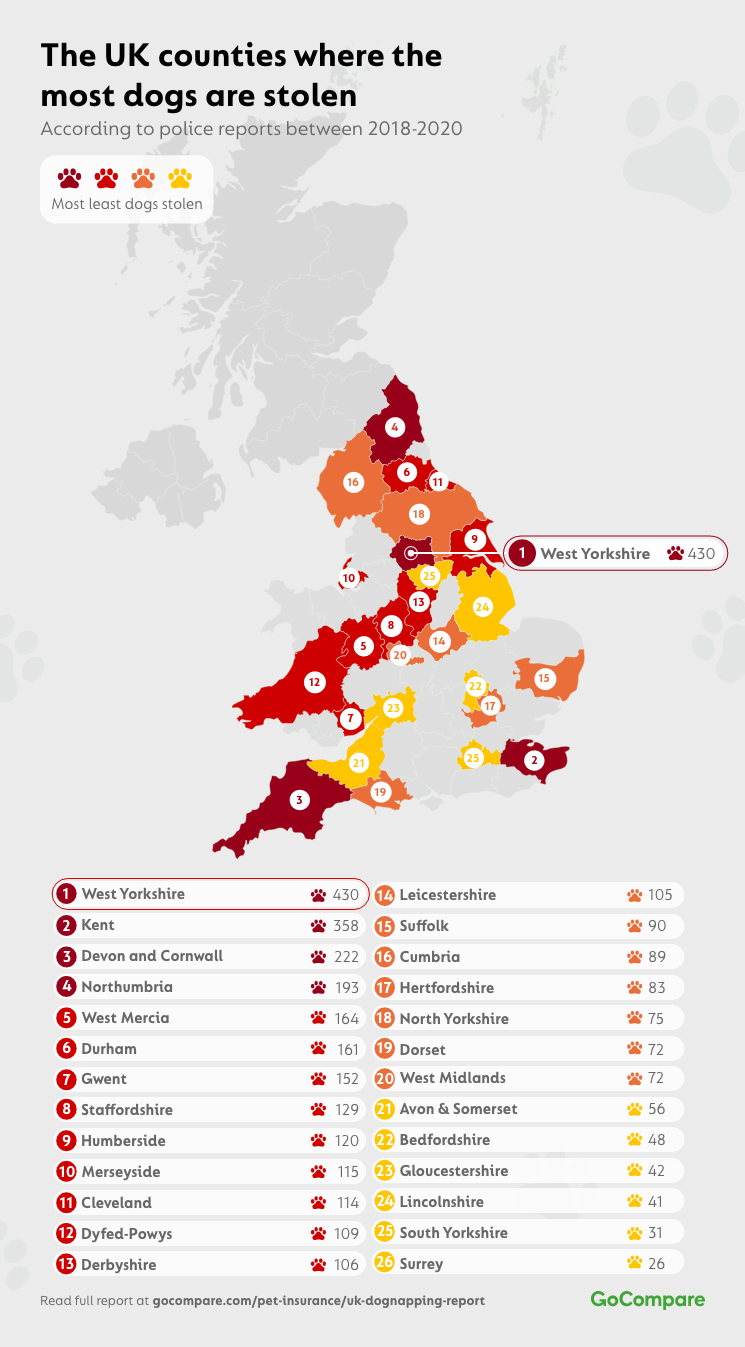 If you're walking your dog in West Yorkshire, keep your eyes peeled - you're in the region where dognapping is most common. Between 2018 and 2020 there were 430 reports of stolen dogs, more than in Kent (358), Devon and Cornwall (222) and Northumbria (193).
But it's clear that dog theft is a national problem. In fact, during that time period there were 3,203 police reports of dogs being stolen, coming from all over the UK including Lincolnshire (41), Surrey (26) and Derbyshire (106).
It doesn't matter where you live; dogs are valuable across the country, and you need to keep them safe.
The UK's dognapping capitals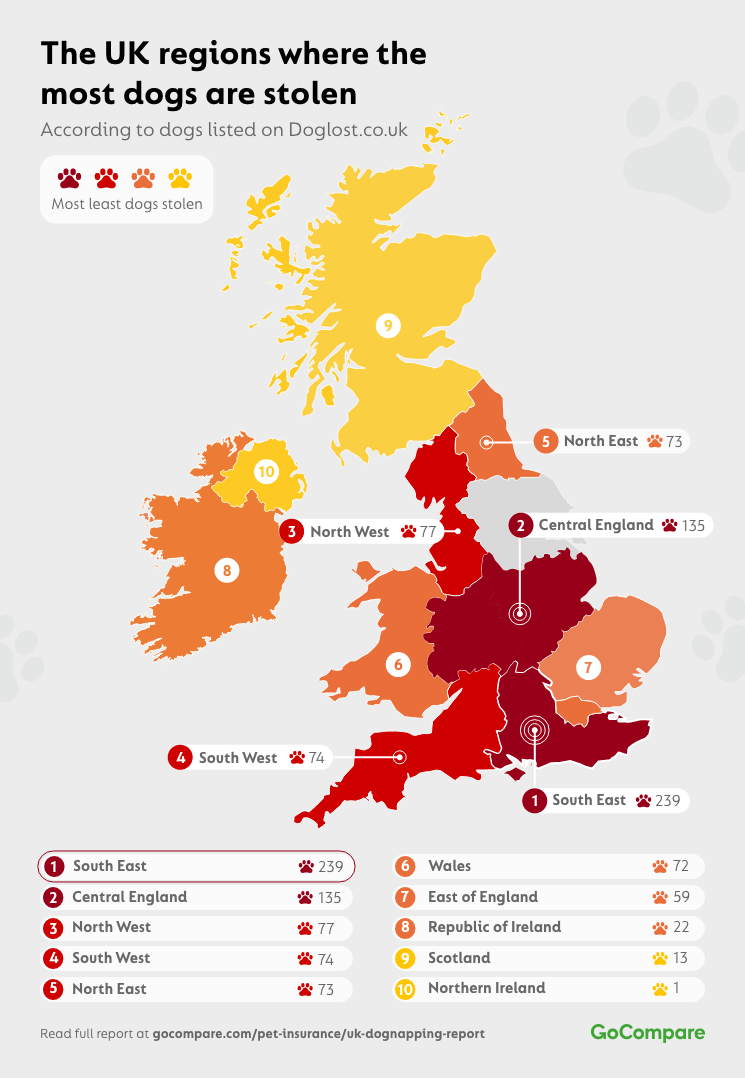 Staffordshire bull terriers are the most likely dog to be stolen
If you were to buy a Staffie, you could be looking at paying as much as £1,028. So it's no surprise to see that they're the most likely breed to be stolen. Between 2018 and 2020, there were 164 cases of Staffordshire bull terriers reported stolen by their owners, totalling a value of £168,623.
Next on the criminals' hit list is chihuahuas. Given their size, they're an easy target to take, and when they cost an average of £911 you can see why the temptation is there. There were 104 stolen in our two year period, adding up to £94,754 in thieves' pockets.
Jack Russells complete the top three. Another small breed with a large price tag, they cost an average of £685 with 102 being stolen. That's a total amount of £69,871.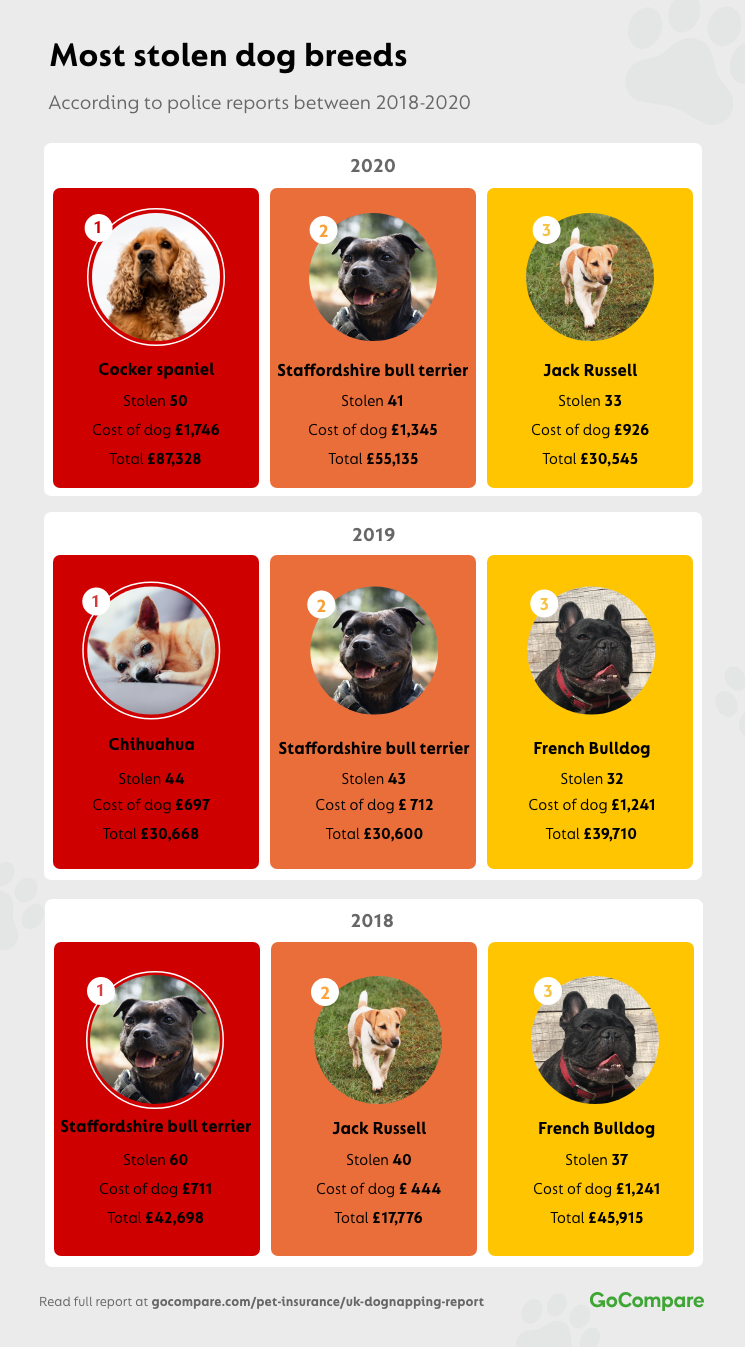 The dogs most likely to be napped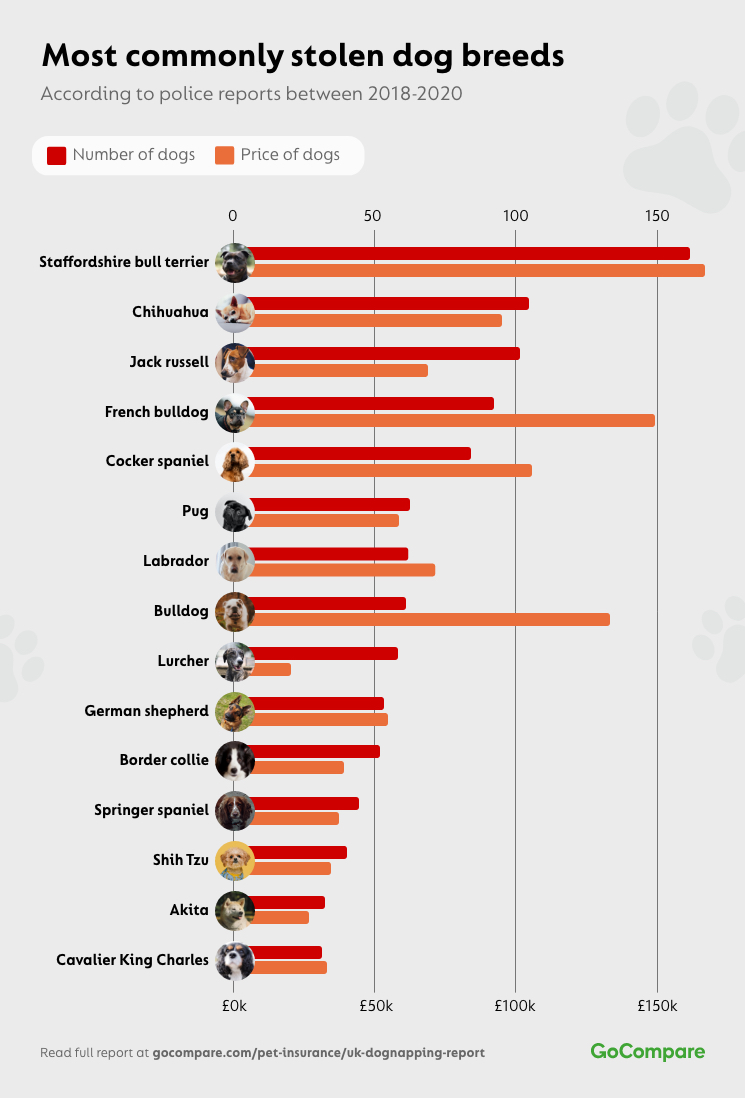 London has seen a 40% increase in dog theft since 2018
On the capital city's streets, dognapping is rife. In fact, since 2018 there has been a 40% increase in the crime, with criminals looking to take advantage of the bustling urban environment to walk away unnoticed.
Hammersmith and Fulham is the most popular borough for dogs to be taken from, with the area seeing 165 reports in the past three years. Lewisham is next with 139, while Lambeth (137), Bexley (136) and Sutton (123) all have reason to be watchful too.
In total, London has seen 1,025 stolen dogs since 2018.
London's dognapping boroughs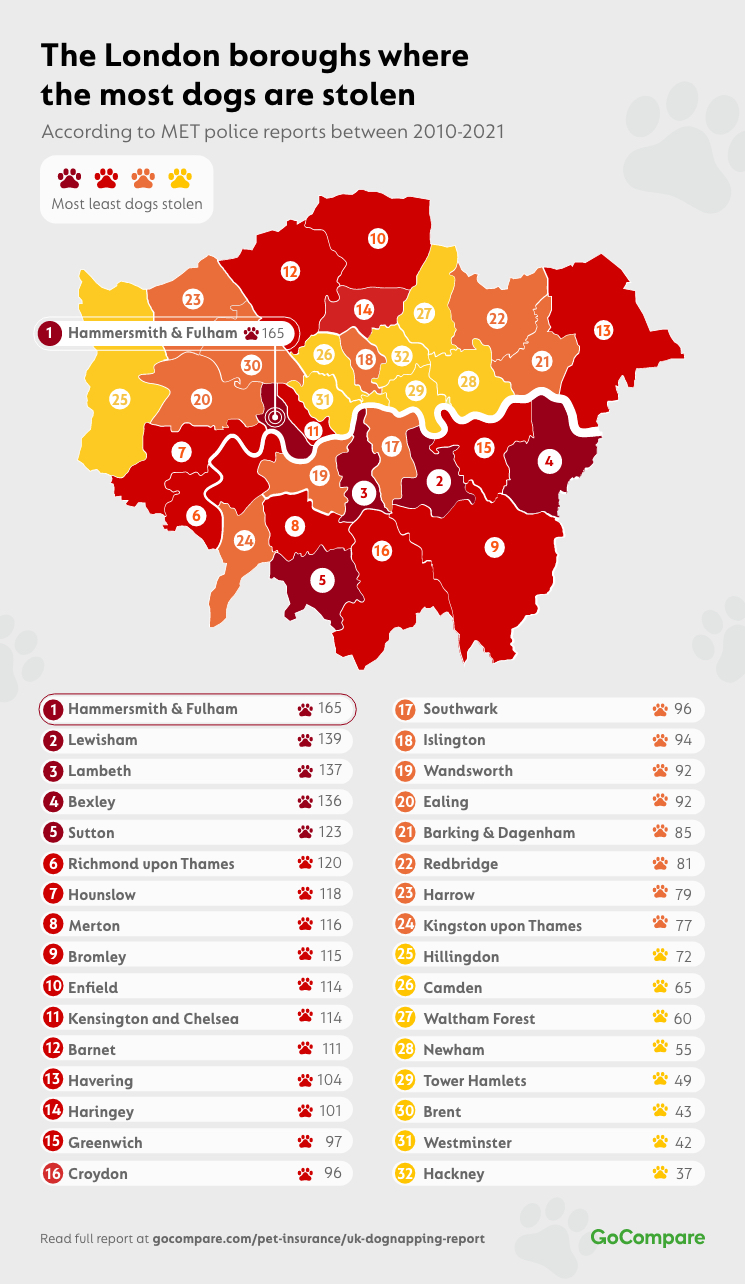 What are the chances of your dog being recovered?
Unfortunately, it can be very hard to track the people who take dogs, as they often strike in areas without CCTV in spots they know the two of you like to walk. They also sell the dogs on fast, making it a challenge to follow their movement.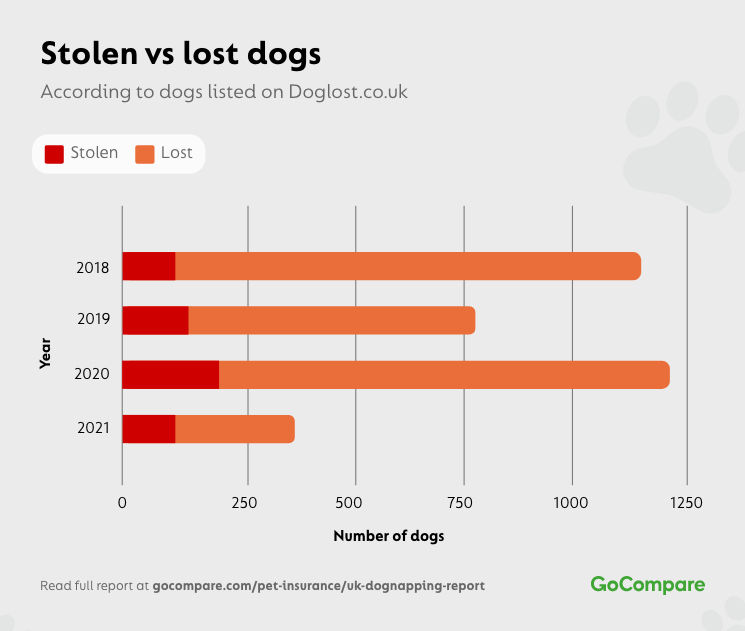 Of all cases of dog theft reported to the police since 2018, only 24.48% resulted in the dog being returned to its owner. For the rest of them, the chances are they were sold on for a profit or used for breeding.
That's why it's so important to include theft cover when you take out pet insurance. While it's a heartbreakingly sad thing to have to think about, it can at least cover the financial burden if not your emotional loss.
How to protect against dog theft
While you might not like to think about your dog being dognapped, you can be sure the criminals are doing. There are a few things you can do to reduce your risk, and help ensure your dog stays safe and sound by your side.
Identification
Make sure your dog is microchipped and that it is up to date with your latest information. You should also ensure their collar contains information such as your mobile number and address, just in case they're found and you need to be contacted.
However, you shouldn't include your dog's name on any identification. This could make it easier for thieves to lure them in and convince anyone else that they're the rightful owner.
Photographs
While we're sure you do already, it's always a good idea to take lots of photos of your dog, especially ones with you in them too. This can make it easier to identify them later and prove they belong with you. Make sure you also take photos after any grooming trips.
Vary your walks
Try and walk in different locations at different times. Some thieves will aim to track your dog, and may be waiting for it on a popular route. You should always stay aware of your surroundings, and be mindful if someone stops you and starts asking questions about your dog.
While this might seem friendly, they could have ulterior motives.
Try and walk with a friend if possible to make it harder for anyone to surprise you.
Never leave your dog out of sight
Don't leave your dog tied up outside of shops, out of your view when in the garden or alone in the car. These can all prove too tempting for opportunistic thieves.
If you have to go out without your dog, make sure your doors and windows are locked to stop anyone breaking in. CCTV can also be a good deterrent.
Get your dog neutered
Many thieves will steal a dog to help them breed puppies, allowing them to make even more money. By ensuring your dog is neutered you take away this possibility, as well as providing your dog with many other health benefits.
What to do if your dog is stolen
The first thing you should do if your dog is stolen is call the police on 999. Insist that it is a case of theft, not a lost animal, and make sure you get a crime reference number.
Then you should report the theft to the microchip database. This means if anyone tries to reregister your dog, you will be notified.
You can also tell your vet and the local council, who will alert you if anyone tries to take your dog in for treatment or change its details on any databases.
Finally, spread the word. There are many websites where you can upload pictures of your dog, with a helpful community on hand to help you look for it. Put posters up around popular dog walking sites to make people aware, and chat to other dog owners in your area to see if they know anything.
The more people know, and the faster you act, the better your chances of getting your dog back home.
Add theft cover to your pet insurance
We can help you save money on your pet insurance by comparing a huge range of deals, many of which will include theft cover. While we all hope your dog is never stolen, it's good to be covered just in case the worst ever happens.
Methodology
The figures represent responses from 26 police forces across England, Wales and Scotland who answered the Freedom of Information request regarding dog theft in the stated geographical area from 2018 to 2020.
Social data from doglost.co.uk was also compared and analysed to assess public accounts for missing or stolen dogs posted online from 2018 to 2021.
Please note: 45 police forces were contacted, however 8 did not reply within the required time and 10 were unable to access the data from their system or declined the request.