Britain loves its pets. According to the PDSA, over half (52%) of the UK's adult population owns a cuddly companion, which is equivalent to roughly 34.8 million of us.[1] Naturally, as proud animal lovers, we strive to do everything we can to give them long, happy, healthy lives.
A pet emergency can hit you in both your heart and your wallet, so it's important for owners to have protection should the unexpected happen. However, many of us don't have an insurance policy in place for such a situation. How well prepared is the nation for cat-tastrophes or doggy disasters? How many of us have cover for our fluffy friends, and what are the main reasons we skip out on insurance?
Around 91% of owners are uninsured: Why isn't the nation getting covered?
The latest data from the Financial Conduct Authority (FCA) states that only 3.1 million pet insurance policies are in place across the UK. This is equivalent to just 9% of pet owners, meaning the vast majority don't have the proper protection.[2]
According to our survey, the main reason pet owners don't take out insurance is, shockingly, that they feel it isn't worth the money. Over a fifth (22.4%) of our survey respondents indicated this as the primary reason why they hadn't taken out cover, despite the fact that insurance protects against an extensive range of issues, potentially saving policyholders thousands if the worst happens.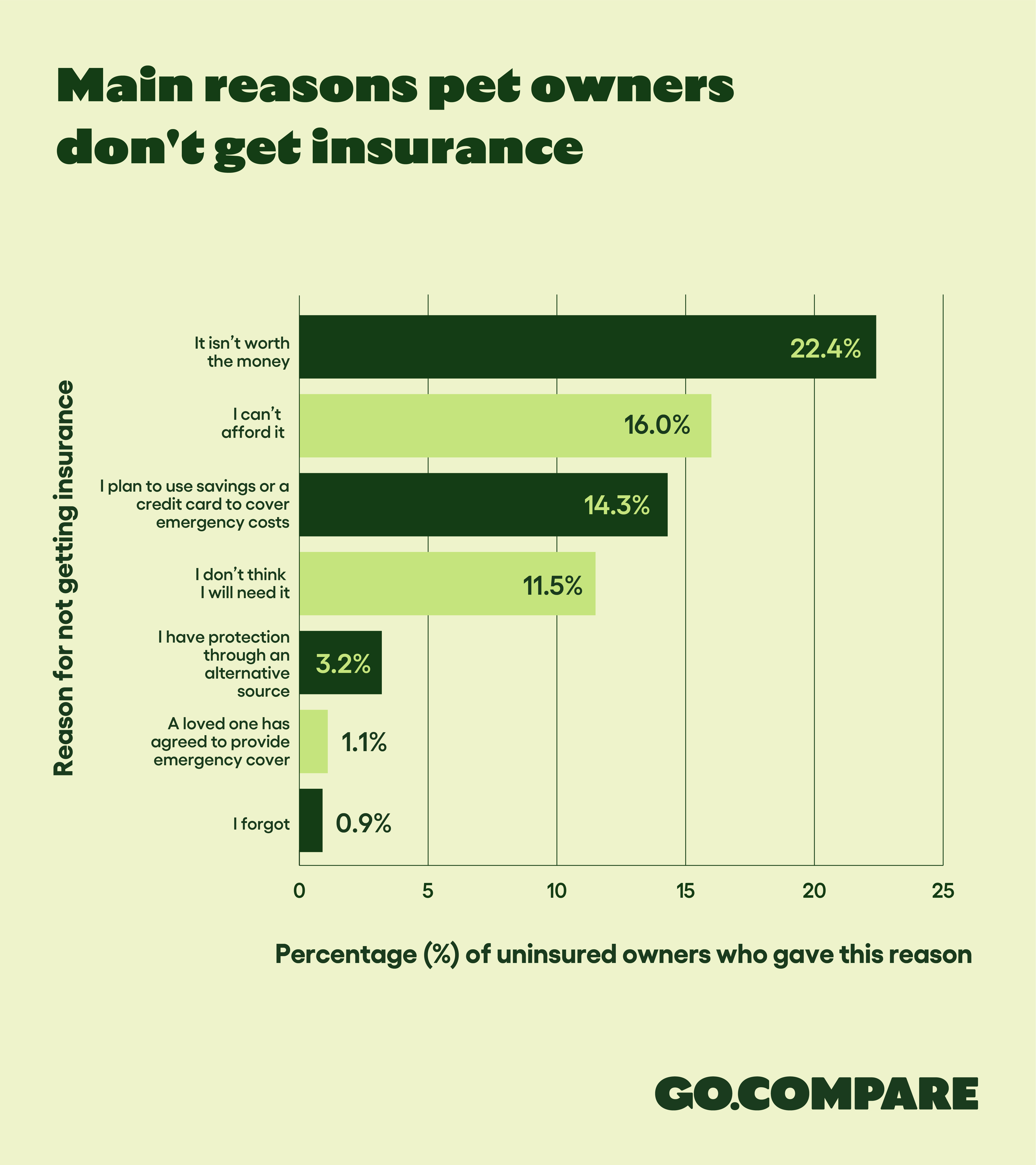 Cost was the second most selected reason, with 16% of respondents stating that they simply can't afford to cover their cuddly companions. A further 14.3% said they plan to use their savings or a credit card to pay for any emergency expenses they encounter, while 11.5% just don't think that they'll need insurance.
Premium prices are a prime problem for some pet owners
Based on our findings, the cost of cover is proving to be the stand-out factor blocking pet owners from taking out a policy, although some seem to find it more problematic than others. For instance, younger animal lovers appear to struggle with expenses more than their older counterparts.
Around a quarter (23.2%) of uninsured 18-34-year-olds said they can't afford the premium for their fluffy friends. In contrast, only 19.5% of 35-54-year-olds and 12.3% of those aged over 55 who aren't protected expressed this as the key reason. For older age groups, the main issue is that they feel a policy simply isn't worth the money, which was selected by 23.5% of 35-54-year-olds and 37.2% of over 55s.
Finances are also a particularly prominent factor for female pet owners. Just over a fifth (21%) said the reason they don't have insurance is that they can't afford it. This is almost double the percentage of men who gave the same answer (11.2%). However, the primary problem for both men and women is still that they feel it isn't worth the money, with 23.4% of men and 21.6% of women stating this as the main reason.
The price of protection appears to be a more significant issue depending on the type of pet you own. Over a quarter (28.6%) of uninsured dog owners said the main reason they pass on getting a policy is that they can't afford it. In comparison, only 19% of uninsured cat owners said the same thing. Insurance prices do tend to be higher for dog owners, and premiums will vary depending on breed and other factors, so it's essential to check how much a pooch will cost to cover before making them part of your family.
The pet insurance postcode lottery
It's well documented that where you live can have an impact on the price you pay for insurance, so it's no surprise that premiums can be a bigger problem in some regions than in others. However, it's in some of the cheapest regions for policies where owners are most struggling to afford their insurance.
Uninsured owners in Wales, the North and the East of England, some of the UK's least expensive regions for pet insurance, named affordability as the number one barrier to buying a policy. The issue is most prominent in Wales, where a quarter (25%) stated this as the main factor for not taking out cover. A similar percentage in the East of England, 23.7%, said it's the key reason, while 18.7% in the North share the same view.
Unexpectedly, owners based in London, the most expensive place for a policy, and the Midlands seem best able to afford pet insurance. Only 7.5% and 11.5% respectively named it as the primary reason why they don't have a policy - the lowest percentages of all regions.
For uninsured owners in these areas, value for money was the key sticking point instead. Over a quarter of pet owners in the capital and the South (28.4%), and a similar percentage in the Midlands (25.7%) cited insurance not being worth the money as the reason why they opted not to get cover.
Do I need pet insurance?
While many feel that insurance is unnecessary or not worth the cost, getting a policy is a vital purchase for any owner of a furry friend. Although it's not a legal requirement, insurance will cover you for when the worst happens, meaning your pockets aren't impacted by any issues that might arise with your cuddly companions.
According to the FCA, the claim frequency for pet insurance policies is just under a third (30%), with the average payout being £552.11. So, it's likely that a policy will support you with a substantial sum at some point in your pet's life, saving you from having to fork out these fees yourself.
Most policies will cover veterinary treatment for accidents and illnesses, meaning you won't be caught out by unexpected pricey medical expenses. Depending on the type of policy you've purchased, you may also be protected against diagnostic and, in a worst-case scenario, euthanasia costs.
It's not just health-related fees you'll be covered for though. Many policies also offer protection for travel-related expenses, such as cancelling a holiday due to an emergency with your pet. You may also receive financial support if your pet is lost, helping you to cover the costs of posters and advertising when searching for them.
Neglecting to buy insurance can also be a costly misstep, as it means you may not have the financial support you need when you're in a tight spot. This could result in you spending thousands on veterinary expenses, among other fees.
How can I reduce the price of pet insurance?
If you're struggling to afford pet insurance, one of the easiest ways you can cut costs is by comparing policies to see what options are available to you..
There are also several ways to bring down your premiums. For instance, if you own more than one pet, getting a multi-pet policy may provide better value for money. You could also look at getting your pet spayed or neutered, as well as choosing a higher excess, although you should only do this if you'll be able to pay it in the event of a claim.
The costs of owning a pet
If possible, it's best to consider all the costs associated with caring for a pet before taking them home. This can vary depending on the type of animal you're looking to own, but to help you gauge what expenses might be involved, we've compiled a brief checklist of the key fees to consider:
Food
Grooming
Insurance
Boarding costs
Toys and accessories
Microchipping
Dental treatment
Routine vet checkups
Vaccinations and preventative medical treatment
For dogs aged one to five, the average pet insurance policy costs £19.68 per month, while the average for cats is £10.84.[4] If the expenses of caring for a specific pet seem too high for your circumstances, it could be worth reconsidering whether they will be financially viable for you. If so, a lower-cost, lower-maintenance (but equally as adorable) animal might be a better option.
About the data
[1] The estimated number of pet owners in the UK was calculated by applying the percentage of UK adults that own a pet (52%, sourced from the PDSA) to the estimated UK population (67 million, sourced from the ONS).
[2] The percentage of insured pet owners was calculated by applying the estimated number of UK pet owners (34.8 million) to FCA data on the number of pet insurance policies in place in the second half of 2021 (3.1 million).
[3] To collect the data used in this report, we conducted a nationally representative survey of 2,000 UK residents via YouGov. The survey was run on 7 March 2023 and all responses were selected at random. All statistics featured on this page are sourced via this survey unless otherwise stated.
[4] Average (median) monthly price for dogs and cats aged 1-5 based on all quotes generated through Stickee Technology in Jan 2023.