As research reveals 1 in 10 go abroad uninsured, Gocompare.com lists the biggest holiday mishaps
More than 1 in 10 (11%) Brits heading abroad this summer will board their holiday flight without having arranged any travel insurance.
New research commissioned by Gocompare.com has found that millions of holidaymakers heading abroad this year might get to experience more than just sunshine and sangria - delayed flights and food poisoning were just a few of the unexpected episodes they encountered -  and for some there are even more surprises when they get home.
For the 'Wish you were here?' infographic click on the image below.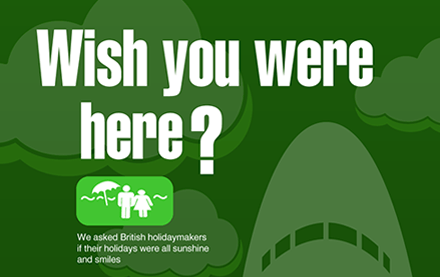 Booking
£1982.90 - The average amount British families spend on their main holiday of the year
93% of British families who holiday abroad believe travel companies and airlines unfairly ramp up prices during the school holidays
25% don't always remember to arrange travel insurance before going on holiday
58% of tourists who bought travel insurance, search for and compare insurance online
Departures
Annoying children are Brits No. 1 in-flight irritation - (74%) of those surveyed
31% would pay extra to sit in a child free zone
39% of Brits have had at least one delayed flight
6% of Brits have had a flight cancelled
6% have completely missed a flight
7% have had a bag lost by their airline
71% think overweight people who take up more than one seat should pay for two seats
49% think alcohol should be banned on planes
Arrivals
9% of Brits have been ripped off by a local taxi driver
18% of Brits have been disappointed with their holiday accommodation
Wish you were here?!
8% of Brits have got food poisoning whilst on holiday
6% have needed medical attention
2% have ended up in hospital
5% have had something stolen whilst on holiday
9% have lost at least one day of their holiday to a hangover
7% have had to stay indoors for at least one day with serious sunburn
But on the brighter side...
14% tried something new on holiday like scuba diving, parasailing or bungee jumping
3% got married and
7% have had a holiday romance
3% had a holiday sexual encounter they later regretted
Home Sweet Home
2% of Brits have got back to find their car had been damaged in the airport car park
1% found they'd been burgled whilst away
A very unlucky 1% found their house had been burned down or flooded
2% returned to work and found out they were being made redundant
1% brought home an unexpected souvenir of their trip - a sexually transmitted infection
Gocompare.com's travel insurance expert Caroline Lloyd said:
"There are some things you just can't insure against, like bad romances, sunburn and hangovers but a surprising number of British holidaymakers have found themselves in situations where a good travel insurance policy could be a big help. Unfortunately, eleven per cent of Brits will head abroad without any travel insurance whatsoever. Which when you consider that travel cover for a family of four starts from as little as £10* for a week in Europe it's the first thing you should be packing."
-ends-
Notes to editors:
On the 19th-23rd April 2013, Vision Critical conducted an online survey among 2,015 randomly selected British adults who are Springboard UK panelists. The margin of error-which measures sampling variability-is +/- 2.2%. The results have been statistically weighted according to the most current education, age, gender and regional data to ensure samples representative of the entire adult population of United Kingdom. Discrepancies in or between totals are due to rounding.
*This £10.04 quote was from OUL Direct for a single trip for a family of four to Spain for eight days leaving on August 10th.