With the coalition asking the 'big six' to freeze their prices, research reveals that 6 out of 10 UK householders think the government isn't doing enough when it comes to energy prices
59% of UK householders think that the government should be doing more to keep energy prices under control.
First Labour leader Ed Miliband promised to freeze energy prices until the beginning of 2017 should he win the next general election, and now the government has followed suit, asking the big six to avoid charging their customers more for their gas and electricity until the middle of 2015.
And research suggests that UK householders want some form of government intervention when it comes to their bills, with 61% feeling ripped off when energy companies announce massive profits, and nearly 6 out of 10 (59%) saying that the government should be doing more to keep gas and electricity prices under control.
In a new poll of over 1,700 UK energy bill payers, carried out by price comparison site Gocompare.com, nearly two thirds (65%) believe we pay too much for our energy in this country and nearly a third (32%) would go as far as to support the energy industry being re-nationalised.
Just 1 in 10 (10%) respondents felt that their energy bill was usually 'fair and reasonable'.
Worryingly a quarter (25%) of UK householders taking part in the poll said they expected to be cold this winter as they can't afford to heat their home as much as they would like and 44% are preparing to wear jumpers, cardigans and coats indoors just to stay warm. 16% are worried that they won't be able to afford to pay their winter energy bills when they come in.
Jeremy Cryer, energy spokesperson at Gocompare.com, commented: "The majority of UK householders are fed up with inflation-busting energy bill rises and the ever-increasing profits reported by the energy suppliers just add insult to injury. Frankly, it's appalling that while some energy companies are reporting profit surges this year, more than one in ten people say they are worried that they won't be able to afford their winter energy bill.
"Ed Miliband, and now the coalition government, have been making headlines with their various pledges to fix energy prices. However, customers who want to fix don't have to rely on politicians to do so, as there are fixed deals available at the moment where you can fix until well into 2017, regardless of which party you vote for.*
"Ultimately, when it comes to energy providers, the best way for consumers to vote is with their wallet and shop around for a better deal that won't leave them out in the cold this winter."
Click on the image below to see our infographic explaining the energy price rises: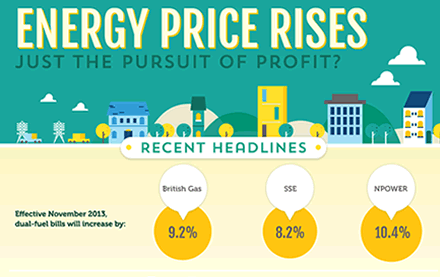 -ends-
Notes to editors:
On the 18th and 19th September 2013, Vision Critical conducted an online survey among 1,784 randomly selected British adults and Springboard UK panelists who pay or contribute towards a household energy bill. The margin of error—which measures sampling variability—is +/- 2.2%. The results have been statistically weighted according to the most current education, age, gender and regional data to ensure samples representative of the entire adult population of United Kingdom. Discrepancies in or between totals are due to rounding.
*Based on Scottish Power's Help Beat Cancer Fixed Price Energy January 2017 tariff, EDF Energy's Blue+ Price Freeeeze March 2017, and Npower's Price Protector December 2017