New infographic spells out the pet treat dos and don'ts
Giving your pooch the odd treat is just a bit of harmless fun – isn't it? Well no, is the simple answer.
Click the image below for the full infographic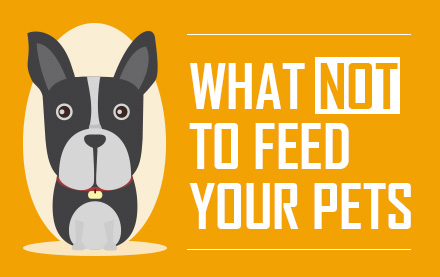 Next time a pet owner shares some of their chocolate with their furry friend, they should think about the possible consequences. Chocolate can lead to hyperactivity, an increased heart rate, seizures and even death in cats and dogs. The darker the chocolate, the higher the toxicity levels.
If pet owners like to decorate their house with flowers – they'd better beware. Lilies can kill cats. Even the pollen or water from the vase can cause severe acute kidney failure in feline friends.
Even giving something as inane as a grape to the household hound can cause abnormal drinking or urination, dehydration and acute kidney failure.
Gocompare.com has produced an infographic with the dos and don'ts of pet treats. It gives details of the scraps to avoid giving your pet to keep them safe and well.
Pet insurance expert at Gocompare.com, Ben Wilson said: "Next time you think about slipping your dog a bit of your leftover fruit salad – take a moment to think about the possible consequences.
"Apricots, peaches, plums and cherries are all very bad for cats and dogs and could ultimately lead to death."
Ben added: "Looking after your pet also means making sure you monitor what you feed them and ensuring that they aren't eating anything that is harmful.
"The illnesses that could result from your pets eating these toxic foods would all be very expensive to treat, so when you are considering the health of your animal you should also consider pet insurance.
"It can cost as little as £7.42* a month to insure your cat or dog – and for that you'd have peace of mind that whatever happens you will be able to afford to get them the best medical treatment available."
-ends-
Notes to editors
*90% of customers were quoted a monthly pet instalment amount of £7.42 or less with Gocompare.com (1st July 2013 – 30th September 2013).