A fifth of disillusioned house-hunters would consider leaving the UK – and the USA tops the list of potential destinations.
With the latest available official figures showing that UK population growth has exceeded the number of new dwellings completed by more than double*; new research from Gocompare.com Mortgages has revealed people's frustrations with the UK's dysfunctional property market, and the lengths that some are considering going to just to have a home to call their own.

While almost a third (30%) would take the sensible step of applying for assistance from the government's Help to Buy scheme, many would be willing to resort to far more desperate measures.
The survey of 2,000 UK adults who are looking to buy a home, found that 20% would consider moving to another country, with majority English-speaking countries USA (31%), Australia (29%) and New Zealand (20%) being the most likely destinations for wannabe expats. Perhaps surprisingly the Scandinavian countries, so often held up as leading-lights for happiness, education and general standards of living, received just 9% of the vote.
Men (22%), were more likely than women (18%) to consider a move overseas in pursuit of property; while those aged between 18 and 24 years old (23%) indicated that they were most keen to leave the UK, followed by 35-44 year olds (21%), and the over 55s (19%).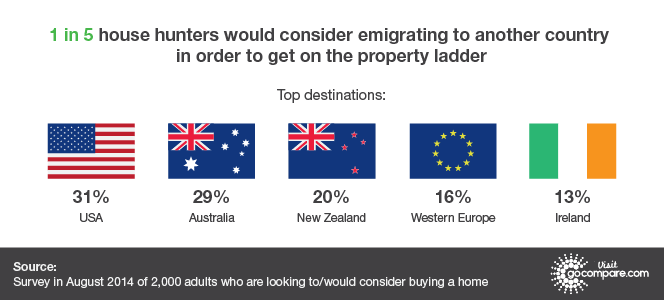 The steps people would take to get onto the property ladder included:
Applying to the government's Help to Buy scheme – 30%

Emigrating to another country – 20%

Buying with friends – 15%

Buying a microhome – 14%

Buying a static caravan/park home – 135

Buying with parents (as joint applicants, not just for a deposit) – 12%

Buying with siblings/cousins/other family members (not parents) – 12%

Buying a canal boat/barge – 9%

Buying with colleagues from work – 5%

Buying with strangers – 3%
Matt Sanders, spokesperson for Gocompare.com Mortgages, said: "A lack of affordable housing has resulted in a property market that is closed off to an increasing number of would-be homeowners. As such, it's hardly surprising that many people feel like they may have to take some rather drastic steps to own a home.
"While shared-ownership, settling for small or alternative forms of accommodation, and even getting on a plane to another country are being mulled over as options for many, it's also encouraging to see from our research that people are actively considering making use of the Help to Buy scheme. The majority of people who have applied to the scheme so far are first time buyers, but it's open to all borrowers.
"If you're actively looking to buy a home, it's well worth seeking advice from a qualified, impartial mortgage broker, who can give you an idea of what you can afford and the options available to you."
If you're struggling to get to grips with mortgages, Gocompare.com has put together a comprehensive collection of mortgage guides. 
-ends-
Notes to editors:
Research was conducted online by OnePoll between 12th and 18th August 2014 with 2,000 adults who are looking/would consider buying a home.
* From mid-2012 to mid-2013 the population of the UK grew by 400,624, but only 134,460 dwellings were completed in the same period. Sources: https://www.gov.uk/government/statistical-data-sets/live-tables-on-house-building, http://www.ons.gov.uk/ons/taxonomy/index.html?nscl=Population#tab-data-tables, http://www.ons.gov.uk/ons/rel/family-demography/familie-and-households/2013/stb-families.html#tab-Household-size