High cost of energy is fuelling winter worries.
New research with over 1,800 householders reveals:
42% will heat their homes for less time than they would like this winter;
36% will be forced to leave rooms unheated this winter
50% will leave it as long as possible before switching the heat on;
A quarter will avoid using energy hungry devices like the tumble dryer;
19% are worried about paying this winter's energy bills;
Only 22% have switched energy supplier in the last 12 months.
Millions of UK householders are shivering at the thought of how high this winter's fuel bills could be - with 9 out of 10 saying they will be rationing energy use in some way in an attempt to keep bills down.  However, only 22% of those surveyed have switched energy supplier in the last 12 months to try and save money.
The new research from Gocompare.com Energy reveals that nearly a fifth (19%) of householders are worried about the cost of their winter energy bills, while 16% said they will have to make cutbacks in other areas of their life - just to keep the heating on.  Almost one in five (17%) admitted to being cold last winter in a bid to keep fuel bills down.
Half of those surveyed said that they will leave it as long as possible before turning the heating on this winter, and many (45%) will turn down the thermostat to save energy or have the heating on less time than they would like (42%).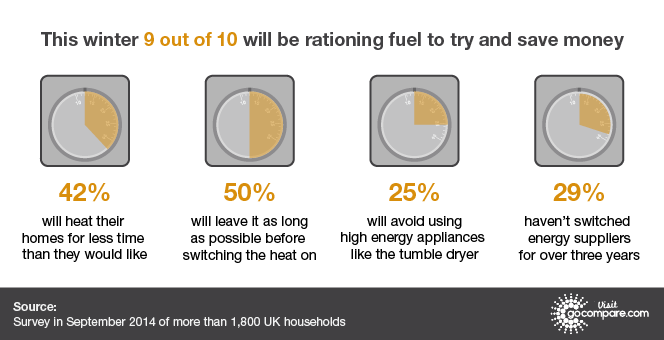 Other measures householders are planning to take in an effort to shrink their winter bills include:
Showering rather than taking a bath (31%);
Taking shorter showers than they would like to (13%);
Stopping or cutting back on their use of energy hungry devices such as tumble dryers and dishwashers (24%).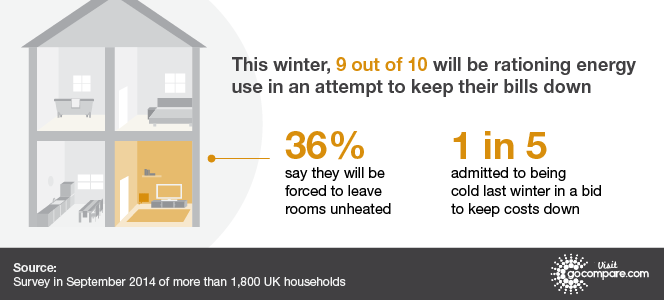 Meanwhile, 42% say they will be using more blankets and duvets around the house to keep warm and a third will be wearing socks in bed. 28% will use hot water bottles to keep warm, 11% will be sleeping in their dressing gowns, while 11% admit they will be donning a onesie this winter.
Despite worrying about the cost of their winter bills and trying to find ways to cut their fuel consumption, only 22% of those surveyed had switched supplier in the last 12 months, while 29% haven't switched for over three years.  A significant proportion of those who hadn't shopped around for a better deal (41%) said they thought that it was 'too much hassle' to change provider, while one in ten were worried switching would interrupt their gas or electricity supply.
 
Jeremy Cryer, energy spokesperson at Gocompare.com, commented: "Winter, the peak period for energy usage is fast approaching, so now is a good time to look at your fuel bills to see if you are getting a good deal or whether you could save money on your bills by simply switching suppliers or moving onto a fixed tariff.   
"Comparison sites like Gocompare.com enable you to quickly and easily compare the deals currently available and the savings can be substantial.  It only takes a few minutes to enter your details - which can easily be found on your last gas or electricity bill - and find the right tariff for you.  Once you've made the switch, your energy supply continues uninterrupted, the only difference you'll notice is the saving you'll make and your new provider's details at the top of your next bill." 
Typically Gocompare.com customers save up to £166* on their dual fuel bills by switching tariffs.
For more information on how to save money on your gas and electricity bills, read Gocompare.com's guide: http://www.gocompare.com/gas-and-electricity/saving-money-on-your-gas-and-electricity/
-ends-
Notes to editors:
On 24 - 25 September 2014 an online survey was conducted among 2,002 randomly selected British adults age 18+ who are also Springboard United Kingdom Community members. The margin of error-which measures sampling variability-is +/- 2.2%, 19 times out of 20. The results have been statistically weighted according to the most current data on age, gender, region, and education from the most recent census data, to ensure the sample is representative of the entire adult population of the UK. Discrepancies in or between totals are due to rounding.
* Based on customers who provided their energy usage and received a price for switching energy supplier for both gas and electricity (dual fuel) using Gocompare.com during 01 Mar - 31 May 2014. At least 51% of customers saved £166 or more.