GoCompare's annual Switching Report[1] reveals a big increase in customers switching with 64% changing providers for at least one of the 10 most common financial products
Last year, millions of insurance, household utility and banking customers voted with their wallets and switched providers for at one least of the top 10 everyday financial products, according to the latest research.
GoCompare's annual Switching Report reveals that 64% of UK adults swapped to a better deal in 2018, with switching levels for all products at a higher level than three years ago. 
While car and home insurance and household utilities remain top of the list of products most likely to be switched, the 2018 saw an increase in activity in 8 out of the 10 main financial product categories.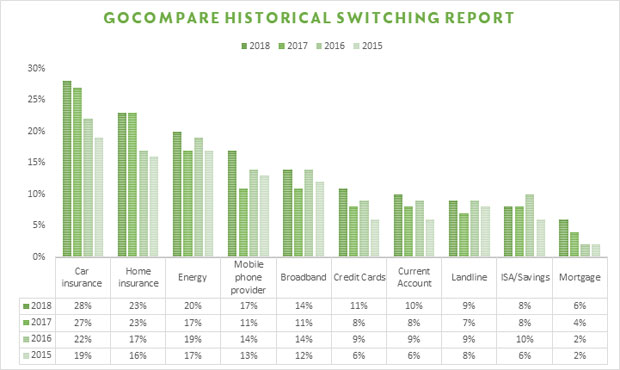 Most UK adults have switched at some point in the past but, 24% of those surveyed admitted to never changing provider for any financial product or service.   
GoCompare's Switching Report also looked at the average length of time customers remain with the same car and home insurance providers and energy supplier.  On average, customers stay loyal to their motor insurer for 2 years, home insurer for 2.2 years and energy supplier for 2.5 years.
Commenting on the research, Matthew Sanders from GoCompare said, "Switching activity is continuing to rise, driven partly by price increases in the car insurance and energy markets, but also by the general economic uncertainty around Brexit.  Many people are looking for ways to cut outgoings and we're pleased to see that the message is getting through that switching is relatively hassle-free and the savings can be significant. 
"The notion that 'loyalty pays' has been well and truly outed in the last 12 months, with the authorities taking steps to stop rip-off loyalty pricing.  The Government has stepped in to tackle overcharging of loyal gas and electricity customers by capping the maximum rate energy providers can charge per unit of energy and for a standing charge.  While the Competition and Markets Authority have proposed a wide range of corrective measures which could significantly reduce the impact of loyalty penalties on financial products.  It remains to be seen how these initiatives pan out.
"So, if you are looking to make savings, switching providers for everyday financial services products and household utilities is an easy and effective way to reduce your outgoings.  If you've never switched before or haven't done so recently, you're certain to save money."    
GoCompare's tips to getting the best deal financial products and household bills: 
Diary key dates including renewal dates, expiry dates of fixed rates or tariffs, the end of introductory offers.  This will give you time to review your arrangements;
NEVER accept an insurance renewal or energy tariff change without first checking that the new price you are being offered is competitive;
Compare prices and headline rates and, read the small print. Make sure you're making like-for-like comparisons and understand all the charges, any penalties, exclusions and terms and conditions you will be required to meet, and that the product is right for you;
If you've signed-up for a product with an attractive introductory rate, review the arrangement before the end of the offer period - otherwise you could end up paying more in the long-run;
Use a comparison website – they provide quick and up-to-date information on a wide range of financial products and services.