Guide to Cash ISAs
Key points
Save without paying tax on interest
Annual ISA allowance limits apply - in 2017-18 it's £20,000
You can open one new Cash ISA every tax year
Tax year is 6 April to 5 April
You can withdraw money as with any other saving account, subject to the provider's terms and conditions
If switching providers transfer funds, don't withdraw them
Do you enjoy paying tax? No, of course you don't.
So it makes sense to use an Individual Savings Account (ISA), which comes with one incredible perk - the taxman can't touch it.
The interest you earn on your money is yours, and yours alone.
Although basic-rate taxpayers can now earn £1,000 interest tax-free from regular savings accounts, an ISA can have long-term tax benefits for anyone and may prove particularly beneficial to higher-rate and additional-rate taxpayers.
Also remember that, if interest rates rise, that £1,000 tax-free interest limit on non-ISA accounts could get used up a lot more quickly.
Cash ISA allowances
Each year you have an ISA allowance, which is an amount you can save into a tax-free account.
That amount resets every new tax year and, if you haven't used it, you lose it. The tax year runs from 6 April to 5 April the following year.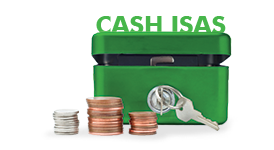 You can save the allowance amount into a Cash ISA, a Stocks and Shares ISA and/or an Innovative Finance ISA (for peer-to-peer investments). From April 2017 it will be possible to also pay into a fourth type of ISA, a Lifetime ISA.
The overall ISA allowance for the 2017-18 tax year is £20,000. All of that can be in cash, or you can split the £20,000 between cash, stocks and shares and peer-to-peer in whatever proportion you please.
What kinds of Cash ISAs are there?
There are about as many kinds of Cash ISAs as there are standard savings accounts.
Need more information?
For example, you can get regular-saver ISAs, fixed-rate bond ISAs and easy-access ISAs, not to mention the Help to Buy ISA.
In fact, the only real difference between a Cash ISA and a normal savings account is that the taxman won't take a cut of the interest you earn.
That means you can save in the best way for you. If you haven't put any money aside this tax year then it may make sense to start by using your tax-free allowance.
Who can use a Cash ISA?
These tax-free accounts are only available to UK residents aged 16 and over. If you're under 16 or want to save for a child, then you may want to consider Junior ISAs.
Most people use their ISA allowance to make long-term savings. Once you've invested money into an ISA, the taxman can't touch the returns until you withdraw it.
But even if you just want somewhere to keep your rainy-day fund, an easy-access Cash ISA could be right for you. After all, if you're lucky then you'll never need to touch your emergency cash, so you may as well keep it in a tax-free account if the interest rate is competitive with other options.
Radically flexible Cash ISAs
The Cash ISA became more convenient for savers when the 'radically flexible ISA' launched on 6 April, 2016. This allows ISA savers to withdraw and replace money from their Cash ISA without it counting towards their annual ISA subscription limit for that year, so long as the repayment is made in the same tax year as the withdrawal.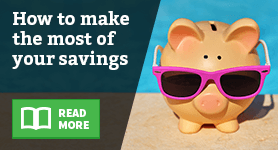 Before this change was made, a withdrawal from the ISA account meant that that element of the annual limit was lost to the saver.
How to transfer your Cash ISA savings
You can switch Cash ISAs to find a better rate, you just need to transfer the money.
If you're thinking of switching, remember that your current ISA provider is obliged to let you transfer money out of its account and into a better one, so don't let them put you off.
Under Financial Conduct Authority (FCA) guidelines Cash ISA transfers should take no longer than 15 working days.
See also:
What is compound interest?
Often, your new provider will take care of a switch for you and will ask if you're transferring funds in when you open the account. If it's the current year's Cash ISA then you'll only be able to transfer the entire amount, but with older ISAs you may be able to transfer just a part of the fund.
Having said that, not all providers accept transfers into new accounts, so you need to check that before opening a new account.
When you compare Cash ISAs through Gocompare.com, you can clearly see whether an account allows transfers in. That should make it easier to choose the right deal.
If you've locked your money up in a fixed-rate bond Cash ISA, then you may have to pay a penalty in order to transfer the money into a new account. Do the maths and make sure it's still worth it before going ahead.
Can I transfer between a Cash ISA and a Stocks and Shares ISA?
It is possible to transfer a Cash ISA to a Stocks and Shares ISA, and vice versa, subject only to the restrictions mentioned above. If it's the current year's ISA you'll only be able to transfer the full amount, and not all account providers will accept transfers.
You may be able to transfer partial amounts from previous years' ISAs, but again this will be subject to your new account provider's conditions.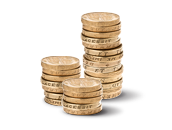 Note that rules changed significantly on 1 July, 2014 - before that date, it had not been possible to transfer from a Stocks and Shares ISA to a Cash ISA.
Watch out for the 12-month drop
Some accounts pay a bonus rate for the first year in order to tempt savers in. These can be a great way to earn a better rate.
But you should make a note of when you open the account and be ready to switch on the first anniversary. If you're particularly savvy you can keep switching to a better account every year, comparing rates to find the best each time.
Inheriting Cash ISAs
The Cash ISA is subject to the same inheritance tax treatment as other ISAs meaning that, on the death of the account holder, the funds will form part of the estate for inheritance tax purposes.
A spouse or civil partner can inherit ISA tax advantages and is able to invest as much into their own ISA as their spouse used to have, on top of their usual allowance.
By Felicity Hannah