Get the info on Halifax savings accounts
Want to start saving, but not sure where to start? Look no further, we've got the low down on savings accounts with Halifax. 
Key points
The Halifax is the UK's third most reputable bank according to the Reputation Institute
Make sure you know any terms and conditions of an account before committing to it
The account you plump for suits should suit your savings goal: for instance, if you'd like to save gradually, or have flexibility over when you pay in
In 2017, the Reputation Institute ranked the UK's most reputable retail banks among the general public, and Halifax ranked in the top three. 
In these times of besmirched reputations in the banking sector, it's really something to shout about.  
Perhaps it's down to the fact that it has evolved from a mutual building society set up in 1852, or the impact of memorable advertising campaigns featuring stars from Howard, the singing sales rep, to the Thunderbirds – but the fact is, people tend to trust Halifax.  
And the question is, would you put an X by its savings accounts? 
What type of saver are you? 
So, you're saving some of your hard-earned money regularly, and that's great news.  
The question is, what type of Halifax savings account may suit you, and is Halifax the right fit for you in the first place?  
In April 2018, like many high street banks, Halifax offers a range of savings options. These stretch from flexible instant-access savings to higher-interest fixed-term bonds, suitable for lump sums and regular deposits.  
Easy access to your savings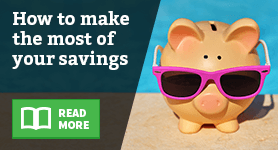 If you want your savings to be as flexible as possible, a Halifax easy-access savings account may suit you.  
This type of account tends to allow you to pay in funds whenever you want, and withdraw them whenever you want.  
Flexibility extends to the interest rate too, which can go up or down along with the Bank of England base rate.  
Savings with more interest 
If access to your money isn't a priority, then you might want to consider a fixed-term savings account, which will pay you a fixed amount of interest – which tend to be higher than a variable rate, at least at inception – for a fixed time.  
This can apply to a lump sum, or to regular savings, but the key is that you leave your savings alone or you'll pay a penalty.  
In April 2018, Halifax had a number of options for hands-off savers, including Isa options, for between one and five year stints. 
Is tax the pressing issue? 
Standard rate and higher rate taxpayers receive the Personal Savings Allowance, which means you can earn £1,000 or £500 interest tax-free respectively, each year.  
See also:
Interest paying current accounts
If you don't receive this, or you'll earn more savings interest, you may want to investigate Isas, which aren't subject to tax. 
In April 2018, you could get a Cash, Investment, or a Stocks and Shares Isa from Halifax. 
As with other savings accounts, the interest rate will vary depending on how long you're willing to lock your savings away.  
Savings accounts for youngsters 
Children can learn from a young age that it pays to save regularly and leave your money alone - with options for regular, variable and Junior Isa savings accounts available. 
Savings accounts pros and cons 
There are pros and cons to each type of savings account. And even among similar types of accounts, there are variable factors.  
The things to consider are: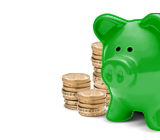 Whether you want to build up your savings gradually 
If you can pay in a set amount of cash regularly 
Would you rather be able to skip a month if you have more expenses than usual? 
Whether you want to be able to retrieve money as and when, or you can afford to set it aside for a longer time 
With all these variables, it pays to do your homework so you make the most of your savings. And that's where we can help by comparing different savings options so you can see what could work for you. 
When you look at the different accounts available, try to take all the available information into consideration, and you'll hopefully end up a more successful saver.  
For example, just because a particular account offers the highest interest rate, doesn't mean it will be the right account for you.  
These accounts often have specific terms such as a minimum deposit, or a penalty if you withdraw money before the end of a fixed term.  
Finally, are you wondering what safeguards you have for your savings? Well, any savings with Halifax are protected by the Financial Services Compensation Scheme up to a total of £85,000. This was correct in April 2018.
By Katrina Hendley