Are you ready for our guide to Santander savings accounts? Ok then... 1, 2, 3, go!
Thinking about squirreling away your savings with Santander? You'd be nuts not to read our guide to Santander savings accounts first...
Key points
Santander 123 customers usually have access to its best savings accounts rates
Santander frequently wins awards for its cash ISAs
Santander launched in the UK in 2010
Hola! Bienvenido to Santander, a little ray of Spanish sunshine in the UK banking scene. 
It's been around since 2010 after Abbey National, Bradford & Bingley and Alliance & Leicester were splodged together. That's a lot of well-known names, but does it all fit together and offer good savings accounts?
What kinds of Santander savings accounts does it offer? 
What doesn't it offer? When we looked in April 2018, Santander had 19 different savings accounts and ISAs. 
The usual types of savings accounts include: 
Regular savings accounts: where you pay in a set amount of money each month, usually in the region of £25 to £250 
Easy access accounts: where you can access your money any time, but tend to get lower annual equivalent rates (AER) 
ISAs: individual savings accounts, tax-free style 
Help-to-buy ISAs: which support first-time buyers with tax breaks and government help 
Fixed-rate bonds: long-term accounts that offer decent AERs, but restrict you accessing your money 
And Santander offers versions of all these. Yet we'd say it's smart to compare savings accounts from lots of providers to find the right one for you.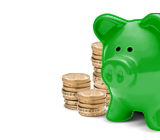 What's the difference between Santander regular savings accounts and Santander ISAs? 
To put it simply, a cash ISA is just a savings account where you don't pay tax on the interest. You can put in up to £20,000 during the tax year. This was true in April 2018.
Santander tends to offer a couple of different types of ISAs depending on your needs. Also, what kind of account you have with Santander can open up different ISAs. 
Can I apply for Santander savings accounts? 
You have to be an existing customer to apply for most Santander savings accounts. Usually you have to be a current account holder. Yet non-customers can apply for certain fixed-rate bonds and cash ISAs from Santander. 
Generally speaking though, current customers get more favourable Santander savings accounts interest rates. 
See also:
Easy-access saving accounts
Make your savings work harder
Are Santander savings accounts any good? 
Santander came 31st of 36 savings accounts providers in Fairer Finance's spring 2018 review. But it came fifth in the Telegraph's favourite regular savings accounts list in September 2017.  
What about awards? Well Santander won the Best Online Cash ISA provider at the YourMoney.com Awards 2017. It was also the winner of ISA Provider of the Year at MoneyAge Awards 2017.  
And more widely, Santander won Most Trusted Mainstream Bank at the Moneywise Customer Services Awards 2017.  
But for all the plaudits, ultimately the right savings account is the one that best suits your circumstances, and is your choice alone. 
Top tips on finding the best Santander savings account for you 
Keep an eye out for introductory deals - they're great to start, but usually after 12 months the AER plummets. 
AER tends to show a more accurate rate of what you'll earn compared to gross interest. 
Savings interest can be tax-free - basic 20% rate taxpayers can earn £1,000 a year in interest before paying tax on it. 
Beware zombie savings! If you're earning 0.01% and 0.5% AER, you could be infected.  

Did you know...?

Santander took over the sponsorship of 'Boris Bikes' in 2015

It's usually a good idea to pay off your debts before popping money into savings.
Some current accounts can pay more than savings accounts. Odd but true. 
Regularly review how your savings and investments are performing. 
Shop around and compare savings accounts. 
By Sam Easterbrook