Find out more about the right savings accounts, Christmas clubs and ways to maximise your Xmas spending. It's never too soon to start!
Key points:
Saving for Christmas throughout the year can really take the pressure off in December
Christmas clubs might seem attractive, but traditional savings let you earn interest and your money will be safer
Consider other ways to stretch your festive spending, like vouchers and cashback
It seems that we start hearing about Christmas earlier and earlier each year - adverts on the TV in September, lights hanging in the town centre and carols playing over the supermarket speakers before you can even get through Bonfire Night.
On the other hand, the earlier you start saving for Christmas the better.
Christmas doesn't need to be stressful, so to avoid any last-minute panics it can be a good idea to start budgeting in the first half of the year.
Giving yourself enough time to plan and saving a small amount each week or month can be easier than forcing yourself to put away large amounts further down the line.
The Money Advice Service's Christmas Money Planner† can be a useful tool to work out how much you need to save for Christmas.
Once you've got your saving goal, consider the options before deciding where to entrust your festive funds.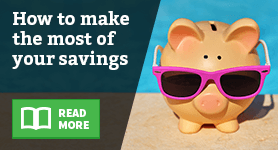 Bank or building society savings accounts
Putting money in a current account or savings account is a quick and easy way to save.
High-interest current account
You might find you can get a better rate of interest with a high-interest current account than with a traditional savings account.
However, there may be conditions to meet to be eligible for the interest or to avoid charges, such as a minimum monthly deposit, or a certain number of direct debits.
What's more, if you have internet banking and a debit card for the account, you'll need to have the discipline to leave the money where it is and avoid spending it.
Regular savings account
Regular-savings accounts require you to put money in each month - you can choose the amount - usually by direct debit.
They sometimes have very favourable rates of interest, so they can be a great option for regularly adding a monthly sum into your Christmas fund.
Check before opening a new account how much notice you have to give before you can access your money - you don't want to get to the Christmas shopping season only to find you can't get hold of your savings.
You should also be aware of when the interest is paid. This may, for example, be after 12 months, meaning that you'd have needed to start saving in November to get the interest in time for your Christmas spending the following year.
Standard savings accounts
If you're worried about accessing your savings, look into an easy-access saver instead.
With such an account you should be able to withdraw your money at any time without penalty, but interest rates are likely to be lower than with some restricted access accounts.
Cash Isas
Cash Isas can be a good idea if you want to get the most out of your Christmas saving, as any interest you earn will be tax-free.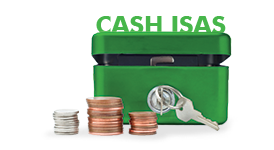 If you're planning on taking out an Individual Savings Account for Christmas savings, remember that the money withdrawn will be lost from your annual tax-free Isa allowance.
From 6 April, 2016, the government has announced that savers will be able to take money out of an Isa and replace it within the same year without it affecting their annual Isa allowance, which will make the Cash Isa a more flexible product for festive savers.
Make sure you check the terms of the Isa; if, for example, you choose a fixed-term product you may not be be able to remove the money before the term ends without being charged a penalty and/or losing your interest.
Christmas clubs
Christmas clubs tend to all work in a similar way - you start saving early in the year and put aside some money each week or month.
Most schemes don't give you the money in cash, but in vouchers that can be redeemed at major retailers.
In the past people have lost money after putting cash into a Christmas club which went into liquidation
Places like department stores, supermarkets and employers offer Christmas clubs, as do Christmas club companies.
Advantages of joining a Christmas club
Joining a Christmas club means you can't access your savings early - your money will be released a few weeks before Christmas.
This can be a good thing if you feel unable to save, but bad if you need access to your money at other times of the year.
Disadvantages of joining a Christmas club
Putting your money into a Christmas club means you'll be limited to spending it at retailers that accept the vouchers, which is useful if the retailers are many and varied but may well mean you find yourself topping up with purchases from other places.
Unlike saving with a bank or through an Isa, you don't typically earn any interest on your money - instead someone else is pocketing all the benefits of holding your money, and you're losing out.
Christmas clubs are not regulated by the Financial Conduct Authority (FCA) which means you may not have Financial Services Compensation Scheme protection for any of the money you put in.
In the past people have lost money after putting cash into Christmas clubs which went into liquidation.
However, the Christmas Payment Association (CPA) has developed a code of conduct for its members, meaning that they commit to looking after the money of customers and to rules on advertising.
In July 2012 the CPA amended its code to ensure that customers' payments are placed within an FCA-authorised institution (such as a bank) and are clearly identified as coming from an individual.
The money would therefore be covered in the event that the bank or financial institution holding the money went under.
However, this would not save customers' money if the club went bust, rather than the bank. In that event customers would be just as vulnerable as those who placed their money with Farepak, which went bust in 2006 and lost £37m.
Think carefully before opening a savings account with a Christmas club - your money may not be safe if the club were to go under and you would lose out on interest you could gain with a savings account at a bank or building society.
Supermarket saving schemes
Some supermarkets offer savings schemes, where you can either use a savings card or opt to save up all your vouchers through the year and then receive them in time for Christmas.
As one example, Tesco offers a saving scheme where the more you shop with its Clubcard, the more vouchers you get for Christmas.
It also offers a bonus voucher scheme where you can add money to your card to be spent in store and receive bonus vouchers.
Advantages of supermarket saving schemes
Bonus schemes let you get vouchers for free on top of your weekly shop and these can stack up by Christmas time.
Disadvantages of supermarket saving schemes
It's unlikely that your accumulated vouchers will pay for Christmas on their own.
If you top up your supermarket card with cash, bear in mind that the same disadvantages will apply as with Christmas clubs - lack of FSCS protection and limits on where you can spend your money.
Credit unions
Saving through a credit union can be a good compromise when you need to save.
Some credit unions also offer their own Christmas clubs, which work in a similar way to a savings account with limited access until December.
Credit unions have FSCS protection, so your savings should be guaranteed if the credit union were to fail.
You could be making saving for next year even tougher if you have to pay off the credit card at the same time
There may be a credit union in your local area, or your employer or trade union may offer one.
Advantages of saving with a credit union
Credit unions are flexible with your savings, allowing you to save regularly through deductions to your wages, a direct debit or paying in physically.
They are regulated by the FCA and covered by FSCS, so your money would have protection if the union went out of business.
Credit union Christmas clubs are effectively savings accounts, so are given the same protection as any other savings account.
Disadvantages of saving with a credit union
Credit unions don't pay a percentage rate of interest - instead they pay their members annual dividends, which depend on how well the union has performed that year.
This may well be less than what you'd get as interest on a savings account, plus there's no guarantee there'll be any dividends at all.
Credit cards for Christmas spending
If you haven't left enough time to plan and are in a bit of a panic, taking out a credit card that's suitable for Christmas spending could be one way to make the festive season more manageable.
0% purchase cards - also known as interest free credit cards - could help you to spread the cost of Christmas without paying interest.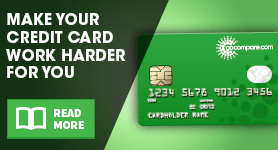 Exercise caution, though - if you miss a payment you're likely to lose the interest-free deal, meaning you'd start paying interest on the balance.
To qualify for one of these cards you're likely to need a good credit history.
Your spending limit will depend on this too, and if your rating isn't up to scratch you may not get the amount of credit you're hoping for, or you may not get a card at all.
What's more, you could be making saving for next year even tougher if you have to pay off the credit card at the same time as saving in time for next December's festivities.
Get more out of your Christmas spending
As much as we wish we'd urge you to watch out for the excessive spending Christmas entails, it's usually fair to assume that you'll be splashing out more than usual over the festive period.
It makes sense, then, to get the most out of your spending and to make sure you're getting the best deals while you're at it.
Reward and cashback credit cards
Reward credit cards offer goodies for spending money in the form of Avios points or vouchers, working in a similar way to cashback credit cards which are also an option to think about - they allow you to earn back an amount of what you spend as an annual bonus.
However, you'll have to make sure you can pay back your credit card spending within the interest-free period as any interest charged is likely to outweigh the benefits of the rewards or cashback.
Cashback sites
Before you shop online, think about visiting cashback websites to see if you can make any money back on your purchase - even a few quid can make a difference.
Voucher codes
Before you buy anything online, look for a discount code or voucher first, or look on deals websites like Groupon.
By Emily Bater
[SeanSocialShare]