Guide to arranging travel insurance for cancer patients
Key points
Mainstream insurers may offer cover but exclude issues relating to cancer
Specialist insurers could offer cover for your condition, but are likely to charge a premium for this
Compare online to check your options, but if you can't find the right policy try dealing directly with specialist insurers
Finding travel insurance can be a challenge for cancer sufferers or anyone who has a pre-existing medical condition, as termed by insurance providers.
It could still be possible to find the cover you need, though.
Because of the possible complications, if you have or have had cancer you should think about trying to arrange your travel insurance at the earliest possible opportunity.
If you compare policies through Gocompare.com, you'll be asked to enter details of pre-existing medical conditions - this is one of the factors that will determine the number of quotes you'll be shown and the price of the policies available.
Please note that your options can depend on the severity of your condition - if no suitable quotes are offered through our website, you may need to talk to a specialist provider
Specialist insurance for cancer sufferers
If you have cancer, there are two main options open to you.
Need more information?
The first is to consider a mainstream lender, who may agree to insure your trip but will exclude any claim related to cancer.
For example, if you've finished chemotherapy and pick up an infection when you're away because your natural immune system is weaker than normal, your insurer may reject the claim.
Also, if you have to cancel your trip because you're too ill to travel, then you'll probably have to pay the cost out of your own pocket.
Alternatively, you could contact a specialist insurer, which will then take advice from a doctor as to whether you're fit enough to travel and whether your travel plans are reasonable.
They may then offer you cover based on their assessment of the risk - offering peace of mind, but possibly at a premium price.
Insurers will assess how likely you are to cancel your trip, how likely you are to fall ill and the potential cost of treatment you may need while abroad. The higher the assessed risk, the higher the premium.
On the other hand, insurers may decide not to offer you cover at all, particularly if you're currently undergoing treatment or have been diagnosed with a terminal illness.
What will I be asked?
You'll have to answer questions from insurance providers about the stage and grade of your illness, as well as your prognosis.
When you're suffering from cancer, it can be difficult to talk about personal details with strangers - but it's important to discuss your illness to get exactly the right cover.
Have all the information about your illness to hand, along with any supporting information from your doctor that may have classified you as 'fit to travel'.
A 'fit to travel' requirement is standard for people with long-term medical conditions and, even if you've obtained cover, it's possible that an airline might not let you fly if there are any doubts in this area.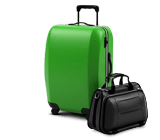 Get in touch with the airline well ahead of your trip to establish their policy towards cancer patients.
Incurable prognosis
Complications can arise when a terminal or incurable prognosis has been given. In this case, it's important to answer questions about your illness honestly and fully.
"For people with serious medical conditions such as cancer, a number of charitable organisations will provide details of specialist insurers who are more likely to be able to provide you with the most suitable cover to meet your needs," says Gocompare.com's Caroline Lloyd.
What if I no longer have cancer?
If you've been diagnosed with cancer in the past but have now been given the all-clear getting insurance may be easier, but providers may still be hesitant to provide you with standard cover.
For people with serious medical conditions such as cancer, a number of charitable organisations will provide details of specialist insurers
Caroline Lloyd, Gocompare.com
Most insurers will insist on a letter from your doctor to confirm that you no longer have the disease and are well enough to travel.
Insurance companies differ on how long you must be free of cancer before you can be given a policy - between three and 12 months could be typical, but in extreme cases it might be 10 years.
Areas of travel
A general rule of travel insurance is that the risk assessment and cost will partly depend on where you're travelling.
Within the EU there are reciprocal care arrangements, so medical bills may be cheaper. In North America medical costs tend to be far higher, so bills are likely to be, too.
If you have an incurable cancer you may not get insurance for the USA and may have to rethink your holiday plans.
The European Health Insurance Card (EHIC)
If you're travelling to a country within the European Economic Area (EEA), you should remember to take an EHIC - this entitles you to free, or reduced cost, medical care in the country you're visiting.
Remember, though, that this is only designed to offer emergency treatment, not medical treatment that was planned in advance. An EHIC is a supplement to insurance, not a replacement.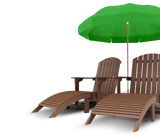 Once you've booked your holiday
Anyone who has cancer should seek advice from a medical professional before travelling.
When you're packing, take documents relating to your illness, treatment and medication. Contact details for your doctor in the UK will also be important.
Ensure you have enough of any prescribed medicine to last throughout your holiday. Some may not be available abroad, so ask your doctor beforehand if they're prepared to prescribe you with more before you go.
Check in early for your flight and ask about any medical equipment on board the aircraft. You might also need a letter to explain the presence of drugs or syringes in your luggage.
The first thing to do is speak to your doctor to check whether you're fit to travel
Duleep Allirajah, Macmillan Cancer Support
Make flight attendants aware of your condition and take precautions against deep vein thrombosis (DVT) - some forms of cancer make you more susceptible to this.
"There are a few things you must consider if you've been diagnosed with cancer and are planning on travelling abroad," said Duleep Allirajah of Macmillan Cancer Support.
"The first thing to do is speak to your doctor to check whether you're fit to travel and talk through any possible health problems.
"If you're considering taking out travel insurance for a holiday it's important you do this as soon as possible before your holiday starts.
"When looking for cover, Macmillan Cancer Support advises you shop around as premiums can vary widely. Be honest about your medical history, too, so as not to invalidate your policy."
By Emily Bater