Whether you're staying in a static caravan in the UK or taking your tourer or motorhome to Europe, make sure you've got the right travel insurance for your needs.
A few days in a caravan has long been a break of choice for British holidaymakers - whether you're all crammed in a static caravan on a rainy coastline, or journeying across the Channel, it can be fun for all the family.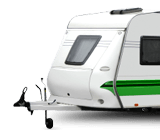 But it's important to think about travel insurance for your caravan holiday, even if you're staying in the UK.
Types of policy
Deciding what level of cover to take out will depend on a lot of different factors, such as how often you travel and where.
A single trip policy may work out cheaper if you've booked a static caravan or hired a tourer and only plan on making one, perhaps two, trips in a 12-month period.
If you own a caravan and travel with it frequently or are planning additional trips as well as a caravan holiday, an annual multi-trip policy may be the right option for you.
Annual policies typically cover multiple trips of no more than about 30 days, so if you're intending on taking any holidays that last longer than this you'll need to think about long-stay travel insurance.
Did you know...?
Travel insurance could return your caravan and vehicle home in the event that you fall ill or have a personal accident
Remember to check your home insurance policy, too - most only offer cover for your home if it's vacant for up to about 30 days.
What will travel insurance cover?
Standard travel insurance will usually cover you wherever you're staying - whether that be in a hotel, villa, flat or caravan.
It's always important to read the small print before taking out a policy, though - make sure that a caravan trip is covered.
Whether you're holidaying in a caravan in the UK or elsewhere, travel insurance could protect you against illness, accident and theft or loss of belongings.

Failure to arrive at a ferry crossing or departure point in time could result in additional accommodation costs and travel expenses - these could be covered under travel insurance, so long as the missed connection was due to unforeseen circumstances.
Breakdown and recovery
If you own a touring caravan and are taking it to Europe or on the road in the UK, certain travel insurance policies can cover the cost of recovering your vehicle and caravan if you fall ill or are the victim of a personal accident.
Don't forget, however, that if you own a caravan you'll still need caravan breakdown cover to protect you in the event of a mechanical failure or an accident involving your vehicle.
If you're unsure whether you have European breakdown cover, check your policy details - you can always extend your policy to include Europe if necessary.
Insurance for your caravan
A good caravan insurance policy is essential to protect your investment in your beloved home from home.
If you've hired a van you should expect insurance to be a part of the deal, but if you want to protect a static or touring caravan that you own, make sure that you make your own arrangements.
Be aware that some caravan insurance policies will include - or allow you to include - elements of contents cover that you may already have through your home insurance, travel insurance or another source.
Try to avoid doubling up on cover - this is wasteful, it can complicate claims and could potentially lead to higher renewal premiums across multiple products.
If you compare caravan insurance through Gocompare.com you'll be asked to state the amount of cover you require for the van itself, then to state whether you want cover for a number of other things - think carefully about whether you need this, or have protection from another insurance policy.
If you're comparing touring caravan insurance, you'll be asked if you also want cover for an awning, for personal effects (such as clothes, linen and toiletries) and/or for equipment (such as storage boxes, towing electrics and portable electric equipment).
If you're comparing static caravan insurance you'll again be asked about cover for awnings and personal effects, but also about contents insurance, high-risk items and leisure/sports equipment.
Things to consider
Travel insurance policies vary in levels of cover and cost, so before taking out a policy have a think about how comprehensive you need your cover to be.
There's no point having a travel insurance policy that only covers £1,000 worth of personal belongings if you're planning on taking expensive gadgets and hardware with you that add up to much more than that, so ensure that you've taken out the right level of cover to suit your needs.
The lower the cost of a policy the higher the excess usually is, so if you need cover for an expensive piece of tech you may want to consider a policy with a lower excess.
Similarly, the further you're planning to travel the higher the cost of recovering your caravan and vehicle to the UK is likely to be, so check the details of your policy to ensure that the maximum sum insured is realistic for your needs.
Whether travelling with a caravan or not, it's important to consider what you need from your insurance before taking out a policy.
Remember that the right policy for you isn't necessarily the cheapest, so compare providers and levels of cover before deciding.
By Emily Bater
[SeanSocialShare]