Guide to travel insurance for cruises
Key points
Decide whether you need cover for a single cruise holiday or annual cover
Tick the cruise insurance box in our quotes process to compare appropriate policies
Look out for increased medical expenses and cover for things like missed departures, cabin confinement, repatriation to hospital from the ship and change of itinerary
If you think cruises are all about strolling on the deck and lying on a sun lounger, it might be time to update your ideas.
Whilst you can certainly still work on that tan, these days life on the ocean waves is just as likely to include a trip to the shopping mall, cinema or library, or even scaling a climbing wall!
And all this is before you factor in the wide range of restaurants, swimming pools and on-shore excursions you can choose from.
For many people, this could be the holiday of a lifetime - which is why even the smallest thing going wrong could have the potential to spoil your trip.
So it's important not to skimp on the travel insurance, and special cruise holiday insurance is the product you need to consider as a standard policy probably won't give the right level of cover.
How do I find cruise travel insurance?
If you enter Gocompare.com's quote process you'll see a box to tick to indicate that you're looking for cruise cover.
Need more information?
You'll then be presented with appropriate products and the chance to compare prices and levels of cover on your results page.
It's possible that you'll see a smaller selection of policies than on other comparision websites, but all the choices will be cruise specific and will include cover for cabin confinement, missed port, unused excursions and emergency airlift to hospital.
Note, though, that the terms, conditions and levels of cover vary significantly from product to product, so make sure you read yours with care before choosing a product.
Land-based holidays that include short cruises
Some holidays are mostly land based but include a day or two cruising. You may, for example, book a two-week trip to Florida that includes a couple of nights cruising to the Bahamas.
In such cases, you may want to think about comparing standard travel insurance policies rather than cruise-specific ones by not ticking the cruise box in our quote process.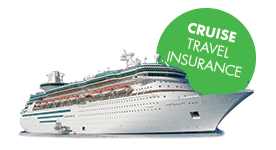 You'll then get a wider choice of policies, but you'll need to read your terms and conditions with care to ensure that the cruise element of your holiday is sufficiently covered.
As always, if you're in doubt you should speak to the insurer to clarify any grey areas.
What does cruise-specific travel insurance cover?
Firstly, cruise cover protects you against the kinds of things that might be found in any travel insurance policy, such as your bags going missing or you becoming ill.
The difference is that cruise-specific cover will be tailored specifically towards you being on a ship, and so will take into account things such as medical expenses potentially being greater at sea than on land.
Did you know...?
Independently booked excursions and activities may be excluded
Some insurers will even waive your excess for any medical treatment needed whilst you're on board - although you'll probably have to pay it if you're treated on shore.
Secondly, certain things could go wrong which could only happen on a cruise, and a standard policy wouldn't cover them. These can include:
Missed cruise departure. If you book a flight to the embarkation port as part of your package and a flight delay causes you to miss the boat, some policies will cover you for this
Delayed departure due to poor weather or technical problems
Cabin confinement compensation. This is paid out up to a specified amount if you can't leave your cabin due to illness or poor weather
Missed shore insurance. Compensation might be paid if illness prevents you from disembarking at port or if poor weather means the ship cannot dock
Repatriation to hospital from a ship
Cruise itinerary change compensation
Read your policy documents carefully because they might contain certain exclusions and conditions. For example, if you book an on-shore excursion independently, you might not be covered if you don't get back in time and the ship departs without you.
If you're planning to take two or more such holidays in a year, an annual cruise policy might be more cost effective
If, on the other hand, the excursion is booked through the cruise company, missed departure is usually included in your cruise insurance.
These holidays are a great chance to try out activities on shore or on board, or to have a go at water sports such as jet skiing or snorkelling.
But make sure your policy covers you for things like this, or you could be in for a shock if you try to make a claim and the insurers refuse to pay out.
"Most beach-type activities will be covered as a standard activity on policies, although sea kayaking and scuba diving - unless you are fully qualified - might not be," said Gocompare.com's Caroline Lloyd.
"Most policies will have a list in the documentation. It sounds boring, but it's always worth a read before you hop on that jet ski!"
Different types of cruise insurance
If this is your first time on board or the holiday of a lifetime, it might be best to compare quotes for single trip cruise travel insurance.
But if you're planning to take two or more such holidays in a year, an annual cruise policy might be more cost effective.
Don't forget to tell the policy providers if you have a pre-existing medical condition, as not mentioning your full circumstances could invalidate your cover.
See also:
By Rebecca Lees