Bicycle holidays might seem idyllic, but you need to make sure you have travel insurance to cover your cycling activities.
Key points
Most travel insurance policies will provide cover for leisure cycling, but might exclude or charge an extra premium for things like bike touring, racing and mountain biking
It's sometimes written into the policy wording that helmets must be worn while cycling
Add-ons for extreme sports insurance might give you the cover you need, or you could consider bike insurance and bike-specific travel insurance policies
Bicycling on holiday might seem like the ultimate laid back leisure pursuit (as long as the road's flat), but unfortunately insurers don't always see it that way.
Depending on what type of cycling you're doing, you might find that a standard travel insurance policy doesn't have the cover you need or you might need to meet certain conditions to be covered.
What type of travel insurance do you need for a cycling holiday?
For most of us, cycling isn't considered an especially high-risk activity and you might not think twice before jumping aboard a hire bike in a sunny resort.
But not all insurers agree. On 10 October, 2017, GoCompare checked 933 single trip travel insurance policies on the matrix of independent financial researcher, Defaqto.
While 96% of these policies included some form of cover for cycling as standard, 2% charged an extra premium for this cover and 2% couldn't offer cover for cycling activities.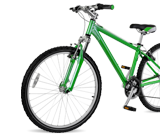 Although the majority of policies appear to cover cycling in some form, what each insurer classes as 'cycling' can actually vary from provider to provider.
You need to really check your policy documents carefully to make sure the type of biking you'll be doing is covered.
Beware of bike touring or mountain biking insurance exclusions
One common clause in travel insurance policies is that they exclude some specific types of cycling or charge an extra premium to cover it.
Cycle tourists may fall foul of this - if you're spending day after day travelling between locations on bikes, you might find your activities aren't covered as merely 'cycling'.
Mountain bikers too may find that this is considered an 'extreme sport', with an extra premium to pay to upgrade cover.
Racing might not be covered either and you might need to look into specialist cover for this - British Cycling can offer travel insurance for racing and sportives to its members at an additional cost.
Bicycle helmets and travel insurance
Insurers expect you to take a reasonable level of care with your health and safety and when it comes to cycling and some insurers will actually specify in their policy documents that a helmet must be worn for cycling.
If you're planning to hire a bike on holiday, consider whether you'll also be able to rent a helmet to go with it.
If in doubt, you might decide to bring your own bike helmet with you in your suitcase.
Insuring your bike for cycling abroad
More intrepid cyclists might be bringing their own bikes with them on holiday, whether by plane, ferry or on a bike rack on their car.
Be warned though - many travel insurers will consider bicycles particularly high risk items - both due to their vulnerability to damage in transit and because they're attractive to thieves.
Search your policy documents for exclusions to 'pedal cycles' to check whether they'll be covered as personal possessions or not.
Europe cycle insurance and rest of world cover
Before you plump for a policy, check it covers where you're holidaying because certain insurers may only protect you within the UK, or Europe.
For example, if you're on a touring holiday and planning to tear up trails in every continent, make sure you have worldwide cover and that the terms still cover your activities.
Specialist cycling travel insurance
With all these exclusions to catch you out, cyclists should be all the more careful to read policy documents to make sure they'll have the cover they need before buying travel insurance.
If you need insurance for racing, cycle touring, mountain biking or cyclo-sportives, you might decide to instead opt for a specific bike insurance policies or bike travel insurance policies.
A UK-based bike insurance policy may well extend cover abroad for a limited number of days a year and might give cover for bikes in transit as well as theft and loss abroad.
A good bike-specific travel insurance policy should cover all of this, as well as any injuries or illnesses you suffer while cycling abroad.
By Derrianne Dunn