Protect your Mediterranean holiday with Cyprus travel insurance 
Looking for cheap Cyprus travel insurance? Step this way - GoCompare today!
Key points
Adventurous sports cover may be included in your standard policy. However, the specifics vary between providers, so be sure to check what's covered
Cyprus is part of the European Union and falls under European travel insurance, which is usually cheaper than worldwide cover
As an EU member state, Cyprus also qualifies for EHIC eligibility. However, this only covers certain treatment, and shouldn't be considered a substitute for travel insurance
Known as 'The Jewel of the Mediterranean', Cyprus is one of the biggest islands in the Med. With soaring summer temperatures, amazing food and sights for days, the last thing you want to do is blow your hard-earned cash on an untimely mishap while you're away. 
With that in mind, let's talk travel insurance. A good Cyprus travel insurance policy will see you covered for a variety of unfortunate eventualities throughout your stay, and act as the perfect safety net should things go off-script. 
Do I need travel insurance for Cyprus? 
While Cyprus isn't technically part of Greece, it does share many of its cultures and is still an official member of the European Union. As such, it still qualifies for the European Health Insurance Card (EHIC). 
The EHIC is free for UK citizens and, while it isn't a like for like substitute for travel insurance, it does allow you to receive state healthcare either free of charge or at a reduced cost while you're away. 
However, the EHIC won't cover things like medical repatriation, ongoing medical treatment or non-urgent treatment. Also, the EHIC isn't valid in Turkish-controlled northern Cyprus. 
Remember that a travel insurance policy may cover loss and theft of your possessions, which is definitely not covered by an EHIC. 
To apply for an EHIC or renew your current one, visit the GOV.UK site for further details.† 
What does Cyprus travel insurance cover?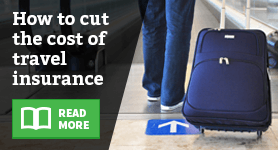 A good travel insurance policy will keep you covered for a laundry list of unsightly circumstances that could potentially occur while you're away, ranging from medical bills to lawsuits. Here's a quick rundown on the usual suspects you can expect to see in any decent travel insurance package. 
Medical expenses 
The bread and butter of any travel insurance policy, medical expenses are the top of the pile when it comes to policy features. If you get injured or are in an accident while you're away, knowing your medical bills are covered can be a huge load off your mind... and an even bigger load off your bank account, if you wind up in a hospital bed. 
Repatriation 
Repatriation covers British nationals who are seriously ill or injured while they're abroad, and need medical evacuation back to the UK. If you can't find it explicitly mentioned, it may be included under the 'medical expenses' section (hopefully you won't need to use it!). 
Curtailment 
For one reason or another, holidays can sometimes find themselves cut short and brought to an impromptu premature end. This can result in a string of additional fees, such as travel expenses, etc. Curtailment cover allows you to potentially claim back these outgoings. However, the extent of the cover can differ between providers, so be sure to check what's covered with your particular policy.
Lost/stolen baggage 
Speaking of curtailment, losing your luggage can curtail a holiday in an instant and leave you feeling lost yourself. Luckily, any lost luggage could be claimed for on your travel insurance which – while it won't replace your belongings – can ease the expense. It's worth noting that, in this instance, cash is generally excluded and requires separate level of cover.
Adventurous activities 
Activities that you embark upon while abroad are sometimes included in a standard travel insurance policy. This can range from water skiing to bungee jumping. However, the extent of activities can vary dramatically, so be sure to read the policy documents carefully. Occasionally such pursuits won't be included at all. If in doubt and you know it's on your Cyprus agenda, adding it on as an extra is a smart move.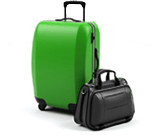 Cover for personal liability and legal costs 
If you accidentally injure someone or damage their possessions while abroad, personal liability cover should have your back. If you get caught up in legal wranglings overseas, legal cover is there to see that you don't have to pay the legal fees. This can be particularly valuable as legal fees can become mountainous in a hurry, so knowing you won't be out of pocket in the event of an issue could be worth the price alone. 
Which travel insurance is best for you? 
Travel insurance can be a minefield to navigate at times, turning the whole the decision-making process into a real headscratcher. With so many packages and variants available, knowing which option to choose can be a daunting prospect... which is why we've broken them down for you in plain English below, with some money-saving tips thrown in! 
Worldwide travel insurance vs European travel insurance 
Knowing what policies cover you where can be confusing, with seemingly blurred lines and conflicting information. 
One recurring point of confusion is geographical based policies, such as worldwide and European cover. Worldwide insurance can be as much as double the expense of European cover, particularly if you're going to the US, Canada or the Caribbean. 
Luckily, as Cyprus is a member of the EU, this falls into the European category, so be sure to opt for the European cover when prompted. Failure to do so could see you burnt before you even set foot in the Cypriot sun.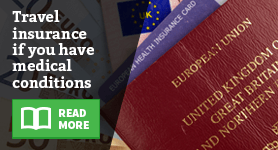 Multi-trip or single trip?
In addition to the location, the frequency of your travel can also play a big part in determining which policy is best for you. If you plan on travelling multiple times within a 12-month period, an annual multi-trip policy may prove more cost-effective than a single trip. 
Meanwhile, if you are planning other trips, the location of those trips could also factor into whether you need a worldwide policy or European one. For example, a multi-trip worldwide policy could work out cheaper than numerous single trip policies, if one or more of those trips is outside of Europe. 
Individual, couples' or family insurance? 
Depending on the size of your party, it could be more economical to have more than one person covered under the same policy. Couples' travel insurance is ideal for those planning a holiday with a partner, while a family insurance policy is perfect for those in a family group. 
It also means you have just one insurance provider to deal with, should you run into any issues or need to claim. For family policies including young children, you may even be offered free cover for travellers under a certain age. 
Compare cheaper travel insurance for Cyprus 
When reading up on travel insurance and all the potential possibilities surrounding any mid-hol mishaps, it can be all too easy to become a Nervous Nelly of Ned Flanders proportions. However, it's important to remember that not all cover is relevant and optional extras are just that – optional.
A good way of ensuring you don't overspend is to consider what you plan on doing while you're away and simply pay for what you need. If you don't plan on going in the sea, chances are you won't need water sports insurance. Likewise, it's likely that you won't need winter sports cover in summertime Cyprus. 
As foolish as it sounds, things like this can slip through the cracks if you're not careful when you book. Meanwhile, a rogue mouse click or screen tap during the checkout process can easily leave you covered for things you don't even need, so be sure to double-check before you hit 'confirm'. 
One of the easiest and quickest ways to potentially save money on your travel insurance is to simply compare Cyprus travel insurance with GoCompare. Weighing up your options with us can help identify some awesome prices to cover your Med trip. 
Try to save some euros today and pad out your Cyprus spending money, courtesy of GoCompare. Ya mas! 
By Martyn Grant