Guide to family travel insurance
Key points
Consider whether a family policy is a more efficient way of arranging cover than taking out individual policies
Decide between a single trip or annual policy
Don't assume you or your children are covered if the policyholder isn't travelling
Check your policy carefully if travelling as an extended family, or if not all travellers live at the same address
Travel insurance should always be one of the most important considerations when it comes to preparing for a trip with your loved ones.
By making sure you have the right family travel cover for your trip, you can rest assured that things will be taken care of if something doesn't quite go according to plan.
Considering whether you're better off taking out a policy that covers your entire group rather than individuals is one way of keeping down the cost of travel insurance while ensuring you have the protection you all need.
Arranging family travel insurance
If you search for travel insurance through Gocompare.com you'll be asked whether the policy is for an individual, a couple, a family or a group.
Note that to arrange a policy for a couple, each person must be an adult aged 18 or over, they must be in a relationship and living at the same address.
For families or groups, the first traveller must be aged 18 or over and you can then add a maximum of another one adult plus anything up to eight children.
You'll need to add the dates of birth of all travellers and will be asked to declare if you or anyone in your party has any pre-existing medical conditions that will affect the application.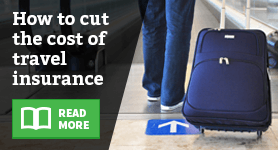 All the policy options you see will include cover for medical expenses, cancellation and personal baggage as standard features, and you'll see information from independent financial researcher Defaqto to help you assess the quality of the options and whether they're suitable for your family's needs.
Taking out family rather than individual cover
There can be a number of benefits to arranging travel insurance as a group rather than individuals, not least simplified paperwork and the fact that you'll only have to deal with one provider.
Need more information?
On top of this you may well find that arranging group cover in this way will prove cheaper than taking out individual policies.
A family policy could offer higher cover levels for things such as cancellation cover, alternative accommodation and baggage cover.
It's possible that a provider will offer free cover for travellers under the age of 18, while an annual policy may cover the adult on additional trips they make without the rest of the family or group.
Cover limits should apply per person, meaning that if the limit was £200 then a family of four could potentially claim £200 each - a total of £800 - in the event of a problem.
Possible downsides of family cover
Remember that some or all members of your group may already have travel insurance cover, perhaps as part of an annual, multi-trip policy.
Cover limits apply per person travelling under the policy, whereas excesses will be applied per person, per claim
Such cover is not limited to dedicated travel insurance policies.
It may, for example, come with a packaged bank account or a premium credit card.
There can be many problems associated with doubling up on insurance cover, including complicating any claims process.
Remember also that the excess on a policy will apply to each person, meaning that if the excess was £50 and four people made a claim, the total excess payable could be £200.
Annual family travel insurance
Annual family travel cover is available and can offer better value than buying several separate policies if you make a few trips in a 12-month period.
Whether you opt for annual or single-trip travel insurance for your family, make sure there are no restrictions on the ages of the children in your party.
Don't forget to check things such as whether or not the policy only covers children living at your address or who are related to you. Some family travel insurance policies are tailored towards single parents, so make sure you get one which suits your circumstances.
Grandparents shouldn't assume that their grandkids are insured, or can be added, to their travel policy
Grandparents and grandchildren
If you've named your children on your family travel policy you may assume that they're also covered if they're taken on holidays by their grandparents - but this isn't necessarily the case.
In April 2014, Gocompare.com analysed 545 annual travel insurance policies and found that 337 of them covered both adults and children to travel separately, 159 only applied this cover to adults and 49 offered no cover if the policyholder wasn't travelling.[2]
"Grandparents shouldn't assume that their grandkids are insured, or can be added, to their travel policy," said travel insurance expert Caroline Lloyd.
"The kids might also not be covered by their own family's travel insurance when travelling with grandparents.
"It's been found that some insurers cover children if they're travelling independently of the main policyholder, which in this case would be the parent, as long as they're with a responsible adult and have parental consent, while others say that the children would need to be included on the same policy as the grandparents.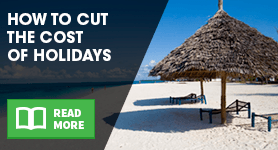 "When buying a travel policy and travelling as a family or a couple, some insurers may require that all those named on the policy live at the same address.
"If you're in doubt, then pick up the phone and speak to your travel insurance provider before the trip and check what would be the best way to cover your grandchildren."
Step-children and extended families
Step-families are a familiar part of modern life, but it seems that not all insurers have kept pace with the times and people travelling with an extended family would be well advised to check their travel insurance documents with care.
In January 2014, Gocompare.com examined 473 annual policies using data from independent financial research company Defaqto and found that only 297 covered step-children regardless of whether they live with the main insured person or not, while 174 stated that the step-children must live with the main insured person to be included in the cover.
If you're in doubt about whether your current policy protects your step-children, then call your travel insurance provider
If you have a family travel insurance policy, some of the insurers that don't automatically cover step-children will allow you to name such dependants on a policy, sometimes at an extra premium.
As always with insurance, it's recommended that you shop around and carefully read the terms and conditions of policies in order to ensure you have the right product for your needs.
"Step-families are increasingly common in today's society, so it seems strange that children from such families aren't included on travel insurance policies as a matter of course," said Lloyd.
"Whether the child lives for the majority of time with the main insured person or not, when they are holidaying together as a family, the child is a dependant of that person, whether they are a birth parent or step-parent.
"One way around this is to ensure that, when a family with step-children are planning a holiday, the biological parent buys the travel insurance, not the step-parent. That way all children will be covered as they won't be deemed step-children.
"If your family includes step-children on both sides, make sure your insurer covers all of the children before buying. Again, checking the fine print of your insurance documents will mean that you won't get caught without cover.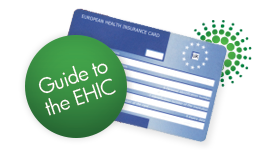 "If you're in doubt about whether your current policy protects your step-children, then call your travel insurance provider.
"They should be able tell you straight away, and if you need additional cover to protect them, you might be able to add that to your policy."
Take your EHIC card
If you're travelling with your family in Europe, make sure you obtain a European Health Insurance Card (EHIC) for each person before you go. The EHIC is free and allows you to access some free and reduced-cost state-provided medical treatment whilst you're away.
But remember that the card isn't a replacement for full family holiday insurance and won't cover things such as the cost of getting home quickly in an emergency. The card isn't valid in all countries, so read our EHIC guide to find out more.
By Sean Davies