Get the answers to FAQs on travel insurance policies, then compare quotes to find the right deal for you.
See also:
Do I need travel insurance?
Getting travel insurance can be just as essential as packing your passport when you go on holiday.
Without it you could be responsible for all emergency costs, including medical care, repatriation expenses and replacement of valuables if you need to make a claim.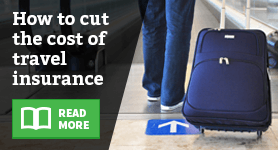 Read more in our beginners' guide to travel insurance.
What are the main policy options?
The broad options to consider are whether you require single trip or annual/multi-trip insurance, and also whether you need European or worldwide cover.
Specialist policies include gap year, backpacker insurance, over 65s insurance and long-stay insurance.
What cover options do I need?
Although value for money is important, so is having the right level of cover when you travel. Features to look out for include:
The Foreign Office recommends a minimum of £1m medical cover for Europe and £2m for the rest of the world
Emergency assistance
Personal liability
Legal assistance
How much cover do I need?
The Foreign Office† recommends a minimum of £1m medical cover for Europe and £2m for the rest of the world. Use your discretion in determining the cover you need for valuables.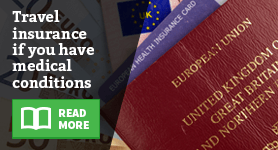 What if I have a pre-existing medical condition?
Some existing medical conditions could be excluded from your insurance or could increase the premium - make sure you check with your insurer before travelling.
Specialist policies are available for certain conditions.
Can I get a family travel insurance policy?
Yes, you can get policies for couples, families and other groups. Note, however, that there might be certain rules about family members having to live at the same address and at least one member of the group needing to be over 18.
The insurer might also ask if anyone has an existing medical condition, so make sure you know what's covered and what could potentially invalidate your policy. Read more in our guide to family and group travel insurance.
Do I need extra cover for winter sports and adventure activities?
Activities such as skiing and other winter sports, or other sorts of adventure activities, are unlikely to be covered by standard travel insurance, with most insurers classing it as an extra.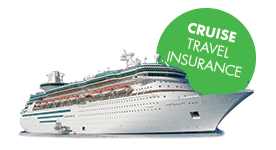 Specialist winter sports insurance will cover you for things such as damage to equipment, injury and, in some cases, closure of the slopes.
Do I need special travel insurance for a cruise?
Dedicated cruise insurance is a specialist product that differs from standard travel insurance.
When you compare cruise cover with Gocompare.com, you might see a smaller selection of policies than on other comparison websites, but they will all be specifically designed for cruise holidays; look out for features such as cabin confinement, missed port and emergency airlift.
Will a policy cover the loss of a passport or other documents?
Many policies cover some of the costs associated with obtaining emergency travel documents when abroad, but you're unlikely to have the cost of replacing your passport when you get back to the UK covered. Read more in our guide to passport cover on travel insurance.
Do I need travel insurance if I'm staying in the UK?
If you have a paid for bank account or premium credit card you may already have travel insurance
If you're holidaying in the UK, travel insurance can still come in handy if things go wrong such as your trip being cancelled or valuables or personal belongings being stolen or lost.
If possible, though, try to avoid doubling up on cover that might already be included through your home insurance, or from another source.
What's 'doubling up' on travel insurance?
You might already have travel insurance through another financial product such as a packaged bank account or premium credit card, but you should remember that such policies may not have cover suited to your circumstances.
If you have existing cover, taking out a stand-alone policy could lead to you paying twice for the same thing, which can cause additional problems.
Most policies have 'contribution clauses', under which each respective insurer would only pay a share of a claim if you have additional cover. This could complicate a claim and lead to an increased premium when you come to renew.
How can I save money on cover?
There are a number of ways to save money on travel insurance without compromising on cover - read our money-saving tips.
What's an EHIC?
An EHIC (European Health Insurance Card) is vital if you're travelling to Europe as it covers you for emergency health care in that region.
It's a complement to travel insurance, but it's NOT a replacement for it - you should also take out a travel insurance policy.
Any other questions?
See if you can find the answers in our travel insurance guides.
By Sean Davies