Start your group travel insurance quote
Key points
A group policy could be a cheaper option than individual travel insurance policies
To get group travel insurance you don't need to be related to your fellow travellers to be eligible
GoCompare lets you compare single and annual trip travel policies for groups of up to 10 people
Off on a lads trip, hen do or gap yah? Find out what group holiday insurance can do for you. 
A record number of 70.8m Blighty residents – fed up of grey weather and queuing - ventured abroad in 2016.†
And 23% of travellers surveyed by ABTA went on group hols in the same year.† Lucky beggars.
So, we know what you're thinking. If nearly a quarter of Brits are gallivanting away on group holidays, why can't they all get travel insurance together?
Well, they can.
What is group travel insurance?
A group travel insurance policy does what it says on the tin - it covers a number of people who are travelling together.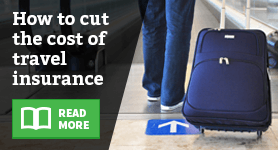 It can save the group time - and potentially money - as one person takes responsibility for finding the right policy to cover everyone.
However, a group policy may become more expensive if anyone you're travelling with has a pre-existing medical condition. 
In this case, you might want to look into getting separate policies.
Generally, if your group are all under 30 years old and pretty healthy, a group travel insurance policy can be a worthwhile option.
What's covered by group travel insurance?
Group travel insurance can come in handy if you're going on a mates' holiday, travelling as a team or taking young 'uns on a school trip.
A group policy will usually offer the same cover that you'd get on a single policy and you don't need to be related to the people you're travelling with.
You can compare both single and annual trip policies through GoCompare and up to 10 people can be covered on one policy. 
Some insurers offer packages like sports and activity cover as bonuses - be sure to double check exactly what sports are covered before you take part in them, or seek out adventurous sports or ski and winter sports cover.
Also, any kids under 18 will need to be travelling with a responsible parent or guardian.
What's not covered by group travel insurance?
Like any type of insurance policy, you'll need to watch out for the exclusions.
Standard exclusions
Alcohol-induced injuries, pre-existing medical conditions and extreme sports are just some examples of exclusions that may be laid out in your group insurance policy. Always check what you're covered for before you travel.
Sports travel insurance
If you're looking to get out on the water or surf the slopes, you may need to pay an extra fee to include sports as an add-on.
Depending on what the sport is, you might also need to pay an increased medical excess.
Age limits
There are age limits on some group insurance policies - you could be denied cover if you're as young as 45.
If you're an older group, it might be worth finding separate policies that accommodate your age as well as any pre-existing conditions.
There may also be age restrictions on any sports cover you take out so it's worth checking that too.
Different flights
You'll usually need to be travelling together to be covered by a group insurance policy.
If anyone is catching a separate flight or departing from a different airport, they may not be covered and will have to find a policy of their own.
How to wangle a cheaper deal
You might be able to get a cheaper group insurance deal by following these tips:
Opting for a higher excess, as long as it's still affordable for you
Shop around to find a policy that's right for everyone in your crew
Finding deals where the kids go for free
Booking online where there are discounts available
Comparing separate policies
by Alice Morgan