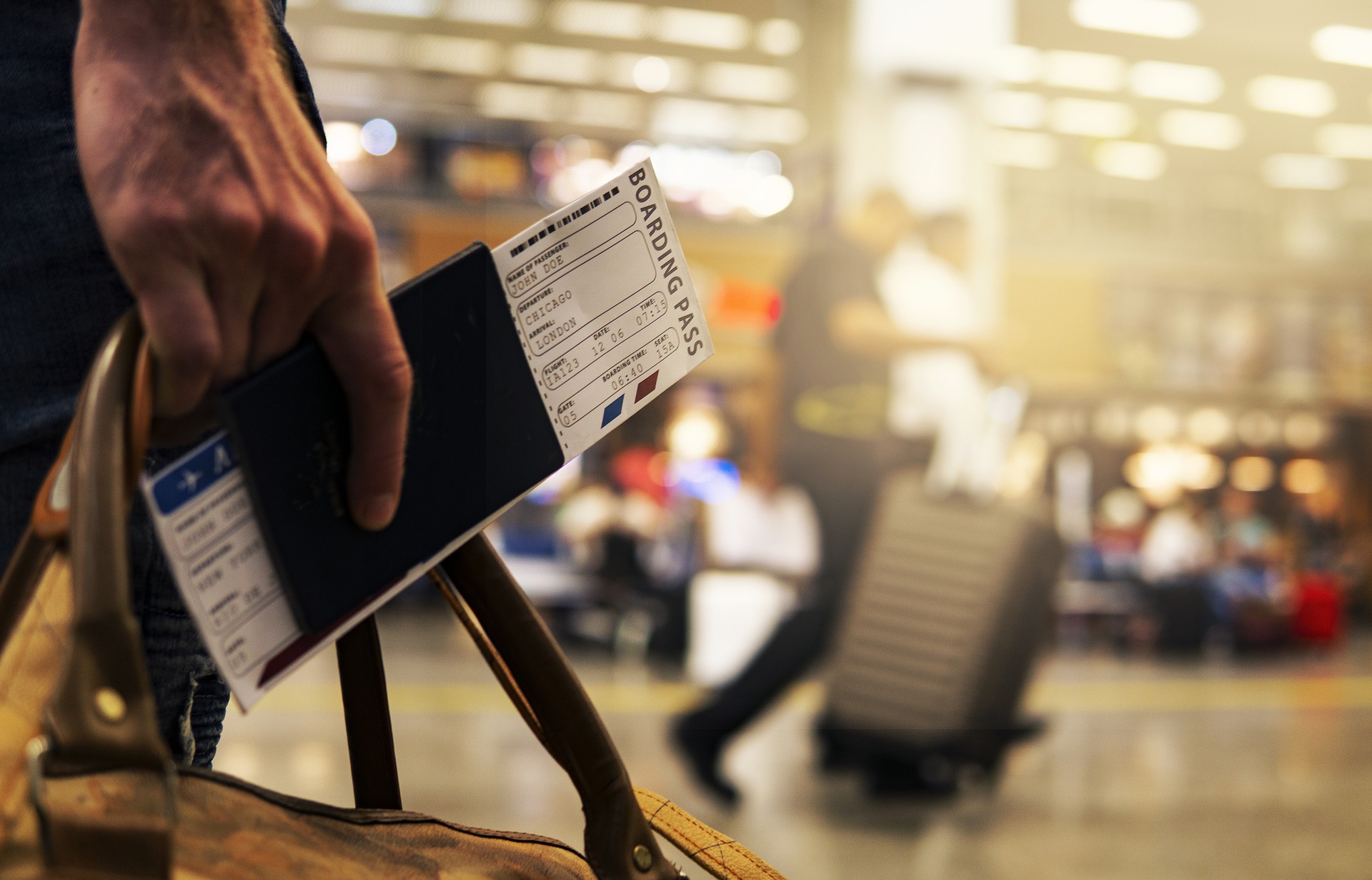 Last week vs the first week
Booking your flights for the last week of the school summer holidays works out at almost half the price compared to booking for the first week.
According to data from global travel site Skyscanner, it's a staggering 44% cheaper to fly to any destination during the last week of the summer break compared to the first.[1] Based on this, we've calculated that UK holidaymakers can save a collective £10.3m simply by choosing to travel in the last three weeks of the school summer holidays, rather than the first three weeks. This straightforward tip will save an incredible £97 per person on a summer holiday this year.[2]
Most Brits miss out on these easy-to-make savings, as data from Skyscanner shows that the first two weeks of the school holidays are consistently the most popular, despite being the most expensive.[1] With everyone looking to cut costs this year, booking your break for later in the summer is a great way to make those all-important savings where you can.
For example, Skyscanner says that flights out to Britain's most popular summer destination, Spain, are around 20% cheaper in the last week of the school summer holidays. In practical terms, this equates to a whopping £188 saving for a family of four. Travelling to our second favourite destination, the USA, a family of four could save £872, simply by flying out in the last week rather than the second week, as flight prices drop by around 30%.[1]
Monitor flight prices
Flight price trends can vary depending on which destination you'd like to visit. To make sure you bag a bargain price, consider utilising a calendar view booking feature to compare flight prices across each day of the month. This way, as long as you're flexible with your dates, you can choose to book your flight on the cheapest day of the month.
Skyscanner also advises that some destinations, such as Italy, don't follow any particular pattern, with average prices only dropping by around £27 per person in the last week of summer.[1] For destinations like this, you can keep track of varying prices by setting up an email alert function to notify you when it's the cheapest time to book. This way, you'll know you've booked your journey at the best price.
Be daring with your destination
Another way to bag cheap flights is to snap up a great deal when you see one. The best-priced journeys may not be heading to your destination of choice, so if you book flights first and stay open-minded about where to have your holiday, you might just save yourself some extra cash. Search for flights to multiple destinations using a 'search everywhere' function, typing in your ideal dates and browsing the cheapest deals as they crop up.
Likewise, if you can grab a bargain flight to the continent or region you want to visit, you can then look into booking cheap budget airlines within the country to get you to your desired destination.
Alternatively, if you want to travel across a country, it may be worth looking into car rental relocations. This is a scheme where you relocate rental vehicles to a specific destination, benefiting from discounted car hire along the way. These offers don't give you a lot of time to sightsee but will get you from place to place very cheaply.
Don't just opt for the airport closest to you
As school term times in England, Scotland and Wales are often different from each other, savvy shoppers can bag an off-peak deal by crossing the border. For example, Skyscanner found that between the 20th and 27th of August, flights to Alicante are £336 cheaper from Edinburgh than they are from Newcastle.[1]
Commenting on the findings, Skyscanner's travel trends and destination expert Laura Lindsay said: "We know how much families look forward to and research their summer holiday break – this year more so than any! It is, therefore, our duty to analyse all the data we have access to and share this insight so families know how to make their money go further."
It's worth noting, however, that you could end up spending more money by travelling to an airport further away, negating any savings you might have made by booking cheaper flights from there. You can calculate the fuel costs of any journey/distance using our fuel cost calculator. This also provides advice on how you can adjust your driving style to minimise the amount of fuel you use, making sure that you get the most out of your money.
Try haggling for a bargain or upgrade
If you're staying at a privately owned property, it may be worth seeing if you can contact the owner directly to ask for a cheaper deal. You can often achieve this by booking off-peak, in-between stays, or for a longer time.
We spoke to Monica Scott, holiday guru and brains behind the Welsh-based blog The Travel Hack. She suggests reaching out to the accommodation owner to secure a cheaper price if you're staying in a small cottage, an Airbnb, or a little guest house.[3]
Alternatively, Monica suggests it's often easier to get more value for money by asking for "a free room upgrade, late checkout, complimentary breakfast, welcome drink or spa access perk when you check-in." Don't be disheartened if you're not able to find savings this way though, as every accommodation provider is different.
Travel insurance is a must
An astonishing 40% of Brits don't book travel insurance for their holiday.[4] Getting cover this year is even more essential, as major staff shortages are forcing airlines to cancel hundreds of flights at short notice.
During the Covid-19 pandemic, thousands of aviation jobs were lost and many of these have still not been replaced. The industry has struggled to get back on its feet, suffering from staff shortages, strikes and a huge spike in consumer demand. With such a high number of flights being cancelled, skipping out on travel insurance could be a particularly costly mistake this year.
Commenting on these statistics, Ceri McMillan, GoCompare's travel insurance expert, said: "If you're planning on getting away this year, we strongly recommend you purchase travel insurance so you won't lose out if you're affected by short-notice flight cancellations.
"While insurers often provide cover for cancellations, remember to check your policy carefully to make sure you're fully protected. In many circumstances, the airline is expected to cover the costs of cancelled flights. However, if your accommodation is non-refundable and your holiday is disrupted, skipping on travel insurance could still be a particularly pricey mistake to make."
If the worst happens and you're left with a non-refundable hotel booking that you can't use, you can try to resell it online using sites like Roomer. Don't expect to get the full price back (sites typically charge a listing fee, and your room won't sell if you don't offer a bit of a discount), but it's better than losing everything you've already paid.
These sites can also offer great savings for buyers—it's not uncommon to snap up a room for half the price of the initial booking.
About the data
[1]Skyscanner provided their latest flight data research, which is available to see at The Points Guy.
[2]To calculate the £10.3m savings figure, we used data from the Office for National Statistics to understand how many international fights left the UK in the first three and last three weeks of the school summer holidays in 2019 and 2021.
We then applied these figures to the average flight prices from the UK during the same time period (using data sourced from Skyscanner). This gave us the total average cost of flights leaving the UK in the first three and last three weeks of the school summer holidays.
We then calculated the difference in cost between these weeks. For each flight booked, this works out at an average saving of £97 per person (equivalent to £10.3m worth of savings) when travelling in the last three weeks of the school summer holidays, compared to the first three weeks.
[3]We spoke to Monica Scott, a travel writer and blogger based in Wales for her insider tips on saving money when booking accommodation. Her blog can be found at The Travel Hack.
[4]This statistic was collected via a YouGov survey of 3,000 UK residents. The survey ran on 1 December 2021 and all respondents were selected at random.