If you need to return home unexpectedly from a holiday, will travel insurance help you out? Find out more about holiday curtailment cover.
Key points
Can offer reimbursement for the unused part of travel and accommodation and for reasonable travelling expenses to return home
Beware of exclusions - check terms and conditions carefully
Pre-existing conditions and situations will not be covered
You've been looking forward to your holiday for months, you've got your passport packed, money exchanged and you're on your way to bask in the sun or explore a new city.
But what happens if you fall ill while abroad, a family member falls ill in the UK, or there's another emergency requiring your attention?
You'll want to get home as soon as possible, and may not have time to worry about the repercussions of leaving your holiday early.
In this situation, a travel insurance policy with curtailment cover could give you the peace of mind you need.
What does curtailment cover offer?
If you have curtailment cover, you'll be able to claim reimbursement for the unused part of the travel and accommodation you booked and for reasonable travelling expenses to return home.
This usually works on a sliding scale, so the nearer to the scheduled end of your holiday you are when you leave, the less your reimbursement should be.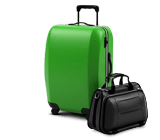 In June 2014, Gocompare.com analysed 550 annual travel insurance policies listed on the matrix of independent financial researcher Defaqto.
It was found that only 240 of them offered £5,000 or more cover for cancellation or curtailment of a trip.
Who should I contact?
If you find yourself travelling home early, your first point of contact should be the company you booked your holiday with.
Many travel companies have a cancellation policy, and if they're an ABTA member you may be able to receive a refund.
If you've arranged a DIY holiday, you'll need to rely on any curtailment cover that may be provided by your travel insurance.
Coverage is very specific - protection will depend on the terms and conditions of your policy and on when you took it out.
If you fall ill while on holiday, it may be a good idea to consult your insurer before returning home so they can advise you on what to do.
Some insurers may argue that it wasn't necessary for you to come home if they believe that the illness wasn't serious enough.
When can I make a claim?
There a number of situations where you may be able to claim compensation after leaving a holiday early:
If you or another beneficiary of the policy falls ill or has an accident
If a close relative in the UK dies or falls seriously ill
If your house is burgled or rendered uninhabitable
If you or a travelling companion lose their passport or have it stolen
If you're in the armed forces and are ordered to return to work
Insurers may be reluctant to provide cover if the reason you have to cancel is related to a pre-existing medical condition.
Any pre-existing condition must be mentioned beforehand, so it can be included in the policy - honesty is the best policy when it comes to taking out insurance.
When you took out the cover can also be crucial - if you discover that a family member is ill and then take out travel insurance in the hope that you'll be covered, your policy may be invalid as the illness wasn't unforeseen.
If you're seriously ill and confined to your room for the duration of your stay and are not hospitalised or repatriated, your provider may consider a claim for curtailment on the grounds that your holiday was ended prematurely.
If another traveller's holiday is affected by the policyholder's illness then insurers may consider a claim, but this could depend on the extent of the impact.
I'm not enjoying my holiday - can I claim back the cost if I decide to leave early?
The short answer is no.
If you arrive at your destination and don't like it, you can't leave and try to reclaim the cost through your travel insurance.
If you are unhappy with an element of your holiday, let your travel operator know as soon as possible.
They may not realise something has gone wrong, and if you don't let them resolve the issue you may be on shaky ground if you try to claim compensation later.
By Emily Bater
[SeanSocialShare]