Medical cover is at the core of every travel insurance policy, and should protect you if you fall ill or are the victim of an accident while on holiday. Find out more...
Did you know...?
The Foreign Office recommends a minimum of £1m medical cover for Europe and £2m for the rest of the world
The vast majority of travel policies charge an excess when a medical claim is made - check how much
This excess may be waived if an EHIC card is used appropriately in a participating country
Medical cover should be the core element of a travel insurance policy, covering medical costs that are incurred while on holiday, whether caused by an accident or illness.
If you enter Gocompare.com's comparison service, every quote you receive will include medical cover as standard and you'll have access to additional information to check that the policy's terms meet your needs.
Medical claims and emergencies abroad are one of the biggest costs to insurance companies, and it follows that people who have a greater risk of claiming are likely to pay more for their insurance premiums.
This typically includes the elderly and people with pre-existing medical conditions, who may need to take out specialist travel insurance to ensure they're protected.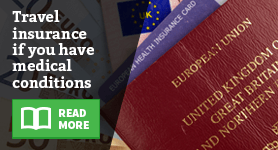 All policies will differ, but the scope of medical costs should include paying for hospital treatment, emergency repatriation and the travel expenses associated with having to stay abroad longer due to a medical emergency.
The cost of medical treatment varies around the world. For example, in the USA medical care is typically more expensive than in Europe, meaning that travel insurance policies that include cover for the US are usually costlier.
How much medical cover do I need?
The Foreign Office† recommends a minimum of £1m medical cover for Europe and £2m for the rest of the world.
How do medical expenses work?
If you fall ill or are the victim of an accident whilst on holiday, then your travel insurance should cover the costs of any medical treatment stemming from that event.
Medical treatment can cost a fortune when you're abroad and bills for tests and hospital stays can run into thousands of pounds
If you're rushed into hospital your insurer won't expect you to call them first, but you or someone you're travelling with should make them aware of the situation as soon as possible.
If your treatment is minor and the medical bill is small, it's usually acceptable to pay these bills yourself and then claim back the cost once you've returned home.
Larger claims should be sent directly to your insurer, but you'll need to make contact with your insurer via an emergency contact number before any costs are incurred.
While the insurer doesn't sanction the type of treatment a person will receive, it can confirm to a policyholder whether the treatment they have been recommended will be covered by their insurance.
This gives the insurer warning that a claim is going to be made against the policy, and confirms to the policyholder that they'll be able to claim.
"Medical treatment can cost a fortune when you're abroad and bills for tests and hospital stays can run into thousands of pounds," said insurance expert Jeremy Cryer. "Get yourself and your family covered."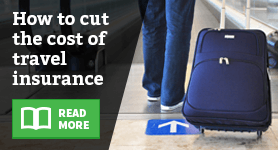 Remember the excess
Even if you have travel insurance cover, remember that you'll still be liable for any excess outlined in the policy's terms and conditions - make sure you're comfortable with the level that excess is set at.
On 30 June, 2014, Gocompare.com analysed 532 single-trip travel insurance policies listed on the matrix of independent financial researcher Defaqto, and found that 489 of them (92%) would usually charge an excess on medical claims.
However, if the claim was for medical care when a European Health Insurance Card (EHIC) had been correctly used in a participating country, 442 of the 489 excess-charging policies (90%) would waive the charge.
The figures were similar for annual multi-trip policies, with 91% (501 out of 549) charging an excess for medical claims, but 88% (441 of 501) of those waiving the excess when an EHIC was correctly used.
Exclusions to beware of
Pre-existing medical conditions
If you don't inform your insurer of any pre-existing medical conditions, your policy may be void. It's important to always be honest when declaring any medical conditions.
Incidents involving alcohol and non-prescription drugs
Most insurers have exclusions around alcohol or drug-related incidents in their policies - these vary from insurer to insurer, so it's important to check your policy to be aware of what you are and aren't covered for.
"Insurers expect holidaymakers to let their hair down and enjoy a few drinks, but go too far and they may refuse to pay any claims which occur as a result of your drunken behaviour," said Cryer.
"If a heavy drinking session ends in a visit to A&E your insurer may argue that you acted negligently and refuse to pay the medical bill."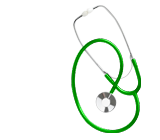 Injuries relating to violence
If you're injured as a result of a fight your insurer is unlikely to pay out - they may make an exception if you were acting in self-defence.
Extreme activities
If you're planning on going skiing or undertaking any extreme sports while on holiday, it's important to tell your insurer and to get the appropriate cover - if you don't, any injuries sustained because of these activities may not be covered.
Check the terms and conditions of your policy before setting off to ensure that you're covered for any activities you'll be undertaking - as just one example, a policy may cover cycling while on holiday, but may exclude cycle touring.
Travel vaccines
Find out what vaccinations you require before setting off on your trip by checking Fit For Travel.† Don't forget to check your vaccination records - your GP can advise you which are needed and which you've already had.
If you don't have the necessary vaccinations and then fall ill from something from which you should have been vaccinated against, you may find that an insurer will refuse to honour any policy as your illness was preventable and foreseeable.
Medication
If you're taking any medication, pack it in your hand luggage and make sure it's accepted in the country you're travelling to. If you're taking prescribed medication, make sure to pack a doctor's letter.
If you don't make insurers aware of any medication you're taking your policy could be invalidated, and if you do fall ill on holiday it's important to make the people treating you aware of any medication you've been prescribed.
European Health Insurance Card
The EHIC is a must-have for travellers to Europe as it covers you for emergency health care in that region.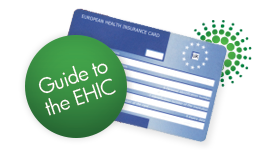 The card entitles the bearer to treatment for free or at a reduced cost in all European Economic Area (EEA) countries, including Switzerland.
Remember that the EHIC is a supplement to travel insurance, not an alternative. It'll only cover you in the event of an emergency, and does not cover the cost of medical repatriation or the treatment of any pre-existing medical conditions.
In the event that you don't travel with an EHIC and find yourself in hospital, your insurer may refuse to pay the medical bills if it states in your policy that you must take a card. An insurer may also refuse to pay out if you receive treatment that would have been covered by an EHIC.
Cancellations
Cancellation cover is typically included as standard with travel policies and could cover the cost of your trip if you or a family member fall ill in the run up to your holiday - all quotes returned through Gocompare.com will offer this cover.
This allows policyholders to reclaim the costs of their holiday up to the cover limit - minus any excess - if unforeseen circumstances prevent them from travelling.
It's important to remember, however, that you can't insure yourself against an event taking place that you were already aware of.
So, if a family member becomes seriously ill in the run-up to your holiday, you can't then take out insurance with the intention of cancelling your trip.
For cancellation cover to protect you properly, you must take out a policy as soon as you book your trip.
Similarly, check the definition of close family members under your policy - someone you would expect to be covered may not be.
You may even consider your cat or dog a family member, but if they fall ill and you decide to cancel your trip, you may not be covered. There are certain pet insurance products that could protect against this eventuality.
By Emily Bater