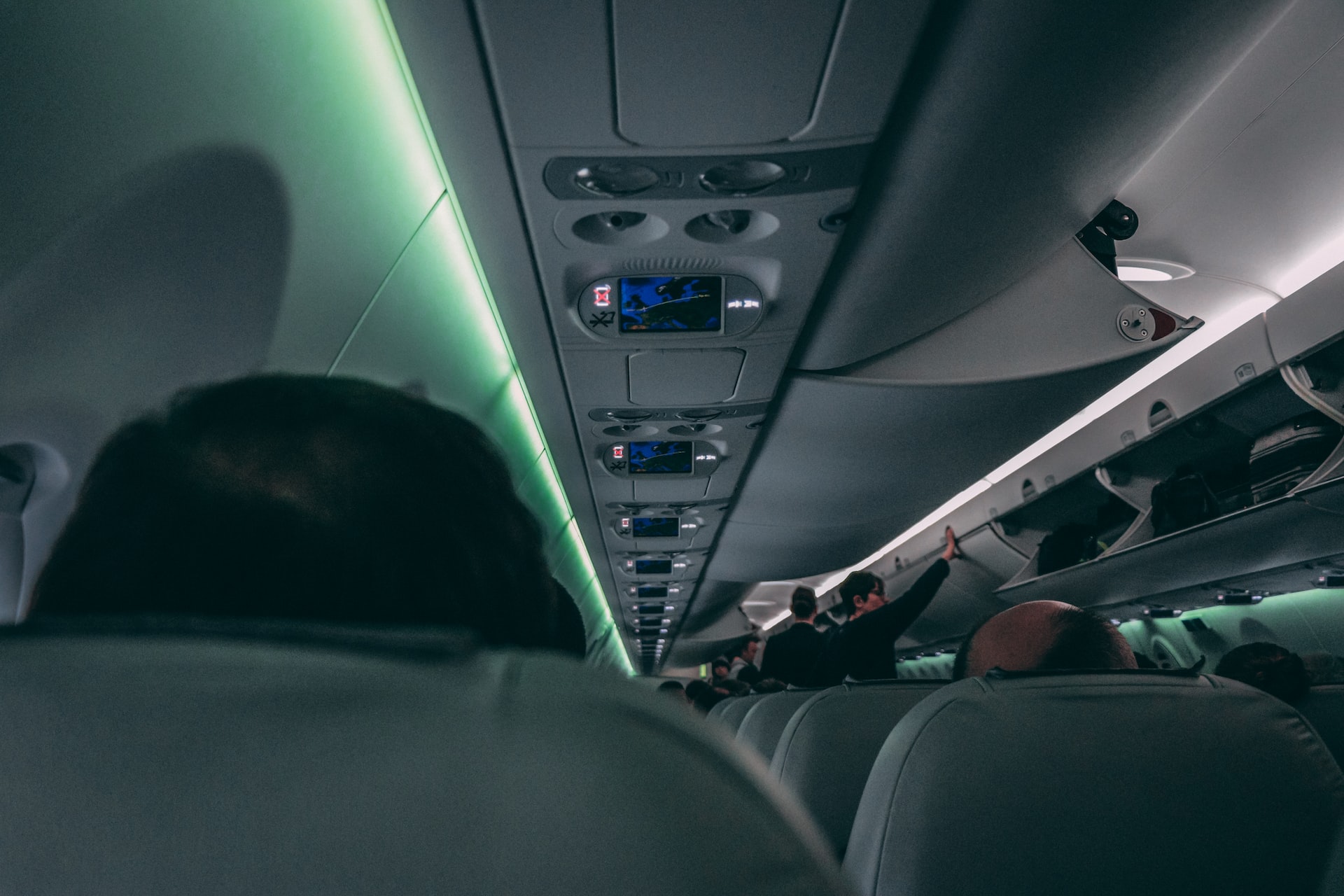 Saving for your holiday takes a lot of hard work, so it can be really frustrating to have your well-earned downtime tarnished by another traveller. From sunbed hoggers and seat recliners to noisy passengers and weather moaners, there's a plane-load of things that can take away from our time off.
However, which of these getaway gripes are the biggest offenders when it comes to ruining our fun? To find out, we asked 2,000 Brits to tell us what they find most annoying when embarking on a sunny escape.
Flyers kick off over seat kickers
For many of us, the holiday starts at the airport, where we can indulge in a tasty treat or two before jetting off to our destination of choice. So, there's nothing worse than the beginning of your break being spoiled by another passenger on the flight.
There are lots of things that can get on our nerves while we're sailing the skies, but which ones bother us the most? According to our survey, our biggest aeroplane annoyance is officially passengers kicking our seats.[1]
Two-thirds (66%) of our survey respondents picked this as a plane pet peeve, far more than anything else on our list, meaning it's easily the thing we find most irritating about travelling on a flight.
Top 10 most annoying things people do on a flight
Annoying things people do on a flight
Percentage who find it annoying
Passenger behind you kicking your seat
66%
Drunk passengers
50%
Screaming children on flight
49%
Passenger in front reclining their seat
46%
Loud passengers
43%
Body odour
42%
Passengers rushing to get off the plane first
34%
Passengers hogging space in the overhead lockers
29%
Clapping when the plane lands
24%
Overly talkative passengers
23%
While it may be tempting to numb the stress of seat kickers with a strong drink or two, you should be wary of having one too many, as you may become an annoyance yourself. Drunk passengers came second behind seat kicking as the most irritating part of flying, being selected by half (50%) of our respondents.
Many experts (including the Civil Aviation Authority) say the effects of alcohol can be stronger in the air. This is one of the many reasons why drunk passengers are an all too common problem - despite it being officially classed as a criminal offence.
Dealing with tipsy travellers isn't the only thing that annoys us in the air though. Screaming kids are considered almost as bad, as this was chosen by a similar number (49%) of respondents. However, some passengers are more understanding of this than others, as it only bothered around a third (30%) of parents, showing that they can clearly relate to the struggle of keeping children calm on a flight.
Perhaps unsurprisingly, body odour also ranks highly, picked by 42% as a plane pain. Despite this disdain for bad odours, passengers seem to be much more tolerant of those who wish to kick their shoes and socks off mid-flight. Only a fifth (20%) said that this irritates them, placing it second-bottom of our nuisance list overall.
Boozers abroad are among Brits' most hated type of traveller
It's not just the flight where travellers are being bothered by boozy Brits, as holidaymakers being too drunk was also selected as one of our biggest bugbears at the destination itself.
It was chosen by 41% as one of their holiday hates, so while we all like to let loose and enjoy ourselves, it's clear that we want travellers to know when to draw the line. As well as annoying others, it also poses a travel insurance issue, as some insurers may reject a claim if it arose as a result of excessive alcohol consumption.
Drunkenness is particularly bothersome for older travellers, as it was chosen by almost half (47%) of those over 55, more than any other age group. In comparison, it was picked by just a quarter (25%) of those under 25.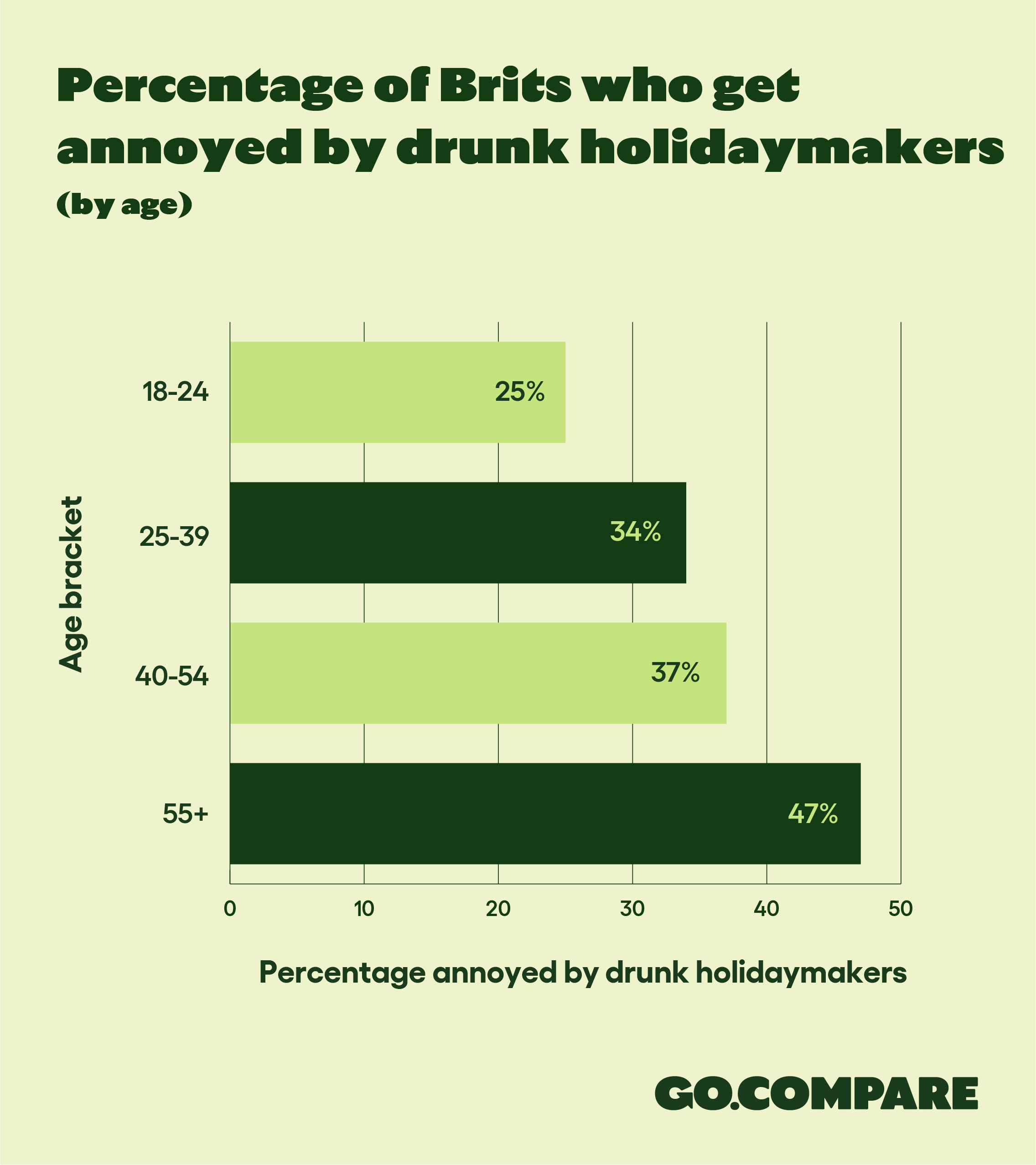 In fact, younger Brits are more likely to be annoyed by commotion around the pool rather than the bar, as 35% of 18-24s found noisy kids in the pool particularly irritating - the most of any age range.
Although these are both major offenders, neither topped the list of getaway gripes. Travellers' biggest pet peeve by far is tourists being disrespectful to the locals, which was selected by over half (58%) of our respondents.
Top five most annoying things people do on holiday
Annoying things on holiday
Percentage who find it annoying
Tourists being disrespectful to locals
58%
Holidaymakers being too drunk
41%
People saving sun loungers with towels
35%
Loud holidaymakers
35%
Hearing people moan about it being too hot
24%
When holidaying abroad, we have a moral responsibility to respect the local customs we encounter, so it can be infuriating to see others mistreating the residents. In some extreme circumstances, disrespecting locals and their culture can have serious consequences, especially at attractions considered sacred. It's for this reason (among others) that so many are irritated by holidaymakers acting in this way.
Capital complainers: Londoners are the most annoyed by getaway gripes
Based on our survey, it appears that travellers departing from the capital are the most likely to get riled up during their time away. Almost every option on our survey was selected by a higher percentage of Londoners than any other area, both on the flight and when they reach their destination.
It's the same issues as the rest of the nation which tend to wind them up though. Two-thirds (66%) said they hate tourists being disrespectful to locals, while almost three-quarters (70%) complained about mid-flight seat kickers. However, sunbed stresses aren't as high on their worry list, as only 19% said they get annoyed by a lack of available sun loungers - the lowest percentage in the country.
What do those in the industry think?
As well as hearing from holidaymakers, we also asked those who work in the industry what irritates them the most. Since they can be required to travel more often than the rest of us, it's likely that they'll have encountered every bugbear in the book, so which one do they think is the worst?
Like the rest of us, their number one complaint is seeing others act disrespectfully towards locals. A mammoth 78% of them chose this as a prime pet peeve, highlighting just how important it is that locals are treated politely and courteously when we're enjoying a break abroad.
Meanwhile, their main gripe when flying is body odour, which was selected by 61% of tourism professionals. Clearly, encountering this unpleasant aroma is something that even frequent flyers never get used to.
The best comments from the public
While some respondents were relatively understated in sharing their views, many were more than happy to vent their frustrations, and didn't hold back when describing their experiences.
One of those we asked complained about the lack of consideration other passengers show towards their needs, describing their biggest annoyance as: "People ignoring my walking stick who make it their personal aim to knock me over". In fact, many cited a lack of help for disabled passengers as an issue, such as the absence of options for those needing wheelchair access.
Others mentioned issues with seat reservations, stating: "People trying to sit in your seat and being a Karen about it". Space issues were a regular theme from our respondents, with one flyer naming "armrest hoggers" as their top irritation.
Another common complaint was with the stereotypical "Brit abroad", particularly those who expect everything to be like home, ignoring the local culture and seeking out British food. For one respondent, there's nothing more annoying than the way some Brits communicate with locals, saying: "People shouting in English at waiters, somehow thinking that the louder they shout, the easier for the non-English speaker to understand".
One way to get around the language barrier is to take a staycation, avoiding the need to translate altogether. However, holidaying at home still has its occasional pitfalls, as one respondent stated their biggest annoyance was "Bon Jovi at 5 am on a campsite".
About this data
[1]In order to collect the data used in this report, we conducted a survey of 2,000 UK residents via YouGov. The survey was run on 21 October 2022 and all responses were selected at random. All statistics featured on this page are sourced via this survey unless otherwise stated.