Planning to go island hopping, or hiking through Middle Earth? Compare travel insurance now...
Fancy a trip to New Zealand? Before you go make sure you get the right travel insurance. Our travel guide will give you some helpful tips on how to save money and stay safe.
Key points
The cover you'll need depends on the type of trip you're going on. Whether you're backpacking or going on a family trip there are plenty of options for you
If you're planning to take part in any extreme sport while out in New Zealand check whether it's covered by your policy
If you're working abroad make sure you're covered by the right policy and your gadgets are protected
Jetting off to New Zealand?
Find out what type of travel insurance you'll need before you go.
Whether you're trekking through the outback, or taking the Hobbits to Isengard, New Zealand is full of new adventures waiting to be had.
It's worth staying a while to take it all in, so we've come up with a guide to getting the best travel insurance policy for your trip. 
Compare travel insurance quotes for New Zealand
Ultimately, the best quote for you depends on what you need covered: if you're going on a sports holiday, the equipment and injury cover will likely increase the price. 
If you're only planning to explore Middle-Earth and other tourist hotspots, then we can help you find a policy that won't break the bank.
Worldwide insurance for the Southern Hemisphere
There's no one-size-fits-all policy to cover travel throughout the entire Southern Hemisphere, but there are several destinations within easy reach of New Zealand that you can be covered for should you feel like island-hopping.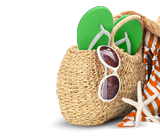 Single trips to New Zealand
The price of your single trip travel insurance to New Zealand will generally depend on what is included in the policy. 
The difference is usually based on how much cover is offered for cancellations or medical expenses.
New Zealand is worth taking time to enjoy - especially after such a long flight - and some providers do instead offer longer single-trip policies for up to and including 62 days. 
Multi-centre trips to New Zealand, Australia, and Fiji
If you want a holiday that really does take you away from it all, you can island-hop around Australasia, taking in Fiji and Australia as well as New Zealand. 
Obviously, insurance will be a tad more complex to organise than a single-destination trip but there are providers who will insure your whole multi-centre holiday under worldwide insurance. 
Comprehensive travel insurance for New Zealand
Looking for a policy to cover as much as possible? You'll be needing comprehensive travel insurance for your trip to New Zealand. 
Cheaper policies may not offer cancellation cover for the whole cost of your trip, so bear that in mind when booking your insurance.
Adventures and activities in New Zealand
New Zealand is packed full of things to do, from backpacking through the lush scenery to climbing the Auckland Harbour Bridge. 
Tourists interested in history and indigenous culture can visit a marae, or Maori tribal meeting ground.
Those who enjoy astronomy can take advantage of the South Island's status as the world's largest International Dark Sky Reserve and see some stellar night skies at the Mount John Observatory. 
Of course, no trip to New Zealand is complete without a visit to Middle Earth and the interactive film set tours, which can last anywhere between seven and 21 days.† 
Healthcare costs in New Zealand
New Zealand enjoys some of the best health coverage in the world – travellers are covered for medical costs relating to accidents by the Accident Compensation Corporation, but you'll need insurance for any illnesses.†
Personal liability cover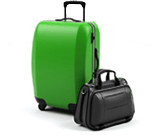 Your travel insurance may also include personal liability cover which will make sure you're covered for any incidents that you're responsible for financially.
Hopefully, you won't need it but it's not a bad idea to look into it.
Lost luggage?
Most policies cover lost luggage, giving you some peace of mind if your precious Lord of the Rings memorabilia is stolen, or if your luggage goes missing.
Delayed flights, missed connections, and cancellation
Getting to New Zealand is a lengthy journey, so it's worth investigating whether your insurance covers delayed flights, which may cause you to miss connections. 
Also worth investing in is cover for cancelled flights, as this may seriously affect your whole trip.
Rental cars and insurance in New Zealand
Rental cars are available in most airports and cities and, conveniently for British tourists, they drive on the left in New Zealand. 
However, car insurance isn't compulsory, so it's a very good idea to invest in your own policy to mitigate any costs you might incur. 
Contact your insurer to check whether your UK car insurance policy will extend to New Zealand.
If not, you might have to find a specialist insurer to cover you. 
Travel insurance for a working holiday in New Zealand
Anyone looking to undertake a working holiday in New Zealand is required to have travel insurance for the duration of their stay.
You'll need to make sure your policy actually covers you for working abroad and that it also covers any gadgets you may be taking with you. 
Find the best travel insurance for your trip
Whether you're keen to experience the stunning vistas of Middle-Earth, or enjoy a trekking holiday through the New Zealand wilderness, we can help you find the right travel insurance for you.
By Nick Dunn