Students, are you jetting off to backpack around the world and spread your wings? Don't forget about travel insurance.
Key points
Check you're covered for any planned extreme sports or activities. Policies vary from provider to provider
Declare any pre-existing medical conditions before you go - otherwise, your insurer won't pay out
Look after your belongings. Personal possessions insurance doesn't cover unattended bags or valuables
If you're travelling as a student, you'll no doubt have scrimped and saved every penny you've got to pay for your plane, train or bus tickets, but have you bought travel insurance?
While it may seem like a boring formality, it could end up saving your bacon if you find yourself in a sticky situation.
Travel insurance for students abroad
New to travel insurance? Well, the key things you want your policy to cover are:
Medical treatment you might need should you suddenly fall ill or have an accident
Repatriation back to the UK if necessary
Cover for any delays or cancellations to your travel itinerary
Loss or theft of personal possessions - you may think your stuff isn't worth much, but tot up the cost of your smartphone, gadgets and holiday cash, and it soon adds up.
If you have any pre-existing medical conditions, like asthma, diabetes or a heart condition, now is the time to declare it. It might be tempting to bend the truth to get a cheaper deal, but you'll end up losing out if you need to make a claim, as your insurer will check your medical history.
Remember, the rule of thumb when buying any type of insurance policy is that the cheapest isn't necessarily the best.
A £10 policy might sound great, but not if you have to pay £1,000 excess when you make a claim. Shop around to find cover that suits your individual needs and budget.
Backpacking or studying abroad? 
Are you going backpacking for an indefinite period, planning a full year abroad, taking a month-long single holiday, or squeezing in a few shorter breaks throughout the year?
The nature of your trip will determine the type of insurance policy you buy.
Backpacker or gap year insurance typically covers you between two and 18 months - so it's ideal for gap year travel. An annual policy will cover you for 12 months for multiple trips, but for no longer than a specified time per trip - usually 31 days. Single-trip insurance only covers you for one trip.
"Although I am a student, I take out annual multi-trip insurance with worldwide cover," says student travel blogger Tom Woods, aka Travelling Tom.†
"I travel enough for it to be a worthwhile investment, but those who travel rarely, or less than two times per year, might be better off looking at getting single-trip insurance."
European versus worldwide travel cover
Most insurers offer different policies for European or worldwide cover. If travelling in Europe only, make sure the countries you intend to visit are listed in the policy, as this can vary from insurer to insurer.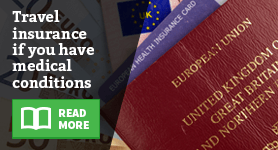 Likewise, if you're on a backpacker policy, make sure that every country you intend to visit - even if you're just passing through - is covered. It's worth noting that many insurers won't cover countries in a state of political unrest, so do your research before you go.
If you're travelling in Europe, be sure to apply for a European Health Insurance Card (EHIC). This free card, which you can carry in your wallet, covers you for the same emergency care as a local resident.
Please note, however, that it's not a substitute for travel insurance and doesn't cover repatriation to the UK.
Insurance for adventure travel
Planning on doing the obligatory bungee jump in Oz, a sky dive in Dubai or whitewater rafting in Costa Rica? If so, ensure your policy covers you for extreme and adventurous sports.
"Some types of insurance won't include certain things such as cover for watersports, or winter sports. So, make sure you're covered properly before renting a jet ski in Zante or hitting the slopes in Zakopane!" explains Tom.
On 20 July, 2017, GoCompare analysed 926 single-trip travel insurance policies and 242 annual travel insurance policies products via independent financial researcher Defaqto. Only 13% covered winter sports as standard, so you really need to comb through those terms and conditions to make sure you're getting the right policy, as well as good value for money.
Winter sports cover is a must if you plan to ski or snowboard. Again, check the exact wording of the policy, as most won't cover you if you're planning to go off-piste or ski jumping. You may need to take out a specialist policy for this.
Students working or volunteering abroad
If you're thinking about taking up some casual employment while travelling, such as bar work or picking fruit, then some backpacker policies will provide cover. Note that most won't cover you for manual work, such as labouring or operating machinery, so check the policy fits with your work plans.
Planning to volunteer abroad? Backpacker or gap insurance should give you the cover you need. The exception would be if you're going to a war zone or an area where a natural disaster has recently occurred. If this is the case, check the terms and conditions of the policy.
A £10 policy might sound great, but not if you have to pay £1,000 excess when you make a claim. Shop around to find cover that suits your individual needs
Large charities or volunteer organisations, like Raleigh International and Camp America, will offer volunteers travel and medical insurance cover as part of the package, but generally don't cover personal possessions cover.
If you are studying abroad for a year, many insurers will offer a separate policy for this. If you're studying as part of a degree, universities will often offer free insurance to students while they're away.
Student travel discount
"There are several ways students can save money on their travel insurance," says Tom. "One way is by getting a quote from a student insurance provider. This may be cheaper than using a regular insurance group.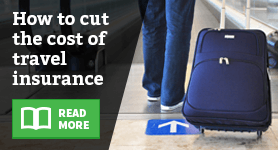 "Also, if it's applicable, make sure to check with your parents' insurers, or any other company you may have insurance with, as some companies may reward your loyalty and custom with a reduction in premiums."
Remember, if you buy an annual travel insurance policy that it may auto-renew after 12 months, and the cost of premium may change. When the time comes, either cancel the policy, or shop around to find the best deal."
Take it steady
Travelling as a student does allow you the opportunity to let your hair down, but don't go crazy. Insurers won't pay out if they discover an accident has happened while you're under the influence of drugs or alcohol.
They also won't take pity if you leave your bag or rucksack unattended and it gets stolen.
So be particularly careful if staying in hostels with shared accommodation or travelling on overnight buses or trains.
by Melissa Stewart