Compare travel insurance quotes with water sports cover before sailing, surfing or swimming the high seas.
Key points
Very few travel insurers cover activities such as white water rafting as standard
If hiring equipment, be aware that personal liability clauses may exclude mechanically propelled vehicles, such as jet skis , from your cover
Your travel insurance may reimburse the cost of cancelled water sports lessons if you have an accident or fall ill
The tide has turned and your once quiet family holiday is now filled with deep diving, or white water rafting.
Did you know that standard travel insurance may be 'all at sea' when tasked with a claim of a nautical nature?
To make sure your travel insurance doesn't leave you high and dry, you could add on additional cover, or buy specialist water sports insurance, to protect you when experimenting with a number of pulse-racing, risky, and extreme activities:
Jet skiing
Scuba diving
White water rafting
Sailing a yacht or catamaran
Free diving
Sea canoeing and kayaking
Canyoning or coasteering
Surfing
Swimming with dolphins, or cage diving with sharks
Deep sea fishing
If you're planning to merely lol in the pool atop an inflatable unicorn, or stride waist-height into the sea to ogle the fish, chances are you won't need water sports insurance, but read your terms and conditions before jumping to conclusions.  
What water sports are covered under travel insurance?
On 21 November 2017, GoCompare analysed 939 single trip travel insurance policies listed on the independent matrix of insurers, Defaqto, to find out what water sports are covered as standard.
The great news is that lots of activities are covered, but the levels of protection vary, so if you are planning to dive in to the deep end this holiday, double check your insurance is up to the challenge.
Scuba diving and snorkelling
Open wide, stuff in the snorkel, and slap on the goggles - a whopping 91% of insurers could cover scuba diving as standard, and 97% included snorkelling for no additional premium.
Before you start backing into the sea, always carefully check the terms and conditions, as certain insurers may only cover you:
Up to certain depths
If there's an instructor present
If you have a diving qualification
Remember, don't ring-fence activities under the guise of snorkelling if it's only one part of the adventure.
For example, you may scuba to the sea bed if you're spearfishing.
Be wary that you could jeopardise a claim if you're injured (for instance, become impaled on a hand held harpoon) and you've glossed over the details of the snorkelling expedition with your insurer.
Banana boating
It's just not a beach holiday without a high-speed tow on a 10-person banana boat.
Good news, 80% of insurers would cover banana boatingas standard, according to Defaqto, and just two insurers would charge you extra for the cover.
Parasailing
If you'd like to ramp up the holiday jeopardy by flying through the air attached to skis, a parachute, and a speed boat, you're in luck, because 69% of policies would cover you for parasailing as standard.
If you've brought your own parachute, or wetsuit, your policy may cover damaged, stolen or lost sports or activity equipment.
Jet skiing
If you'd rather rev the engine from the seat of a jet ski than get pulled behind it, fear not, 68% of insurers included Jet Ski cover as standard.
But, travelling at high speeds on an unfamiliar machine places you at risk of collision or losing control.
Before turning the ignition, make sure:
You've been briefed by an instructor
There's an emergency immobilising cord
You and any passengers are wearing life jackets
No matter how careful you are, unexpected hazards can appear from the water - be wary of swimmers, wildlife and other obstacles, such as rocks, and other boats and vessels.
If you find rare coins or other treasures in Davy Jones' locker, don't try to smuggle them back through customs
If you've hired the jet ski, sometimes you'll be asked to sign an insurance waiver requiring you to pay an excess if you crash or damage it.
Make sure you fully inspect the jet ski for pre-existing damage, and point out any cracks, scratches or dents to the hire company, before signing anything.
Your travel insurance may not cover you for damage to the hired jet ski, or if it's stolen while in your care.
When you're comparing travel insurance, watch out for personal liability clauses that exclude mechanically propelled vehicles, such as watercrafts and check with the insurer if jet skiing is excluded.
Sea kayaking
As the water activities become a bit more adventurous, or unusual, the number of insurers (and, therefore, your spectrum of choice) starts to dwindle.
For example, just 33% of insurers covered sea kayaking as standard, which you may be surprised by as sea kayaking is often pictured on flat water in glorious weather.
If you do find yourself battling white water near the coastline in a kayak, basic cover may not protect you if you're injured overseas and require hospital treatment, or the equipment is lost or damaged.
White water rafting
Only 22% of travel insurance policies checked on Defaqto would cover white water rafting as standard - what's the world coming to?
It's little wonder insurers are cautious though, you're navigating swirling and fast-moving water in rocky terrain.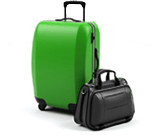 White water rafting is classified in six levels, or grades, using the International Grading System.
For instance, class three white water rapids, like the Tryweryn near Bala in Wales, would have fast-moving, high, and unpredictable waves.
The International Grading System designates the power and predictability of the water, but it's only used as a guide.
Travel insurers wouldn't necessarily use it to calculate your premium, but specialist white water rafting insures may have a stricter criteria.
If you're a professional or experienced rafter, and you know the rivers you're carving through are particularly challenging, you'll want to level up the cover and a specialist white water rafting policy.
Cancelling water sports lessons
You've booked kayaking, paragliding, sailing or yachting lessons overseas, but due to unforeseen circumstances, you need to cancel.
Can you recoup the costs?
Your travel insurance may refund the cost of the course if you're cancelling due to accident or illness.
Time to rifle through your terms and conditions to see if your reason for cancellation is covered.
Read more about cancellation cover and travel disruption cover to find out more.
If you have an annual travel insurance policy or a single trip policy that covers UK travel as well as overseas excursions, you may also be able to make a claim for missed water sports lessons or coaching on home surf too.
Finding buried treasure
If you've checked your policy and any depth of diving is permitted, don't think twice about donning the oxygen tank and scuba mask to explore ship wrecks and coral reefs.
But if you find rare coins or other treasures in Davy Jones' locker, don't try to smuggle them back through customs.
There may be local laws protecting unearthed artefacts, and if you're detained for removing the items, you'll need help from the Foreign Office, British High Commission and Embassy to get everything straightened out.
Your travel insurance may cover your legal expenses, but refunding missed flights and accommodation expenses (if you're not in prison) might be a difficult sell to the insurer.
Nonetheless, it's always worth asking the question if you're in dire financial straits a long way from home.
By Amanda Bathory