If you're leaving a property vacant you need to think about preparations including insurance, security and structural integrity.
Key points
Properly preparing a property for vacancy will help protect it from crime and damage
Home insurance policies are invalid if the property is empty for longer than the period stipulated in the terms and conditions, which is often in the region of 30 days
Speak to your insurer before leaving a property vacant and think about taking out dedicated unoccupied property cover
Leaving a property unoccupied for any amount of time can be daunting, but there's plenty you can do to keep worry and problems at bay.
Whether you're going to work in a distant place, travelling for an extended period, or you're looking after a house for a friend or family member, mothballing will help to keep the house secure and standing while it's empty.
Have an eye kept on empty property
If possible it's recommended you find a trusted person to check on the property as often as they can.
The quicker you're aware of any issues or damage the quicker you can react to them and minimise potentially expensive long-term problems, and creating a sense that the property might be occupied is also a great crime deterrent.
A regular visitor can help achieve this by parking their car in the driveway or on the street outside the house, varying timers on lights and collecting mail, forwarding anything important and removing junk.
If you're unable to find a trusted friend, family member or neighbour who fits the bill, a property maintenance professional can do this sort of thing for you.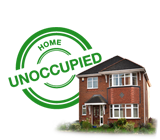 Whatever arrangement you make, before you hand over the keys to your property ensure that your insurance provider has been informed and that you won't be invalidating your cover.
Deep clean before vacating
Rigorous cleaning is essential in any mothballing project - for a start you'll want to avoid returning to a fusty house.
More importantly, cleaning the interior and exterior of your property can help prevent rodents, damp and potential structural issues.
Exterior clean and inspection
Clean the gutters and hopper heads to ensure they're not blocked and likely to overflow when it rains.
The persistent presence of water on any part of your house can cause damp and is a major cause of long-term problems.
Ensure you know the whereabouts of the stopcock in case of emergency - and that you tell whoever's monitoring the property where it is too!
Similarly, removing any rubbish and rotten vegetation such as leaves or overgrown plants around the property will help alleviate potential damp issues on the ground floor.
If you're not confident with heights, employ a builder or maintenance professional to inspect and clean the roof gutters.
Interior clean
Scrub, vacuum and dust every cranny and corner, including underneath and behind the cooker, fridge and large items of furniture.
There shouldn't be a crumb left in the house: anything edible or perishable is going to attract rodents.
Empty, clean and unplug the fridge and freezer, and leave their doors open to prevent mould, odours and mildew.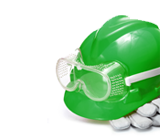 Your cupboards should be equally spotless and all doors left open for ventilation.
Deter criminal activity and unwanted guests
Unfortunately an empty house can attract thieves, vandals and squatters, so it's worth paying particular attention to security.
Remove all valuables and check you have approved locks in use on all doors and windows. If you have an alarm system, make sure it's working.
Outside, remove or store any expensive garden furniture and tools and make sure ladders, bins or anything a criminal can climb onto is locked away out of sight.
Check your gate, shed and garage locks and think about cutting down high bushes and overgrown plants - the less areas there are for a criminal to hide, the better. What's more, the tidier your garden looks, the less likely the property is to appear unoccupied.
As mentioned, you should try to set timers on a variety of lights and radios in the house. Many timers allow you to schedule different times during the week so the lights don't come on with mechanical, predictable regularity.
Buildings need to breathe in order to avoid any damp and timber rot in the winter months and dry rot in the summer
Weather damage and ventilation
Burst pipes are a major concern during the winter.
One way to avoid this in an unoccupied property is by turning off the water supply entirely and draining the pipes. However this can lead to a particularly cold house and could cause damp problems.
Many heating systems can operate with their own isolated water supply. Maintaining a low level of heat (ideally a consistent 13C throughout the house at all times) will not only help to avoid frozen and burst pipes, but will also help avoid other property issues such as damage to paint, plaster and timber.
Consult a heating engineer
All heating systems have their own requirements so the advice of a professional is essential. Also think about getting them to service the boiler before you leave.
If you're unable to turn your water supply off, leaving one tap on all floors dripping very slightly is another way of avoiding stagnant water in the pipes that could potentially freeze.
Make sure all pipes and tanks are properly lagged and insulated and ensure you know the whereabouts of the stopcock in case of emergency - and that you tell whoever's monitoring the property where it is too!
Buildings need to breathe in order to avoid any damp and timber rot in the winter months and dry rot in the summer, so think carefully before blocking ventilation grills and/or chimneys. If your windows have trickle ventilators, keep them open.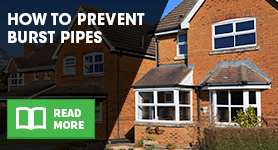 Consistent ventilation is also important so keep all interior doors, cupboard doors and your loft hatch open to make sure the warm air circulates throughout.
Key things to deal with before you leave
Insuring unoccupied property
If you're leaving your property for a long time your regular home insurance probably won't cover you.
More than 30 days unoccupied is a typical exclusion, but some home insurance policies will stipulate a shorter length of time, while others will still cover you if the building's unoccupied for 45 days, or even longer.
If the unoccupied period goes beyond the length allowed by your policy, you'll need to speak to your insurer to let them know the situation and, unless they're prepared to offer you a cover option, it's likely that you'll have to think about a dedicated unoccupied property insurance policy.
These specialist policies can be arranged for agreed periods of time and cover is offered subject to agreed conditions regarding things like security and state of repair.
Whatever insurance arrangements you make, as mentioned it's worth checking that you're not invalidating your cover by handing over your keys to whoever's been nominated to look after your property.
As ever with insurance, read your terms and conditions with care and - if there's any doubt - speak to your provider.
Council tax
Contact the council and find out what your local authority's stance is on unoccupied properties.
If your property remains your sole residence then you may be liable to pay full council tax. If it's a second home, or not anyone's main residence, then you may be eligible for a discount or exemption, although some councils might charge more for unoccupied properties.
What you pay may also depend on whether the house is furnished or not. For more details, and to find out your own local council's rules, visit the Government website.†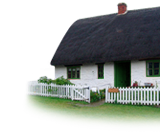 Neighbours
Remember to tell your trusted neighbours that the property will be unoccupied.
Ask them to be wary of suspicious activity or to inform you of any weather damage that needs acting upon.
Leave them with full contact details for you and for anyone who you've asked to look after the property.
By Dave Jenkins
[SeanSocialShare]