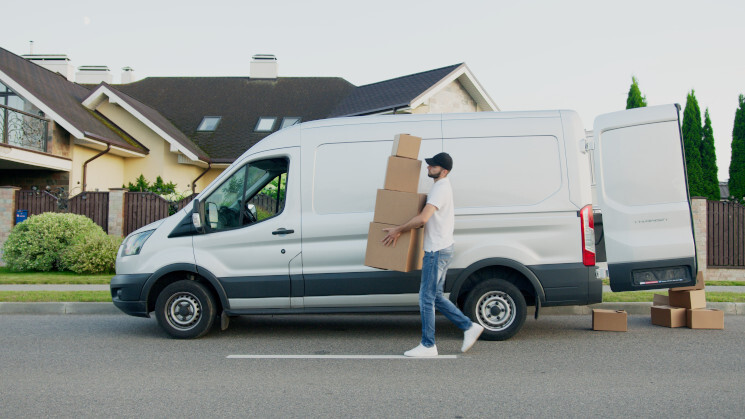 Today, vans make up a significant amount of the traffic on UK roads. According to provisional government data for the year ending June 2021, light commercial vehicles accounted for an 18.4% share of our total traffic.[1]
Van traffic increased by 5.2% compared with June 2020, with drivers travelling 53.9 billion vehicle miles per year in Great Britain. However, traffic has not yet returned to pre-pandemic levels (when compared with the year ending December 2019).
Despite making up a large proportion of motorists' travelling miles each day, the journey is not always plain-sailing for those at the helm. That's why, in this report, we've explored the day-to-day issues faced by the nation's van drivers.
Our report investigates two key areas: the financial costs posed to drivers, and the impact of their occupation on their health and wellbeing. Critically, we then look at the effect this could have on the future of the industry.
Financial burdens: Rising costs are driving van owners round the bend
Over two-thirds (67%) of van owners state that filling up is their biggest cost when it comes to running their van.[2] The average amount spent on fuel each month is £290.37, which equates to £3,484.38 per year. Based on the average salary of a van driver (£32,500),[3] these motorists could be spending up to 10% of their yearly wages on petrol and diesel.
However, some drivers are given a fuel card by their employer, meaning they won't be out of pocket. Just 12% indicated that servicing or maintenance is the largest cost of running their vehicle, with the average spend on maintenance totalling £498.10 per year.
Interestingly, insurance is often a larger cost for van drivers than maintenance is. Our previous research found that the average price paid for social-only van insurance is £391.05, while the average annual price for carriage of own goods is £398.75.[4] However, prices can rise considerably for hire and reward cover, as well as for haulage cover.
The quote you receive will depend on a number of factors, such as the vehicle you own and your driving history. This means it may add up to a higher amount than expected. Therefore, be sure to compare policies before purchasing your insurance to make sure you're getting the right deal for you.
Many van drivers told us that they have struggled with financial challenges due to the nature of their work. Some attributed this to high vehicle running costs, although this was not the most common reason: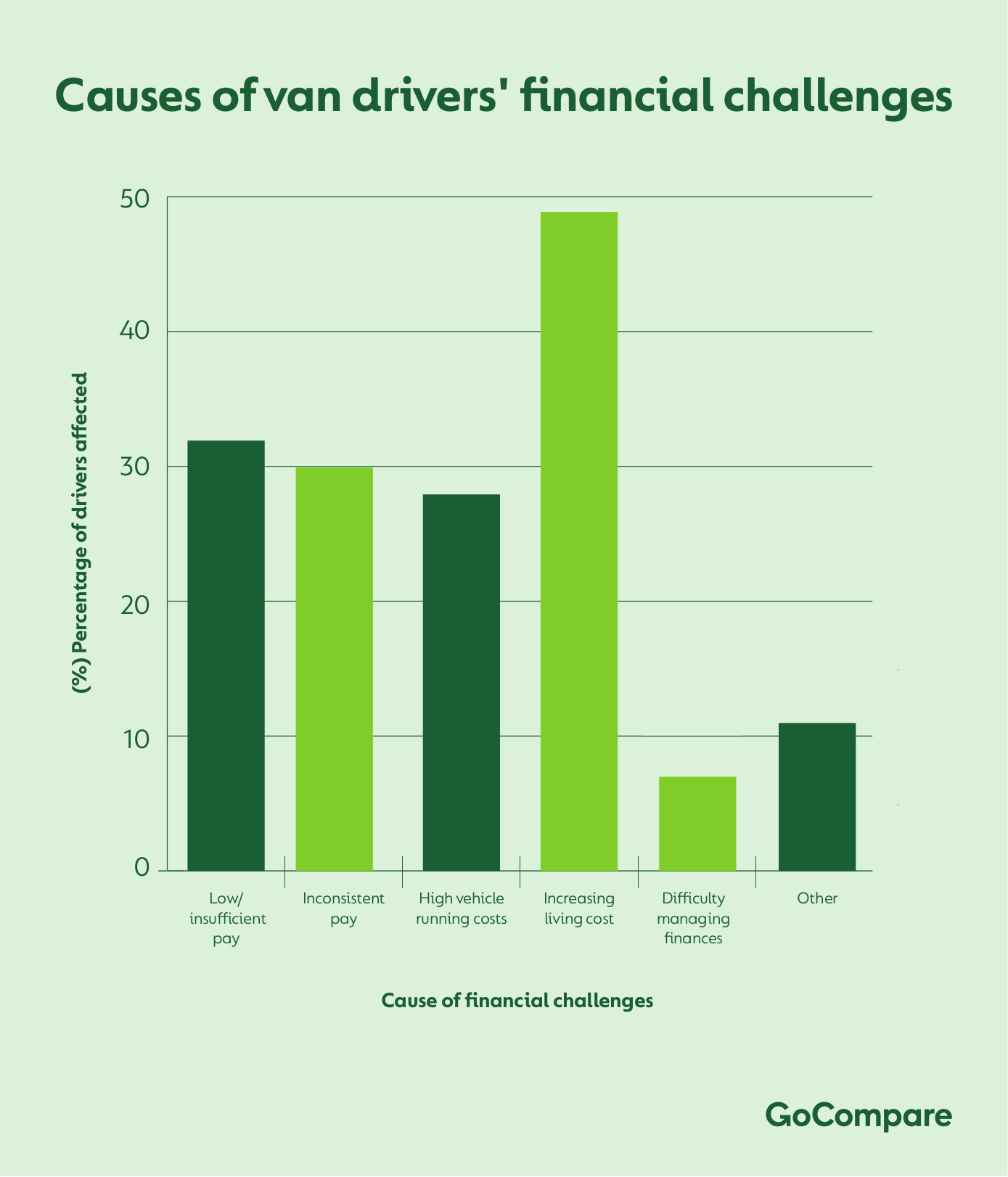 Nearly two-thirds (62%) cited low, insufficient or inconsistent pay as the reason for their problems. Increasing living costs are also a concern for many drivers, followed by high vehicle running costs and difficulties managing finances.
Health and wellbeing: A quarter of tradespeople suffer from work-related stress
Aside from dealing with financial issues, almost half of all van drivers (46%) are facing challenges with their health and wellbeing while on the job. Work-related stress, negative behaviour from other motorists, loneliness and poor working conditions are taking their toll on drivers across the industry.
According to our research, delivery drivers are the most likely to encounter negative behaviour from other motorists while on the road. Meanwhile, tradespeople are more prone to feeling stressed at work, with a quarter stating that they've struggled with this.
Interestingly, pressure from unrealistic deadlines, targets and workload expectations is the highest cause of stress. 50% of stressed-out drivers declared this as the source of their troubles. Further factors include traffic congestion on roads, as well as difficult clients or customers, faulty equipment and poor relationships with their boss or colleagues.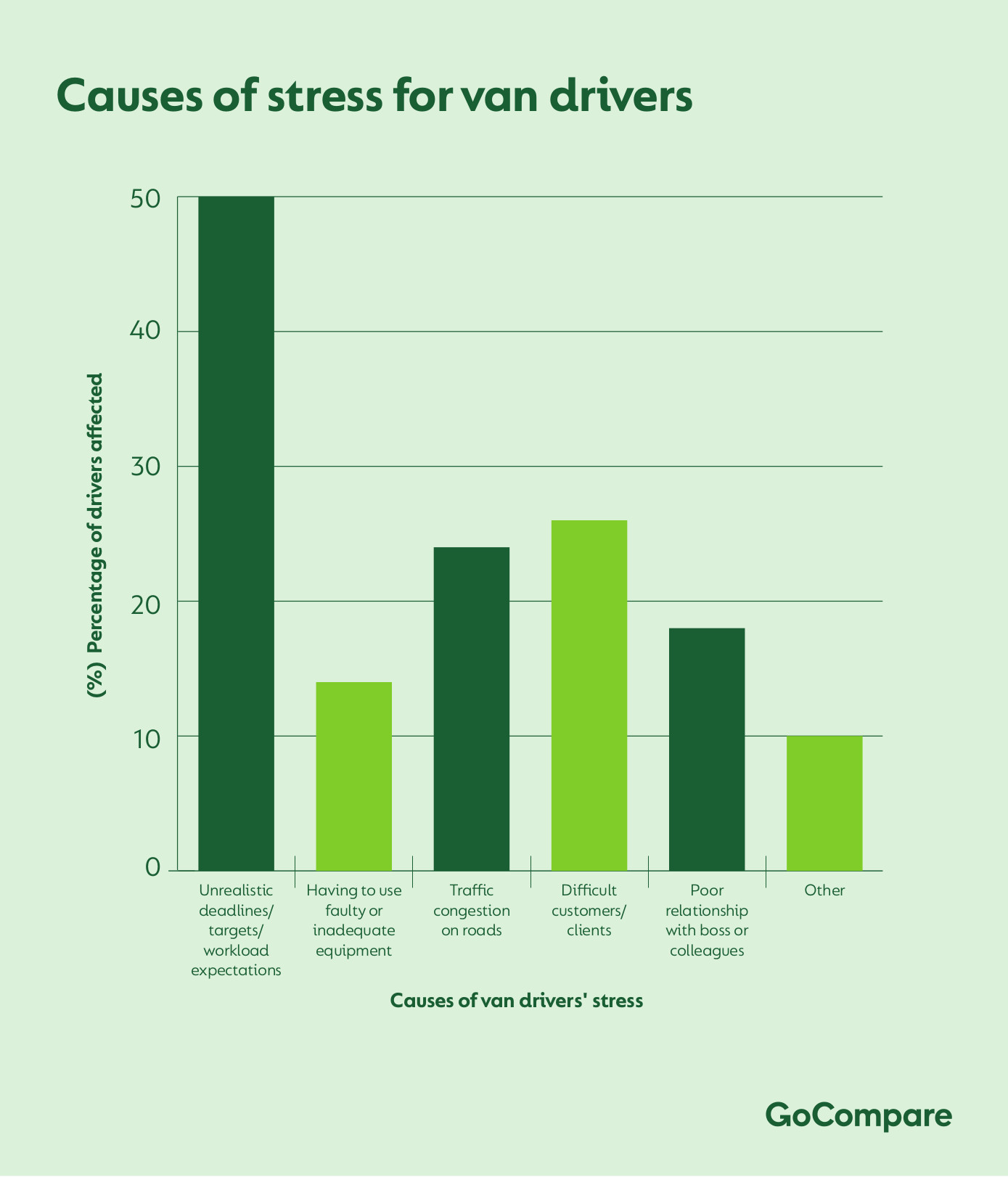 Due to the nature of their job, feeling isolated can be a problem for drivers who are by themselves on long shifts. Out of those who told us they struggle with loneliness, a staggering 50% went on to say that they can often go a whole shift without having a non-work-related conversation.
Delivery drivers are most likely to be affected by this, with 20% saying they have battled with feeling lonely. When complaining of poor working conditions, many van drivers attributed the main cause to overly long hours, which could also be a factor.
Another grievance was not receiving enough breaks, alongside poor facilities, insufficient space, and a lack of support from their boss or colleagues.
The effect on the industry: The UK could see a shortfall of over 22,000 van drivers in 2022[5]
Over two-thirds of van drivers who have struggled with one of the issues discussed agreed that it has negatively impacted their mental health. As a result, many are looking to leave their jobs within the next year.
Unfortunately, around 15.6% of van drivers are planning to quit their job within the next 12 months because of these problems, which could equate to over 44,600 exiting the industry. On average, only 22,500 workers join the profession each year, meaning this would leave a shortfall of more than 22,000 drivers on Britain's roads in 2022.
Delivery drivers were found to be the most likely to leave their job within the next 12 months because of a work-related challenge, followed by catering van drivers and then tradespeople.
On top of this, our research revealed several other factors that are affecting the mental health of UK van drivers. Fatigue was one of the most cited causes, as well as a heavy workload and long, unsociable hours. According to government guidance, on any working day, the maximum amount of driving permitted is 10 hours.[6]
Not to mention, pressure to meet deadlines, poor job security, difficult customers and clients, and a poor relationship with bosses or colleagues are also impacting van drivers' mental health. This highlights that more needs to be done to tackle these industry-wide issues.
If you're struggling with any of these topics and feel like you need to talk, get in touch with a trained specialist at one of the following helplines:
Samaritans. Contact Samaritans 24 hours a day, 365 days a year. You can call 116 123 (free from any phone) or via post or email. 
Campaign Against Living Miserably (CALM). You can call CALM on 0800 58 58 58 (5 pm-midnight every day). Or if you prefer not to speak on the phone, you could try the CALM webchat service.
About this data: Our sources
[1]Department for Transport statistics on the proportion of traffic made up by vans (up to the year ending June 2021).
[2]We ran a survey of 1,567 UK van drivers. The results from this survey, which ended 26 October 2021, formed the majority of our research and the statistics included.
[3]The average van driver salary (£32,500) was taken from totaljobs.com, and was correct as of 4 November 2021.
[4]Based on the average price paid for van insurance policies purchased through GoCompare in June 2021, split by type of use.
[5]ONS data provided the number of UK van drivers operating per year since 2014. We then used this to calculate the year-on-year increase, excluding 2020 due to the impact of Covid-19.
To determine the estimated shortfall in van drivers next year, we used the percentage of those who answered yes to our survey question "Are you planning on leaving your job within the next 12 months?" We then applied that to the total number of van drivers in the UK, giving us a figure of 44,624. From this, we deducted the average annual increase in van drivers (22,500), to get our final figure for next year: a shortfall of 22,124.
[6]Driver and Vehicle Standards Agency (DVSA) van driver regulations.