Guide to commercial van insurance
Key points
If you use a van for any sort of commuting - even to a single place of work - you need a commercial insurance policy
Choose between carriage of own goods, carriage of goods for hire or reward and haulage cover
Read our article to help decide which you need, but if in any doubt speak to your insurer
There are more than three million light goods vehicles (LGVs) on the roads in the UK, according to government figures.[1]
And if you own a van, you need to buy the right kind of van insurance cover depending on whether you use yours socially or for business reasons.
There is, however, a lot of confusion about the different classifications of commercial van insurance available - and, worryingly, it's possible that some drivers have taken out the wrong policy and therefore don't have the cover they need.
In the Gocompare.com quote process you can easily declare whether you need cover for social use only, carriage of own goods, carriage of goods for hire or reward, or haulage cover, but make sure you know which is the right option for your circumstances.
What is commercial van insurance?
If you drive a van, you'll need to insure it like you would any other vehicle. Commercial van insurance is the type of insurance you need if you use your van for work in any capacity.

The basic types of cover are the same as with car insurance, namely:
Third party only (TPO)
Third party, fire and theft
Fully comprehensive
Third party van insurance is the legal minimum you need in order to be able to drive your van on UK roads.
Need more information?
TPO covers costs arising from the damage caused to another vehicle, person or property by your van, but it would not cover the cost of repairing damage to your van.
Third party, fire and theft van insurance gives the same cover as above and also meets the cost of damage or loss arising from a fire, or if your van or personal (non-commercial) belongings inside it are stolen.
Fully comprehensive van insurance gives you the highest level of protection and insures you against damage to your van regardless of whether or not you're at fault, as well as to other vehicles, people and property.
It's important that you don't just assume that the most basic cover automatically means the cheapest van insurance. A third party only policy with one insurer can be more expensive than a fully comprehensive policy with another, so compare premiums to make sure you're getting the right product at the right price.
Some insurance firms will not provide cover for van drivers under a certain age, such as 21 or 19, so do your research if you're a young van driver looking for a policy.
Classifications of commercial van insurance
In addition to the levels of cover, there are different classifications of van insurance for business use. Many van owners assume that commercial insurance applies only to self-employed drivers using their van to carry out a trade such as carpentry or plumbing, or to haulage drivers or couriers.
But, in fact, commercial insurance is needed by people in employment who drive their van to and from a sole place of work - an area where confusion has arisen amongst many motorists.
The different classifications are:
Carriage of own goods
Carriage of goods for hire or reward
Haulage
Carriage of own goods
Carriage of own goods is self-explanatory in that it covers van drivers carrying equipment and tools needed in their trade or profession. So a builder, plumber or repair technician would need this type of cover. It's also needed by employed people who use their van to commute to and from work.
"It's a grey area and there is a lack of clarity about what carriage of own goods means," said Gocompare.com's Matt Oliver.
"In terms of people who commute to work, carriage of own goods is a bit of a halfway house between social, domestic, pleasure and commuting and the equivalent of Class 1 business use on car insurance, where you can travel to multiple places of work.
A large proportion of our customers select a social use only policy, which does seem high and suggests that some drivers maybe have the wrong level of cover
Matt Oliver, Gocompare.com
"The term hasn't quite caught on in the commercial industry in the way it has in the car insurance industry and maybe it's a little unclear as to what the expectation is.
"A large proportion of our customers select a social use only policy, which does seem high and suggests that some drivers maybe have the wrong level of cover.
"So if you use your van to travel back and forth to work, like a car, or you use it as part of your business or trade - for example, a builder - then carriage of own goods is the cover level you'll need."
It's therefore vital for van drivers to check with their insurer about what is and isn't covered under their policy and to read their policy documents thoroughly.
Carriage of goods for hire or reward
This classification applies to drivers such as delivery drivers, particularly those who make multiple deliveries to a range of customers.
In addition to covering damage to the van itself, some policies will insure the goods carried in transit. However, not all policies will and you might have to take out extra 'goods in transit' insurance, or check that the goods you're carrying are covered by the business on whose behalf you're delivering.
Haulage
There's an overlap between haulage and carriage of goods for reward or hire - the wording on the policy might be the same even though there's a subtle difference between the two.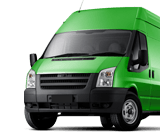 Whereas the reward or hire classification tends to apply to drivers delivering to many addresses, haulage tends to be for drivers taking a single load to a drop point a long distance away.
A haulage insurance policy can also cover courier work. "It depends on the classification of your role as a courier, and whether you do single or multiple drop-offs," said Oliver. If in doubt, check with your current or prospective insurer.
Multi-purpose vehicles
Even if you don't think of your daily drive as a van, you still might need commercial van insurance! If you have a dual-purpose vehicle or a double cab pick-up and use it to drive to work, it might be classed as a van for insurance purposes. Read Is my vehicle a car or a van? and make sure you get the right cover for your circumstances in place.
By Rebecca Lees
[SeanSocialShare]