Fuel prices across the UK have reached record highs this year, with the cost of petrol and diesel remaining a contentious issue for both motorists and businesses. We've taken a look at how prices at the pumps affect van drivers and the knock-on effect that can have on consumers. We've also come up with some practical tips for business owners, motorists and consumers to help keep costs down.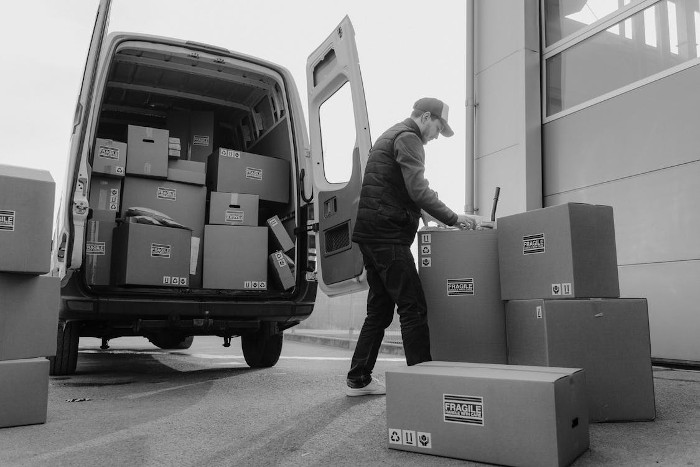 Commercial vans comprise around 58% of the 4.1 million vans on UK roads and also account for 76% of the total mileage for vans on the road.[2] Vans are essential for business, with duties varying from carrying equipment, tools and materials, to the collection or delivery of goods and services.
The average cost for one litre of diesel is now just over £1.80, a staggering increase of 53p per litre in the last year.[1] High diesel prices can be a warning sign for the economy as the fuel is typically used in vans and lorries owned by businesses, driving up their costs. Therefore, people buying goods or services are likely to be paying more to offset the rising cost of distribution.
Massive diesel hikes are costing van drivers over 40% more on fuel
Diesel is the necessary fuel for 96% of UK vans and has increased by an astonishing 41% over the last 12 months. This equates to an extra £3.5 billion spent on fuel in 2022 compared to last year. To analyse how much fuel expenditure has increased for the average van driver, we looked into the refuelling costs for a Ford Transit, the UK's most popular van model. [3]
The price of a full tank in 2021 would have averaged out at £101.22. Whereas to fill up the same vehicle now, you'd pay £142.71, an increase of £41.49 from last year.[3] These costs are already dramatic when just considering one fill up, but it really adds up when you look at the annual costs. Our research found the average yearly price for fuel in 2022 is £2,992.54, a whopping £869.96 extra than last year.[3]
There are numerous reasons why the price of diesel has gone up so drastically - increased and unexpected demand, Covid-19, Brexit and the war in Ukraine to name a few. These factors have helped to contribute to the consumer price index, a measure of the average price of goods, to reach a 40 year high of 9% as of April 2022.[4]
Will rising fuel prices cause a knock-on effect for consumers?
Unfortunately, 27% of UK businesses have reported already having to pass on price increases to their customers, although 38% of businesses are currently absorbing costs themselves.
Almost a third of trading businesses (31%) reported they expected the price of goods or services sold in April 2022 to increase. Following the increases in diesel costs, it's likely that businesses will have to raise their prices for customers or risk suffering financial losses.[5]
Will there be an impact on the delivery costs for goods?
The spike in diesel costs could forecast an increase in price for home delivery of goods purchased online. This could cause major issues in today's retail market - in 2022, sales from online shopping are over 20% higher than they were in February 2020.[6]
Taking a look at delivery company DHL, we found they had announced that they would increase their fuel surcharge on all domestic deliveries to 15% from the 1st of May 2022. This year has also seen an annual price rise of 4.9% across all of DHL's time-definite and day-definite products.[7]
From 4th April 2022, Royal Mail also increased its fuel surcharge to 6% in an attempt to offset the rise in domestic fuel costs. Customers sending items weighing more than 1kg will have to pay an additional £2 surcharge, previously £1 in 2021. [8]
Having your weekly food shopping delivered to your door will cost more than it did last year too, as major UK supermarkets shake up their fees for grocery delivery. Food retailer Sainsbury's has increased its annual midweek delivery pass from £30 in 2021 to £40 for customers looking to renew this year. [9] Similarly, Tescos has raised its minimum delivery spend to £40 for delivery saver subscribers. [10]
Surging diesel costs are likely to spark changes for self-employed couriers and app-based delivery firms as well, meaning the price of these services could increase for consumers. In the USA, delivery and transport firm Uber have introduced a new fuel fee, adding around $0.45 to $0.55 per trip, to offset increased costs for drivers.[11]
In the UK, delivery drivers currently have to cover the costs of their own fuel. This year has seen courier drivers mass picketing across the country with workers seeking compensation for higher fuel prices to be reflected in their pay.
How can van drivers save money when filling up?
Finding your cheapest supplier
While it may seem common sense to refuel at whichever station is charging the least, only 10% of motorists surveyed told us they actually researched where sold the cheapest fuel near them.[12]
Surprisingly, 30% of drivers simply choose to fill up at the station closest to them out of convenience. An additional 29% revealed that they had no pattern or preference when it came to filling up their vehicle. With some fuel suppliers within metres of each other offering distinctly varying prices, this oversight could cause motorists to spend more than is needed.[12]
An easy way to keep costs down is to research the cheapest place to refuel locally. This way, you won't be paying more than is absolutely necessary. It's also worth noting that you could end up spending more money by travelling to a specific supplier further away, negating any savings you might make by purchasing fuel at a cheaper price there.
If you want to work out how much it will cost you to drive to your cheapest fuel supplier, we've got a couple of handy tools to help. You can find the five cheapest fuel suppliers close to you with our fuel comparison tool, but remember to check this at home and not behind the wheel.
Additionally, you can calculate the fuel costs of travelling any journey/distance using our fuel cost calculator. This also provides advice on how you can adjust your driving style to minimise the amount of fuel you use.
Plan your route and combine trips
For van drivers embarking on multiple errands, it's more fuel-efficient to plan your route to group multiple stops close by to one another. This easy method avoids unnecessary driving by planning your schedule effectively.
There are a number of simple, free online route planners available to optimise your journey, calculating the quickest route for multiple stop-offs. Planning ahead for one big trip, rather than lots of little ones, could offer huge savings - after you've stopped your van for a few hours and the engine has cooled, it will consume more fuel to get it going again.
It's also useful to consider any upcoming roadworks, route diversions and traffic conditions when planning your journey. Stopping and starting your vehicle burns more fuel than gradual changes in speed, so you could save by travelling in off-peak times and through clear, unobstructed routes.
Fuel cards
For commercial van drivers, it may be worthwhile to use a fuel card. Sole traders, self-employed professionals and small business owners can enjoy a number of perks including discounted diesel prices and easier administration.
Fuel cards are linked to your business bank account, billing you for each fuel purchase without additional fees. Fuel cards generally offer savings of around 2 to 3 pence per litre depending on which account you opt for. Choosing a supermarket fuel card could offer more potential savings too as these cards allow you to collect loyalty points to reduce the cost of your weekly food shop.
Many fuel cards offer an integrated digital system, making claiming back on VAT that bit easier as you wave goodbye to paper receipts. As well as being safer to handle than cash, fuel cards are a great way of keeping track of your expenses - allowing you to plan, budget, and analyse your spending.
Credit Cards
If you don't use your van for business purposes, it may be worth considering applying for a credit card. It is important, however, to consider whether you are eligible for one and if you can afford to pay off your credit balance immediately. Purchasing fuel on a credit card can be a savvy way to take advantage of perks including air miles, shopper loyalty points or even cash back on certain purchases.
Plenty of credit card providers offer a 0% APR (annual percentage rate) period, meaning you won't be charged for using your card as long as you make your minimum monthly repayments. To save the most on interest, make it your goal to completely pay off any remaining balance before the interest rates kick in.
Once a 0% APR interest period is up, you can switch providers by comparing credit card deals and transferring any remaining debt to a new card with a 0% APR offer. Be mindful that you will be charged a fee to transfer any remaining balance to another card. Also, racking up a large amount of debt on a credit card will tarnish your credit score, meaning lenders will be unwilling to lend to you again.
About this data
[1]The weekly road fuel price beginning 23/05/2022 was taken from BEIS national statistics available here.
[2]This data was taken from the Official Van Statistics 2019:2020 outlining the final statistics of van activity in Great Britain, covering van keepership, mileage, where and when vans are travelling and environmental factors.
[3]To collect the data used in this report, we calculated the average cost for diesel across the UK in 2021 and compared this to the average cost for diesel in the UK in May 2022. We used the cost for a tank of fuel for the Ford Transit 80l in 2021 to calculate the difference in price from the 2021 average to the cost in May 2022. We then took the average annual mileage data for UK van drivers at 10,000 miles to calculate the average annual cost of diesel for the Ford Transit 80l compared to 2021.
[4]The data for the Consumer Price Index rate in 2022 was taken from the ONS dataset, available here.
[5]This data was taken from the Office for National Statistics dataset giving the total number of businesses who reported increasing prices to their customers. This data attributes (41%) reported as the main factor for businesses considering raising their prices with 31% of currently trading businesses expecting the price of goods or services sold in April 2022 to increase.
[6]This data was taken from the Office for National Statistics dataset giving the proportion of retail sales online in April 2022.
[7]This data was taken from a release on the DHL delivery website giving the domestic variable fuel rate effective May 2022.
[8]This data was taken from Royal Mail's pricing structure available here.
[9]This data was taken from Sainsbury's delivery pass pricing structure, available here.
[10]This data was taken from Tesco's grocery delivery pricing structure, available here.
[11]This data was taken from a public statement released on the Uber website in March 2022 announcing the fuel surcharge for Uber and Uber Eats drivers.
[12]To collect data used in this report, we surveyed 2,000 UK drivers via YouGov. The survey ran on 16th March 2022 and all respondents were selected at random.