What measures can you take to improve the security of your van, and how may they impact on the price of your insurance?
Key points
Security is about the only vehicle modification that may result in a cut in premiums
If fitting additional security, look for Thatcham-approved devices
Ask your insurer what security devices it recognises (Gocompare.com's forms can help you declare appropriate devices)
Outlay on security will not necessarily be recouped in premium savings
All vehicle-related crime is serious, but van theft can be one of the most painful.
In the case of a commercial vehicle, it may not only temporarily immobilise the owner, but it could affect an entire business.
Commercial vans may very well contain thousands of pounds worth of tools and equipment.
The 2011-12 Police Crime Survey for England and Wales revealed that, on average, 47,000 commercial vehicles were stolen in the UK each year and only 38% of them were returned.
Naturally security is a serious issue for van insurance providers, but there are a number of security methods that both commercial and domestic van owners can take to help reduce premiums.
As with all vehicle premium calculations, every provider has their own criteria; some insurers rate different security measures more than others, some may not recognise them at all. If in doubt, speak to your provider directly.

When you search for van insurance through Gocompare.com, our easy-to-use forms help you declare whether you have an immobiliser, an alarm and/or a tracker, and your answer will be taken into account when your quotes are calculated.
Recognised van security measures
Before committing to buying additional security, you may want to check with your insurer about the sort of security devices they recognise.
You should also realise that any possible insurance saving will not necessarily outweigh the outlay on the security device.
However, when making that calculation you also need to factor in the considerable benefits of deterrence and avoiding the theft of your van.
Should you become a victim of vehicle crime you're likely to be hit by higher insurance premiums in the future, not to mention the obvious distress and inconvenience factors.
Did you know...?
Many insurers will offer you tools in transit cover but will purposely exclude any belongings left in an unattended vehicle overnight
Overnight parking
The 2011-12 Police Crime Survey revealed that the majority of vehicle theft happens at night in residential areas.
Understandably, therefore, where you keep your vehicle overnight is a major underwriting consideration.
The more secure the environment you keep your van in, the more influence it's likely to have on any premium discount.
Alarms
Thatcham† are experts in vehicle safety and security and Thatcham-approved devices tend to be the gold standard, especially those classed as category one. However manufacturer-fitted alarms can also be considered by insurance providers.
Trackers
In the unfortunate event of your van being stolen, the ability to trace and return your vehicle can be invaluable.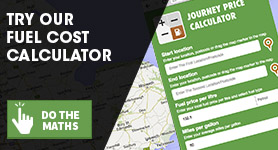 Recovering your van should cost your insurance provider less than it would to replace it, which helps to keep premiums as low as possible.
The market is full of tracker options, but it's a good idea to always look for Thatcham-approved devices.
Be aware that some trackers can be vulnerable to GPS-jamming techniques. Talk to a security expert to decide on your best option.
In the case of both trackers and alarm systems, always ensure you retain proof of installation.
Signage
If you have a commercial van, having your business name and details painted on it makes your vehicle unique.
Thieves might be able to break into your van quickly, but a complete respray will take time and cost them money.
Premiums can even differ depending on whether you've had all sides and the back of your van signed. Plus it advertises your business in the process!
Other van security considerations and measures
There are many other ways to help keep your van and its contents as safe as possible. These measures are less likely to be recognised by insurers, but they provide peace of mind and help keep you on the road.
Remove and secure contents
Always keep your van empty overnight. Many insurers will offer you tools in transit cover but will purposely exclude any belongings left in an unattended vehicle overnight.
To keep your contents safe while you're on the road, consider a vault box for valuable kit inside the vehicle, and roof-mounted locks for exterior items such as ladders.
Additional locks
Deadlocks, slamlocks, lock protection plates, slam plate handles and anti-pick cylinders… There are a wealth of additional measures you can have professionally fitted to your van to increase its security.
Many of them are highly visible, making them an instant deterrent for thieves. If you drive an older model Ford Transit you may want to consider a loom guard which protects the door cables from being cut.
Protect your catalytic converter
Catalytic converters on vans are a lot more accessible than those in cars; there is more ground clearance for thieves to operate in and larger vehicles have larger converters.
The converters contain expensive precious metals such as platinum, palladium and rhodium, making them an attractive target for thieves.
There are various converter locks and marking systems available and they're certainly worth considering - the cost of repairing damage could amount to thousands of pounds.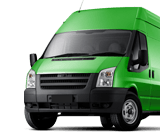 Beware of key fob jammers
Get into the practice of checking that your door has actually locked once you've pressed the button on your key fob.
Thieves are able to interrupt the signal a fob sends to a vehicle's locks, meaning that the doors don't actually lock and the van is vulnerable.
Protect on-board diagnostics
If thieves can gain access to an unattended or unlocked van - perhaps by using the fob-jamming technique described above - then they are able to access its on-board diagnostic computer.
This is the main portal for mechanics to troubleshoot your engine, and it can be susceptible to hackers who can reprogram your van's system.
In the case of new vans with key-less systems a new blank fob can be cloned, meaning that your van could be driven away in minutes.
By Dave Jenkins
[SeanSocialShare]