Dayinsure.com Ltd
Short term van insurance
Dayinsure, which is backed by Aviva, offers short term van insurance cover for vans up to 3.5 tonnes for drivers aged 19-75. Standard policies cover driving UK-registered vans on UK roads, with options available for driving in Europe. 
Tempcover.com Ltd
Short term van insurance
Tempcover compares short term van insurance from multiple insurers. Cover for 21-to-75-year-olds, with policies available from between one and 28 days. There are business and leisure options available, subject to a 7.5 tonne weight limit.
Guide to arranging short term, temporary van insurance
Key points
Temporary insurance options for driving a van that your regular policy doesn't cover you for include becoming a named driver on the vehicle's policy, or taking out a dedicated, short-term insurance product
Exclusions on short-term policies may include time limits, driver age, hire vehicles, business use and weight limits
If your daily drive is a car or another small vehicle, once in a while you might find yourself in need of something a little bigger.
You might borrow a van from a friend or family member - but will your own insurance cover it?
A fully comprehensive car insurance policy used to give third party cover for driving another vehicle, such as a van.
Unfortunately, few insurers now offer cover to drive other vehicles, although some still do, so long as the driver is over 25, doesn't own the vehicle and hasn't hired it.
Instead, if motorists want to drive another vehicle they may be required to become a named driver on another policy, or to take out short term motor insurance.
What is short term van insurance?
Short term van insurance is temporary cover allowing you to drive a van for a set duration.
It's useful if you need a larger vehicle for a short period of time, such as to move house or to deliver non-commercial items, but note that it's not typically available on hire vehicles (motorhomes may be an exception to this).
Buying temporary van cover could be a cost-effective way of having the right insurance, rather than taking out a 12-month policy.
Short-term cover usually runs for a set timescale from one day to a month, but some specialist policies run for longer, such as between one and eight months.
What does it cover?
The level of short term van cover you have depends on whether you opt for fully comprehensive, third party only or third party, fire and theft insurance.
Need more information?
Some policies include added extras, such as cover for driving abroad and temporary breakdown cover.
When you take out temporary cover, read the documents carefully to see what is and isn't covered and to make sure you understand your liability in the event of a claim being made.
Some temporary van cover providers might only cover you, the policyholder, so don't let a friend or relative drive the van without checking the details thoroughly.
Beware of policy exclusions for drivers under or over a certain age, such as under 19 and over 75. With some insurers it can be difficult to get temporary insurance before you're 23.
Look out for weight limits - perhaps around the 3.5 tonne mark - on vans and light commercial vehicles, while cover for impounded vehicles is a typical exclusion.
Remember that your short term cover might also be invalid if theft or damage occurs as a result of something you do.
For example, if the van is stolen when you've left the keys in the ignition or you have an accident after drinking alcohol - even if you're within the legal drink-drive limit - the insurer might not pay out.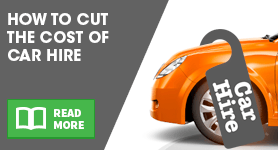 As noted, this sort of short-term policy isn't usually available for hire vans.
As always, read the small print before getting behind the wheel to avoid nasty surprises if an accident does occur.
Can I get short term van insurance for business use?
Some van insurers do provide policies for short-term business use, but there might be exclusions, such as carriage for hire or reward.
To find out more about the different classifications of commercial van insurance, read our guide.
By Rebecca Lees
[SeanSocialShare]