Ever been tempted to trade in the trusty car and bag yourself a van? Afraid of the additional costs? Modern vans aren't quite the gas guzzlers they once were, but there are additional factors to consider...
Tax
There are few things in life more certain than a tax bill.
Before 2001 tax bands were based on engine size. Due to EU legislation, tax bands are now calculated on emissions.
As of June 2015 there were two main classifications of tax costs for light-goods vehicles listed on the Gov.UK website:†
£225: Annual price for vehicles registered on or after 1 March, 2001
£140: Annual price for vehicles that fall into either Euro 4 or Euro 5 lower emission groups OR vans registered before 1 March, 2001, with an engine capacity on, or under, 1549cc
To find out whether your van has a Euro 4/5 classification, check your V5 log book. Euro 4 vehicles were manufactured from January 2006, while Euro 5 vehicles were made from September 2010.

The government has explained these bands in their guide to vehicle tax and through their useful tools for calculating vehicle running costs.†
Compared to car tax, which can be as low as £20, this is a considerable increase in cost. Although it's hardly comparable when you consider the space difference between a van and a family runaround.
If the van is a company vehicle there are also other tax costs considerations: vehicle benefit tax and fuel benefit tax. Consult your employer to ensure they know how much you use your vehicle socially.
Tolls
Regardless of the vehicle size, vans are sometimes classed in the same pricing bracket as coaches and buses. It's not unknown for van costs to be double the price of a car. For details of the actual tolls in place in the UK, follow the links below:
Did you know...?
MOT tests cost no more for a van than they do for a car
You'll be pleased to hear that the London congestion charge is no more for a van than it is for a car. You can find up-to-date price information, plus details on where the zone starts and ends, on the Transport for London (TFL) website.†
MOT and maintenance
Good news! MOT tests cost no more for a van than they do for a car. However, if you plan on being on the road all day then maintenance and upkeep costs will increase earlier than they would for a car.
A van that spends most of its time on the motorway will be less likely to incur high maintenance costs than one that spends its days in inner-city and urban environments. Keep maintenance costs as low as possible with these key tips:
Early bird: Listen for strange noises - reacting to problems early on will save heaps in the long run
Keep your eyes out for other problems such as broken bulbs and windscreen wipers
Top it up: Regularly check the water, oil and windscreen-wiper tank levels
Don't keep running the van on a near-empty tank
Under pressure: Check the tyre pressure regularly, especially before long trips
Size definitely matters
The larger the van, the more the cost, something you may well find when you come to search for cheap van insurance quotes.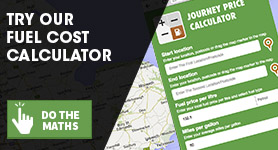 Fuel is also a huge factor when it comes to size.
While new van technology has assisted fuel consumption amongst all vans (the inclusion of a sixth gear, for example) there's a staggering difference between a small, car-derived van, such as a Ford Fiesta van, and a large or medium-sized van, such as a Ford Transit.
The difference can be as high as 50%, but you have to consider the storage size that the vehicle offers.
There are two comprehensive sites - one government and one independent - which list and compare vehicle fuel consumption. For that information and other useful statistics, see the government's van CO2 and fuel consumption database† and the Fleet News page on van running costs.†
Money-saving tips for van drivers
Don't be a slave to the sat-nav! Handy when reconnoitring a new city, but not always the gospel when it comes to finding the most efficient route
Do your research: Make a note of car parks before you embark and save time (and money) by not driving around looking for one
Do an advanced driving course: Some insurers will take this on board when calculating premiums. Even if they don't, courses can help fine tune your driving which will, in turn, help you avoid accidents
Drive slower: This not only reduces fuel bills, but it's safer and can reduce maintenance costs and tyre replacements
Be secure: A mobiliser and secure locks can help reduce insurance premiums and keep you safe
Lower the insurance: A high excess, off-street parking (if possible) and no modifications can help keep costs down when it comes to insuring your van
By Dave Jenkins
[SeanSocialShare]