Warranty Direct
Van Warranty 
Could you afford to have your van off road due to breakdown or failures? With Warranty Direct's van warranty, you'll have a cost-effective way of maintaining your van, whatever happens down the road.
Guide to van warranties
Key points
Van warranties are not compulsory but are a form of insurance, designed to protect against the cost of certain types of mechanical breakdown
They can be taken out on new or used vehicles, but remember you may already have a warranty from the manufacturer or dealer
All van warranties offer different levels of cover, so read the terms and conditions, look out for exclusions and compare options
Vehicle breakdowns and repair bills are the bane of many drivers' lives, and unexpected motoring costs can really leave a hole in a van owner's budget.
One way to mitigate against such shock bills is to think about taking out a van warranty which - depending on the terms and conditions - could cover the cost of repairs.
A warranty on your van is a form of insurance meaning that - as with other sorts of van insurance policies - it's possible that the money you pay in the form of premiums won't be recouped in the claims you make.
A van warranty - also known as mechanical breakdown insurance (MBI) - isn't compulsory, so the decision on whether or not to take one out will ultimately be determined by your attitude to risk and reward.
If you do decide to take out a warranty, shop around and compare the terms and conditions on the options available.
You may, for example, find that the van warranty with the cheapest premiums doesn't offer the level of cover you require and comes with a lot of exclusions.
Equally, though, the most expensive option won't necessarily offer the most comprehensive or best cover; you need to look at a range of choices to find the right deal at the right price for your vehicle and your circumstances.
Types of van warranty
You have a few different types of van warranty to choose from…
Manufacturers' van warranties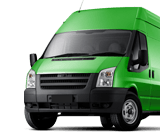 If you're considering purchasing a van warranty, the first thing to check is whether you already have one and, if so, what it covers.
New vehicles come with a manufacturer's warranty, which you could typically expect to last for three-to-five years, but remember that - in order for the warranty to remain valid - the owner(s) will need to have adhered to the terms.
Ensure, for example, that the service schedule has been stuck to at approved garages and that the van is inside any mileage limits stipulated on the warranty.
Independent dealer van warranties
If you've bought your van from a garage, dealer or vehicle supermarket, you may find that it comes with a warranty offering mechanical guarantees for a certain period of time.
Cover for around three months is typical, although it may be longer, and you may be offered the chance to extend the cover period for more money.
Again check what's covered by the policy, ensure you're happy to stick to the terms and conditions and - if you're considering paying more to extend the warranty - remember that there may be better van warranty deals available if you shop around.
Extended van warranties
An extended van warranty is an insurance policy you can take out yourself, whether or not the vehicle has an existing manufacturer or dealer warranty in place.
You may also see such policies referred to as after-market van warranties, and they can be bought for new vehicles as well as used ones.
Need more information?
Premium prices and cover options can depend on factors including the age, make and model of your van, the usage you put it to and your anticipated annual mileage.
You may need to provide proof that your van has been serviced by a VAT-registered garage within a certain period of time, while older vans are likely to need a current MOT certificate.
As with other types of warranty, remember that you'll need to stick to the terms and conditions of the policy, something that may - for example - limit the choice of garages that you use for servicing, or the number of miles you can do.
You may also want to think about checking whether the warranty can be transferred to another vehicle should you decide to change the van during the policy period. Remember that, if such a transfer is allowed, it's likely to be accompanied by an administration charge.
How long does a van warranty last?
This will entirely depend on the terms of the warranty, but anything between one and five years is typical, with some policies allowing renewal at the end of the deal's term.
Other van warranties may apply a mileage limit rather than a set time period.
What does a van warranty cover?
Once again it has to be stressed that every warranty is different so you need to read the policy to find out what is and isn't covered.
Having said that, on a good policy you should expect financial protection in the event of the breakdown of major mechanical components such as the engine, transmission, gearbox, suspension, steering, electrics and the fuel, transmission and cooling systems.
Even when such things are covered, though, it's important to look for any exclusions on the policy…
Exclusions on van warranty policies
Perhaps the most common exclusion on van warranty policies is wear and tear.
This will not necessarily exclude you from cover on the major components listed above, but is more typically applied to things such as exhausts, tyres, wheels, the clutch, catalytic converters, braking systems, cosmetic damage and entertainment systems.
However, you need to be aware that some van warranties will refuse to pay out on major components on a wear-and-tear exclusion. Others, even if they do pay out, may require you to contribute a percentage towards the parts, or even to parts and labour.
Oil leaks are another thing to look out for; it's possible that a warranty may cover the cost of replacing a failed component, but not to repair the damage that was caused by oil leaking from that component.
Similarly, you should watch out for any exclusions detailing 'consequential loss', where damage to an insured component is caused by the failure of a non-insured component.
If you make any modifications to your van or use unapproved parts, fuel or lubricants, you risk invalidating your cover. This could also be the case if you neglect basic maintenance of the vehicle - NEVER think of a warranty as an alternative to good van maintenance!
Other things to look out for on van warranties
As with most other types of insurance, van warranties can come with excesses, where you have to pay a percentage towards any claim ie a percentage of the cost for parts and/or labour.
Look out for any clauses concerning something known as 'betterment'; when a new part fitted as part of a repair is considered to be better than the original, it's possible that you'll be asked to pay a contribution towards the cost.
Some van warranties may cover the cost of replacement car hire, include an element of breakdown insurance and/or cover if you're driving in Europe. Such things may be included as standard, or offered for an additional premium.
What are the alternatives to a van warranty?
Some van breakdown repair cover policies can offer an element of the peace of mind associated with van warranties, giving help with recovery, parts and labour.
Such policies are unlikely to cover the full cost of major component failure, though, being typically designed to get you home and pay an element of the garage bill.
Self-insuring is another thing to think about, whereby you put the money you would have paid in warranty premiums into a savings pot that can be used to pay for vehicle repairs. Remember that you won't be limited to the warranty's approved garage list for servicing and repairs, meaning that there could be potential savings in that area.
With self-insuring, of course, you run the risk that the savings you build up are not enough to cover a repair bill when it comes in; you need to decide whether this is a greater risk than the possibility that the warranty premiums you pay will amount to more than you get back in claims on the policy.
By Sean Davies