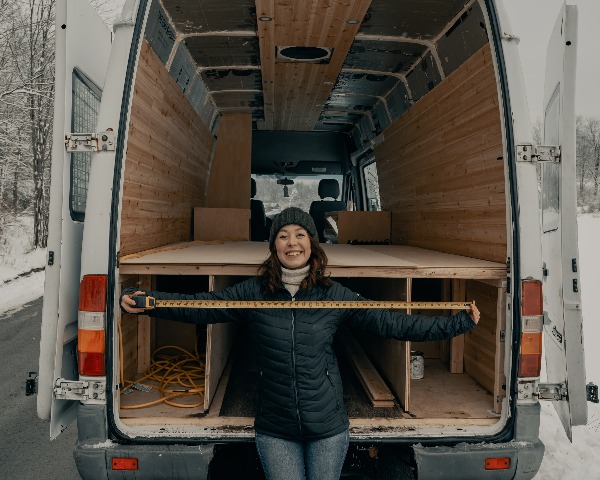 Tradesmen have a stereotypical reputation, but images of them turning up in their white vans to do a job are long out of date. You need an extensive range of skills and acumen to run a building business. 
And it's not just the image you might have wrong – new data has revealed it could be the entire gender. 
Our report looks at the women taking over a male dominated industry, with a 366% increase in females doing trade apprenticeships in the UK. 
Painting and decorating is the most popular trade for women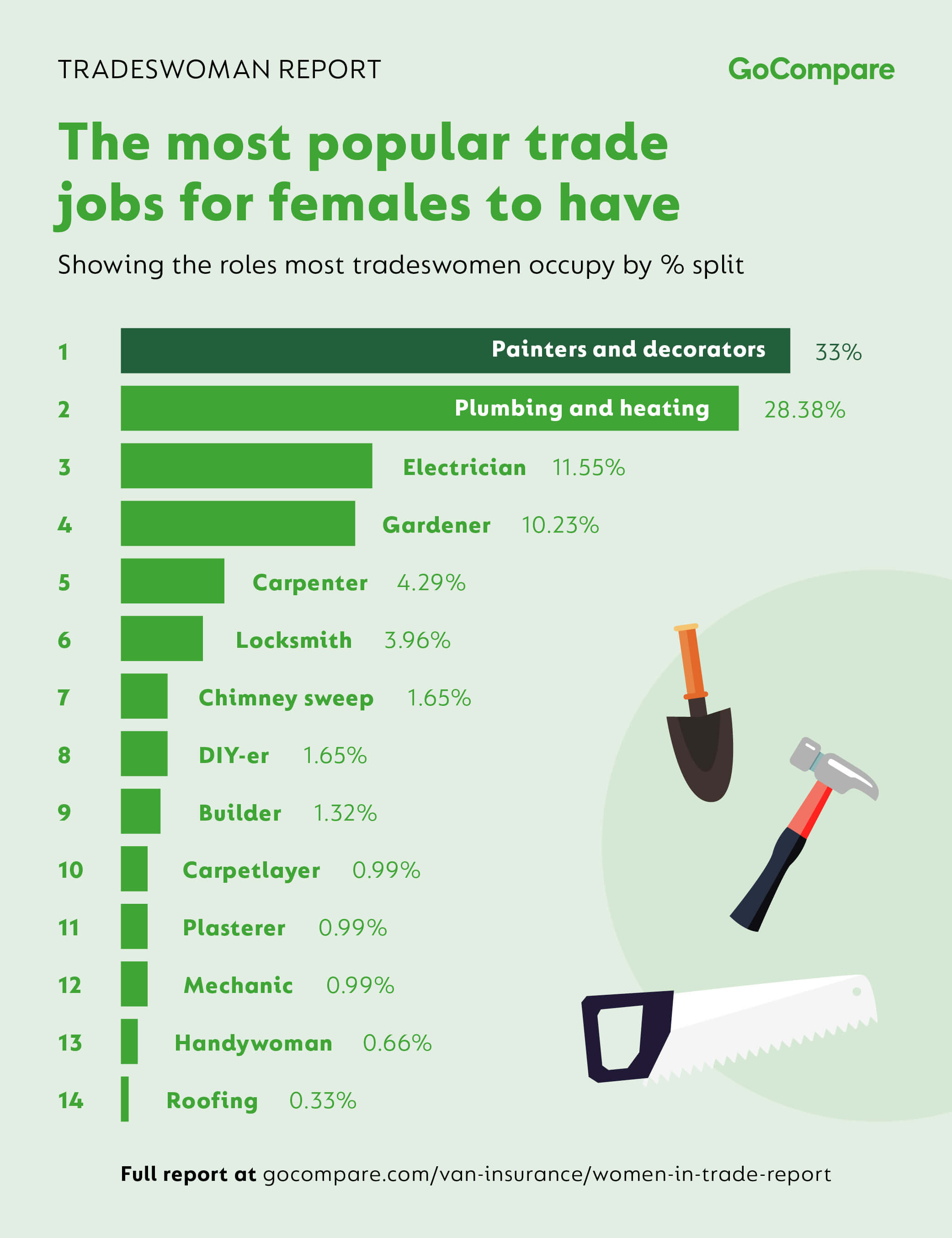 Leading the trade revolution are painters and decorators. This job accounts for 33% of all women with a trade, helping customers turn their homes and businesses into spaces to be proud of. While we might all fancy trying it ourselves, a neat, professional finish can take years of practice and training, not to mention expensive tools and equipment. 
In second place are plumbers. This is something we definitely wouldn't advise doing yourself, especially as your home insurance might not cover the damage if something goes wrong. Plumbing's a skill that takes a lot of training and full accreditation – 28.38% of women in trade have put in the commitment and are now fixing heating systems and fitting boilers, as well as installing bathroom and kitchen fixtures.  
Completing the top three are electricians, with 11.55% of tradeswomen pursuing careers as 'sparkies'. This vital job can make the difference between a comfortable home and a death trap. Badly connected buildings are accidents waiting to happen, so a trusted electrician is a must for any wiring work.
Women in trade are underpaid by an average of £7,115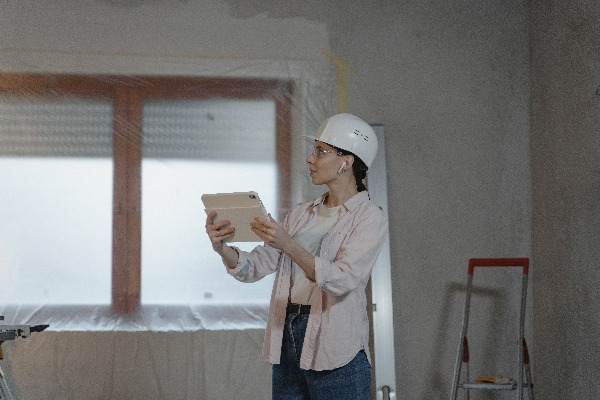 The number of women picking up tools might be rising, but their pay still falls behind their male counterparts. As with many types of employment, men take home significantly more pay, earning an average of £8,206 per year more than women for the same roles. But at least in trades that gap is starting to close, with men earning £7,115 more on average. 
The most notable difference is in the skilled building and construction trade. While male workers here can expect to take home a median salary of £29,011 a year, women in the sector can earn £21,840 – a whole £7,171 less.
Female carpenters and joiners don't fare much better. Their median annual salary is £21,300, much less than men who take home £28,384 for the same job. 
Despite the increasing numbers, women still have a long way to go before they're treated as financial equals in the trade world.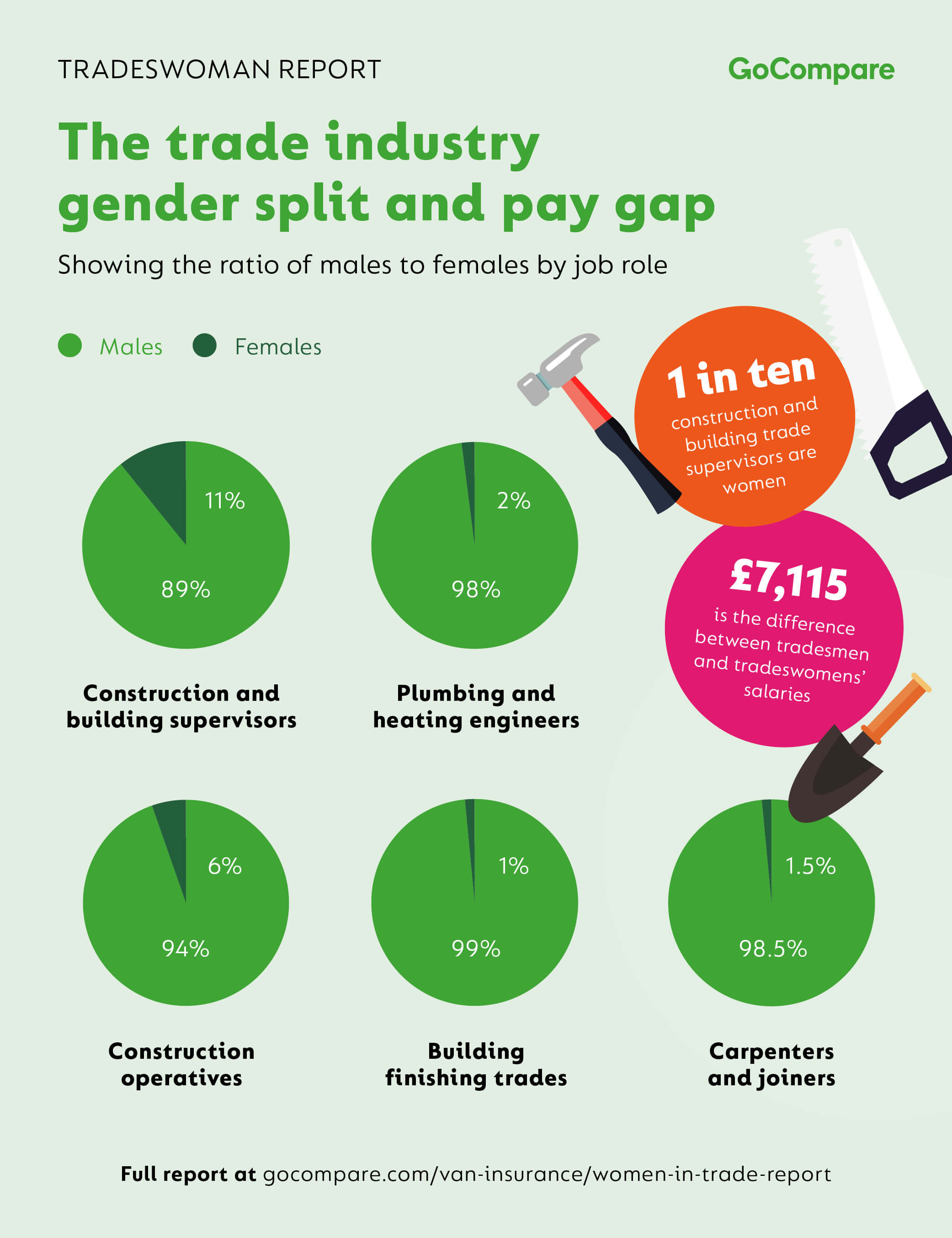 The rise of female tradeswomen: a 366% increase in women apprentices
There's been an increase in women learning trades as well - more females than ever are taking up training. In the last five years there's been a 366% increase in the number of females enrolling in trade-focused apprenticeships. 
For course starters in 2019/20, there were 10,170 females in construction and a further 45,010 enrolling in engineering. So where in the country are the most female construction apprentices?
Bolsover, Walsall and Birmingham boast the best percentage of women apprentices in construction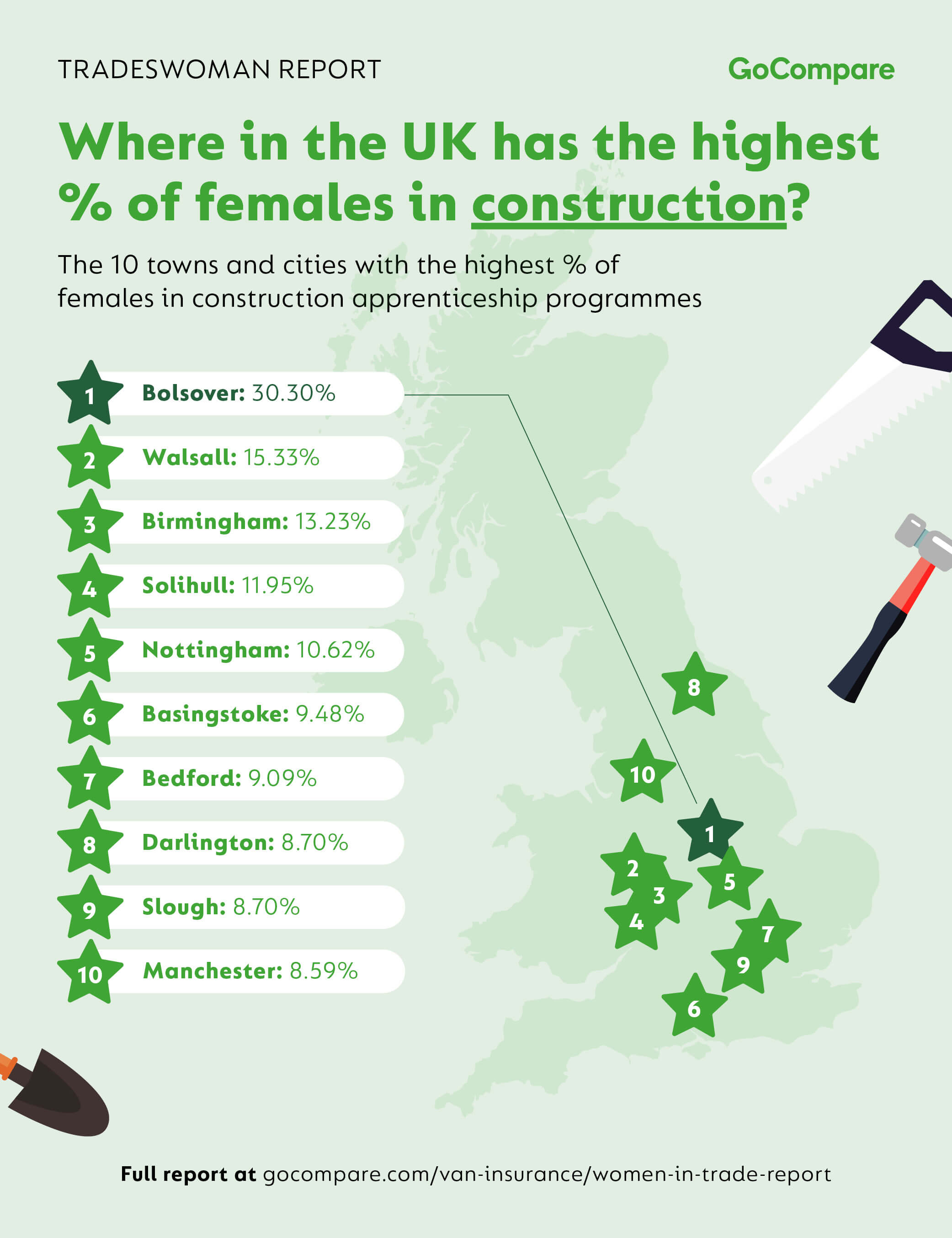 Bolsover is the place to be for women in trade apprenticeships. The market town in Derbyshire is famous for its ancient castle, but newer buildings could be on the horizon with 30.30% of trade trainees being female. 
In Walsall, 15.33% of construction apprentices there are women, paving the way for the next generation of bricklayers, electricians and more. 
In third place is Birmingham. The city boasts more construction apprentices than anywhere else in our top 10, with 3,930 registered. Of that number, 13.23% are women in the hotspot city for learning construction planning and the built environment.
One in 10 engineering students are now female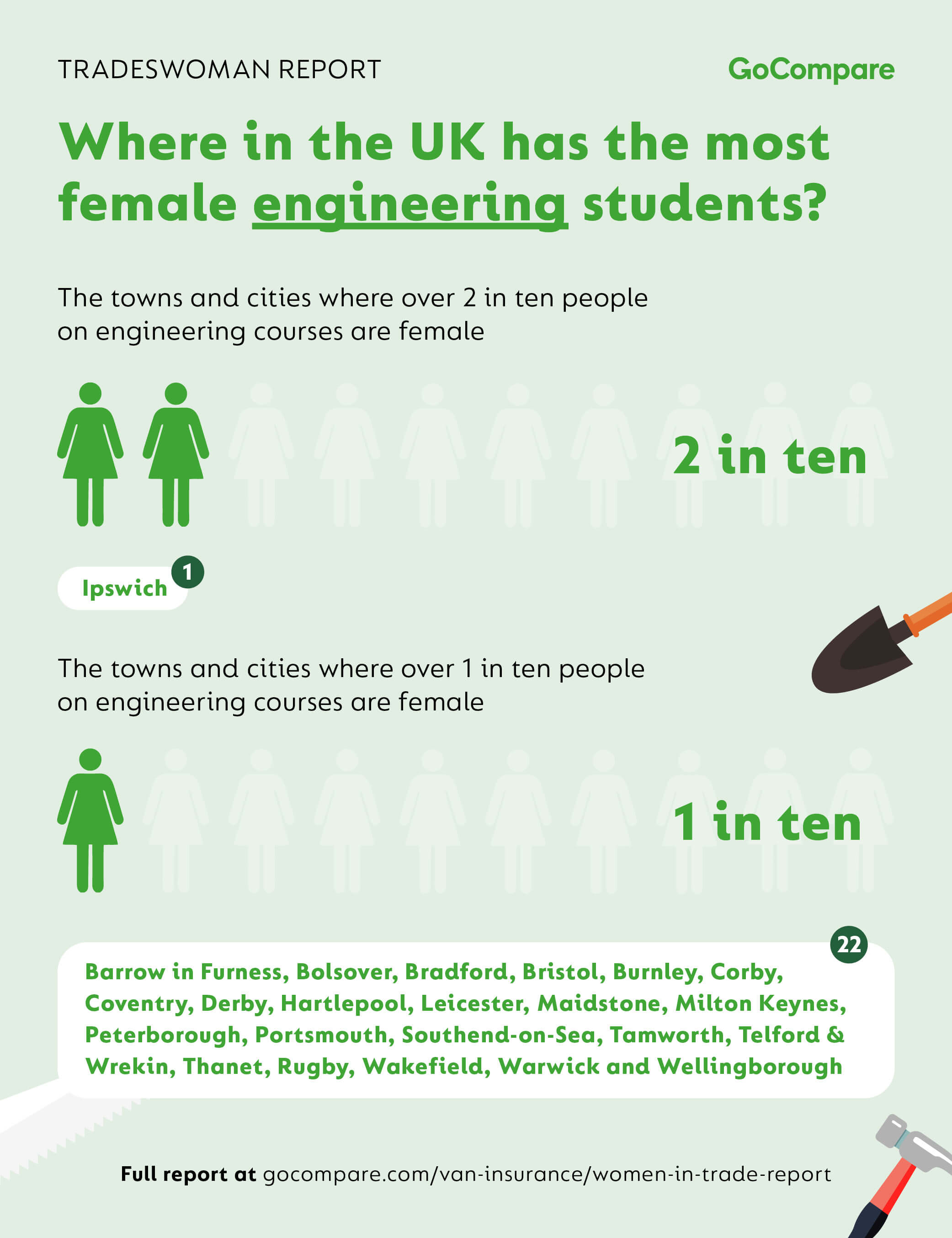 In Ipswich, two in every 10 apprentices are female, showing an increase in females in the STEM industry. 
In over 20 other towns including Derby, Leicester, Portsmouth and Wakefield, one in 10 engineer apprentices are females taking on the trade.
London is the tradeswoman capital of the UK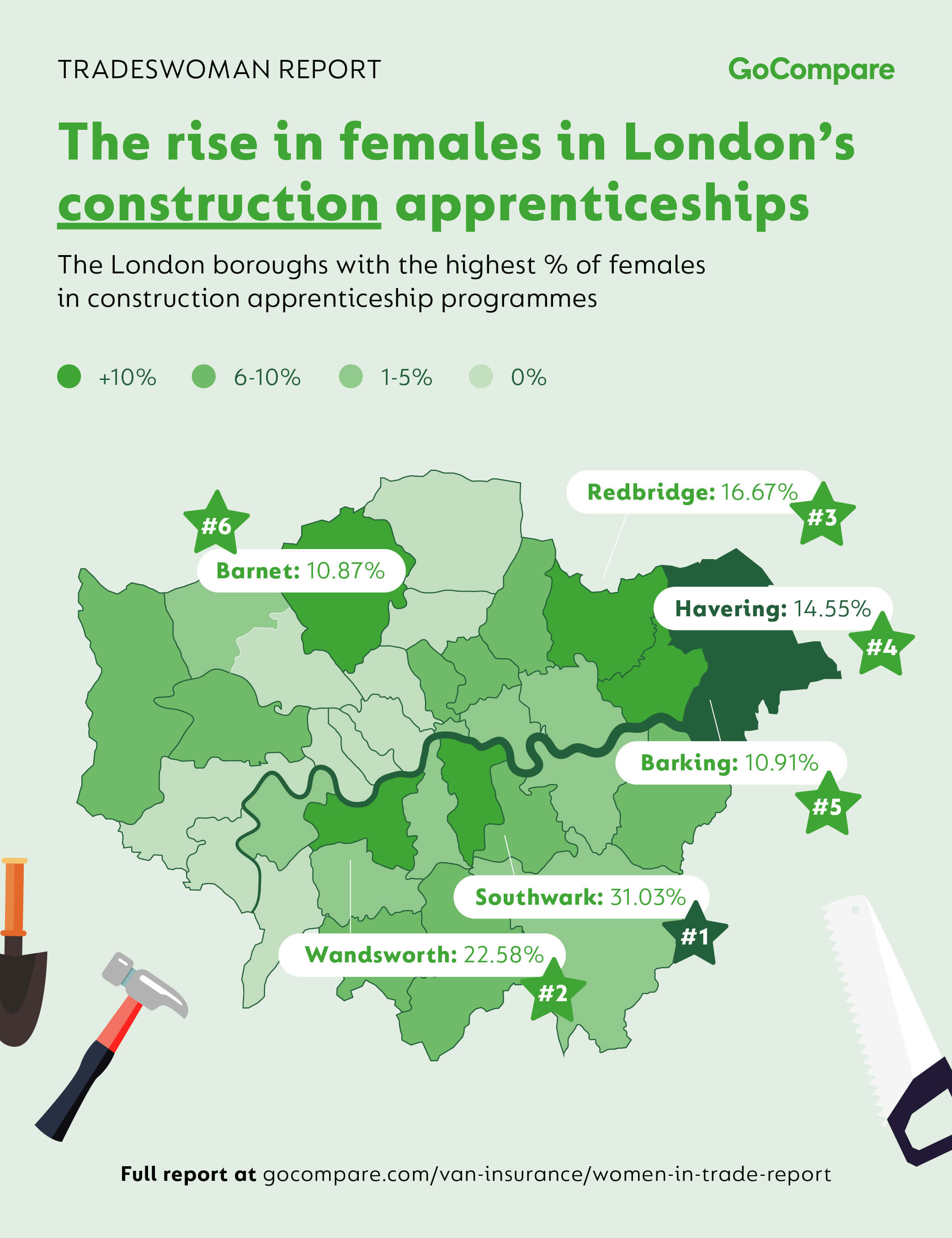 The Capital's leading the way in bringing women into construction. There are 3,930 registered female apprentices across its boroughs, learning construction, planning, manufacturing and more. In Southwark, 31% of apprentices in construction are females, while in Wandsworth (28.28%), Redbridge (16.67%) and Havering (14.55%), high numbers are also raising the national trend.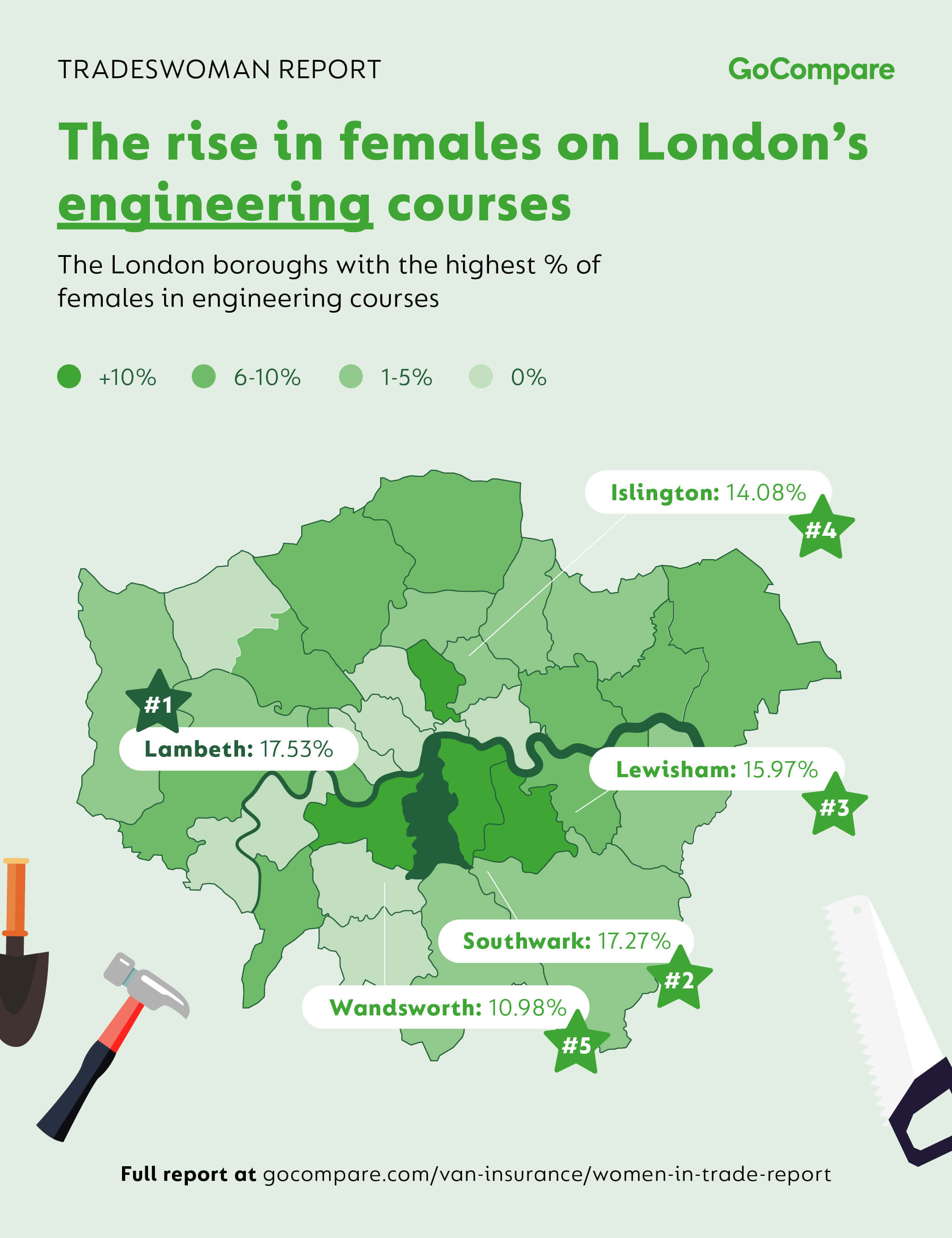 For engineering, the top boroughs for female apprentices are Lambeth (17.53%), Southwark (17.27%) and Lewisham 15.97%.
The capital's range of courses, as well as its numerous building projects, allow women to get great first-hand experience on the job, teaching them the skills they'll need to go on and forge a career.
6% rise in women aged 17-24 getting van insurance
This rise of interest for women in trade is also leading to more females searching for van insurance, especially young apprentices. Overall, female van drivers aged 17-24 accounted for 10% of all quotes for this age group. While for all van quotes one in 10 are females, which is up 6% in comparison to last year.
It seems lockdown also led to more women thinking about their future. In summer last year, there was a large jump from April to July when quotes for van insurance doubled as more females looked to start their own businesses. 
This is an opportunity more women should feel empowered to explore, as the average best premium for female van drivers aged 17-24 is £2,029 versus £2,218 for males in the same age group.
Thinking of becoming a tradeswoman?
Women gain the same training and qualifications in trades, so they should have pay equality. Our data shows we're not there yet, though. But a career in construction can be a great way to earn a living, with many choosing self-employment as their best way to make a name for themselves. 
If life on the tools is calling to you, a van will be one of your biggest purchases. We can help you save money on van insurance, so you've got the cover you need for your business vehicle. 
We can also compare commercial van insurance to help you cover a fleet of vehicles and all the tools inside them, just in case. 
Methodology 
Data for the report was collated from a number of sources including:
Data was then analysed to find the most popular trade jobs for females as well as the pay gap and discrepancies between roles.
Information on apprenticeships was divided by town and county, by female enrollment for construction and engineering to find the locations in the UK with the most females getting into trade.